Irishman Jeremiah "Jerry" Falvey (b. Ireland, 1825; d. 1884) and his wife Hanora (Mary?) were married in 1854 in New York and came to Minneapolis that fall. In the spring of 1855 they settled on his farm on Section 8 in St. Louis Park. The 1860 census finds them in Minneapolis Township (St. Louis Park hadn't been incorporated yet.).  An 1889 map shows the Falvey land to be on either side of the Great Northern tracks, northeast of the Center. The 1914 map shows that he owned at least 142 acres, located approximately between Louisiana and Texas,  22nd to 28th.  Until 1933, Louisiana was called Falvey.
Falvey was an early member of the school board and served as a justice of the peace. Unlike most of the early settlers, Falvey was a Catholic Democrat.
Jeremiah Falvey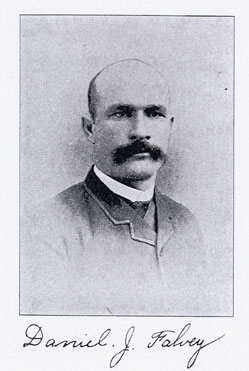 Of Jeremiah's 12 children, son Daniel J. Falvey, born February 24, 1857, is in contention with Chesley Hamilton as the first white child born in the future St. Louis Park. Daniel was elected "roadmaster," grading many of the roads in and around the Park, including Excelsior Blvd. in 1902. An 1883 biographical sketch paints Daniel as an "outspoken advocate of temperance who had done all he can to sustain the village against any intrusion of the liquor traffic." Upon the death of Jeremiah, son William took over the family farm.
Children of Jeremiah and Hanora (Mary?) Falvey:
Julia A. – born 1855/56
Daniel J. – born February 24, 1857, St. Louis Park
John (4 toes on each foot?) – born 1857
Eliza B.  (Bee?)  (Bridget?) – born 1860
Mary H. – born 1863
William N. – born 1864
Jeremiah D. – born 1866
Francis L. –  born 1869
Peter T. – six toes on each foot? – born 1872
Hannah – born 1875
Hugh – born 1875
Descendants or others with additional information or corrections are urged to contact us.