Much of the information presented here is from an interview with Jeffrey Fine conducted by Jeff Norman in July 2011. 
Adolph Fine was a major developer of homes in St. Louis Park, particularly in the northwest part of the Village/City.  He first built in the Park in 1939 with just two houses, but the majority of his activity took place in the years following World War II.
Adolph Fine (nicknamed "Bob" or "Bobby" by his family) was born in 1911 on the north side of Minneapolis.  He graduated from the University of Minnesota with a degree in civil engineering. He began building homes with his uncle Jake Fine in St. Paul.  He set out on his own in the mid 1940s. His first homes in St. Louis Park were on scattered lots, and his family would move from house to house until they settled at 2750 Huntington, built in 1947.  He began building larger and more houses, becoming one of the first in the country to develop subdivisions at 10-30 homes at a time.  He formed General Realty Co. (4601 Excelsior Blvd.) in the early 1950s.
Fine built homes in a variety of price ranges. Some were built to specifications of the Veteran's Administration, and were so small that the neighbors complained that they were bringing down house values. Others were luxurious by St. Louis Park standards. His developments were exclusively in the "second alphabet."  He did, however, occasionally build a house in other areas of town, including Brookside.
Fine was particularly active at the intersection of Texas Ave. and Minnetonka Blvd., the former Holasek farm.  He wanted to own all four corners of the intersection, but John Westman had purchased the northwest corner in 1947.  Even after Westman built his flower shop in 1952, Fine sought to buy him out, but did not succeed.  Westman eventually did sell the western portion of his lot, but to Pure Oil, to Fine's consternation. 
Texa-Tonka Shopping Center, Fine's biggest project in the Park, was built in 1951 and '52.  A short-lived local paper called The Spirit reported on August 1, 1951, that the shopping center "will serve more than 400 Fine-built and to-be-built homes in the immediate vicinity, together with hundreds of other houses built in the Oak Hill area within the past year and a half.  Under construction in this district of Minnetonka Blvd. and Texas Ave. by Adolph Fine, Inc., and on the planning boards are 13 deluxe double bungalows, 105 moderately prices homes in the Jeffrey James Fine addition – named after Fine's tow sons, 75 single-family units in the Texa-Tonka addition, 45 more in Texa-Tonka Second addition and approximately 20 residences plus a large church site, in Texa-Tonka Third addition. …  South of Minnetonka Blvd., Fine and other builders have constructed – and are building – hundreds more of moderately-priced homes." 
In about 1955, Fine stopped building homes, feeling that interest rates (3-6%) were making housing construction infeasible.  He focused on investing in real estate and building small apartment and commercial buildings.  
In 1955 Fine donated 4 acres of land for Texa-Tonka Park.  This photo of Fine (second from left) presenting the deed to the land is the only photo we've found of him thus far.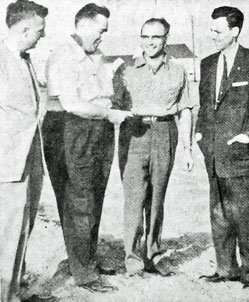 St. Louis Park Dispatch, May 5, 1955
Texa-Tonka Lanes was built in 1958 and Texa-Tonka Rentals in 1959. Fine also built gas stations on the NE and SW corners of Texas and Minnetonka, as well as six stores across from Texa-Tonka. 
Son Jeffrey started working for his father as a youngster by cleaning out houses.  After college he returned to Minnesota and has been in real estate his entire life.  In 2000 he started liquidating his holdings, and in 2011 his inventory consists solely of properties developed by he and his father.  
Bob Fine married wife Mildred (Babe) in 1938.  Jeffrey has a brother James.  Bob died on January 9, 1986, in Palm Springs of a heart attack at the age of 74. Babe died in 2007.
See also The Postwar Building Boom.