This was one of seven roadside parks built along Highway 100 in 1939.  This one was located in Golden Valley.
Jane Dresser provides this information about her father's house and the park:
My father, W. Merton Dresser, built a home at 5200 Glenwood Avenue about 1951, with his Army buddies and my mother's relatives, who were finish-carpenters from Sweden. I well remember playing at the tiny park's structures, the BBQ and the stone tables. Not many folks driving along the highway used the park, but it did provide respite for some. The frontage road, N. Lilac Drive, passed a row of tall lilac bushes along the highway, absolutely gorgeous in spring, and led to the Larson's home at the end of the frontage road. (Lilac Drive continued on the other side of the railroad tracks.)
The photos on your site were looking west from Highway 100, with Glenwood Avenue on the upper left, and Lilac Drive (frontage road) cutting right. On the other side of our home was The Annex, a brick school building connected to Meadowbrook School which was down the small hill from the Annex. I believe The Annex has been a Boy Scout building in recent years.
Our home was moved to Mankato when the land at Glenwood and Highway 100 was taken by the state to construct the access and exits for the expanded highway, about 1959. We moved across the highway to N. Ottawa Avenue, the high school road.
Thanks, Jane, for your memories of this little park.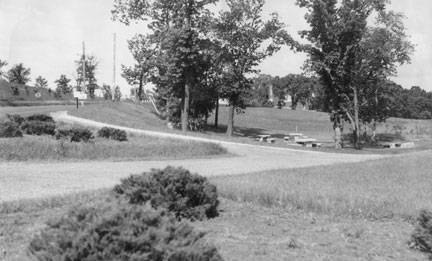 Photos above and below @ 1939, courtesy MN/DOT