Gravel pits and concrete plants were everywhere in the early days of the Park. At the end of WWII there were eight gravel mines in operation. Some lasted into the 1960's, before they were depleted and the land surrendered to medical centers, grocery stores, housing developments, etc. We should not underestimate the role of these sites in the development of the area, and the impact of their output on the surrounding area.
The area south of Minnetonka Blvd. is part of the Mississippi Valley Outwash Plain, and the soils that formed are well drained loamy sands underlain with gravel. High grade sand and gravel deposits occur in several locations. As a result, there were several excavation sites in the area. The gravel that was excavated from these pits was used for construction and road paving in Minneapolis and the surrounding area, and "monster gravel trucks" were a constant sight along what is now 36th Street east of Highway 100.
These sites could be dangerous. Although they were often inviting swimming holes, children were apparently drowning at an alarming rate. Village Council minutes of July 1, 1929 indicate that two such drownings had taken place that week, and parents were very concerned. On April 29, 1935, a new Gravel Pit Ordinance was passed by the Village Council.
At the end of World War II there were eight gravel mines in operation.
---
Some of the sand and gravel businesses in the Park are listed below (in alphabetical order):
Aaron Anderson advertised in the 1934 directory, mostly as a trash hauler, but he also  mentioned sand and gravel in his ad.  He was located at 2720 Vernon, which is a house built in 1927.
---
Apple Valley Red-E-Mix was located at 3270 Gorham Ave. In 1973 the City tried to force the plant out with its zoning ordinance, but the plant sued and the Minnesota Supreme Court sided with the company. A new ordinance was passed in 1981 prohibiting Ready-Mix plants, but still it would not leave. In 1995 the City gave it two years to leave, but it hung on for a few more years before being demolished for redevelopment.
---
M.G. Astleford received a license to remove, process, and store gravel for one year. The location was E ½ of NW ¼ of Section 20.
---
Century Washed Sand and Gravel Co. was around in the 1930s and '40s.  It was located at Zarthan and Wayzata Blvd.,, the site of condos today.  Arvid Lindskoog was the Plant Superintendent; he also lived at Zarthan and Wayzata Blvd.
---
Ruth C. Cornish received a permit to mine clay and gravel at 9801 Wayzata Blvd. in December 1959.  There was an H. M. Cornish listed at 9808 Wayzata Blvd. in 1955.  This would have been in the Shelard area.
---
Elliot and Margaret Anderson, dba Elliot-Erskine Co. Sand and Gravel, had 30 acres bounded by Highway 12 and 16th Street, and Dakota and Hampshire (6701 Wayzata in 1956).  They offered dirt, clay, sod, and crushed rock.  Anderson was cited regularly for harboring dumps on his property. See the history of Garbage in the Park.
---
G.B. French and Co. was listed at Princeton and W. 38th Street in 1928; the company made cement blocks.
---
Hedberg-Friedheim & Co. was primarily located at 5115 West 36th Street. In 1960 they requested permission to mine and process gravel in an area south of Cedar Lake Road and west of Highway 100.
---
In 1934 Victor E. Johnson requested an excavating permit for 3401 Texas Avenue. That year he advertised in the Village directory for grading, plowing, hauling, black dirt, fertilizer, etc.
---
LANDERS-NORBLOM-CHRISTENSON
This company, which changed names slightly over the years, operated several large sand and gravel operations.
A picture taken in 1900 shows that the Landers-Morrison-Christenson Co. gravel plant was located between Louisiana and Texas Ave., 28th St. to the south and the Great Northern railroad tracks to the north.
1941 it was called the Landers-Norblom-Christenson Sand and Gravel Co. at 2600 Louisiana.
The 48.4-acre area was abandoned and sold in about 1964.  A proposal to develop it as industrial property was met with neighborhood resistance, so a compromise was struck. The Louisiana Court Apartments were built in this area, and low industrial buildings were built along 27th Street in the 1960s.  Ainsworth Park was built down a steep hill from 28th Street.
---
Aquila area
Another L-N-C sand and gravel operation was located in the Aquila Park area.  Ted Meland remembers:
The gravel pit was a B I G chunk of land. Texas Ave was on the east. Aquila Ave was on the west, 33rd street was on the south and Minnetonka Boulevard was on the north. If you do some counting, that comes out to around 21 square blocks!! There is not just one thing there now. There is Aquila School, Aquila Apartments, Texa-Tonka nursing home and on the south side, 33rd street, there is Torah Academy. As well as homes along Texas, Utah and Virginia Avenues. But the majority of the gravel pit is now Aquila Park. It wasn't just a big hole, either. There were big hills of sand and gravel. To us kids they seemed like mountains. There were trails leading all throughout it for trucks and what-have-you to drive on. Climbing those hills was dangerous because you kept sliding back down. But in winter they were snow-covered and frozen and made great sliding and tobogganing hills.
Ted provided this photo of a Bucyrus-Erie steam shovel, similar to the one used at the Aquila site.  It had a real steam engine, weighed 130,000 pounds, and could lift about 70,000 pounds. The one at Aquila was not all rusty, however–it was silver-colored.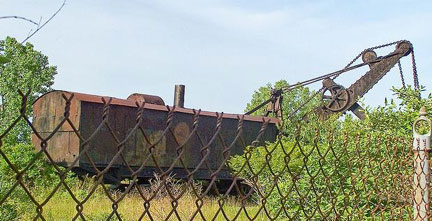 In 1946, the company estimated that it would be fully excavated in 4 to 5 years, at which time they would level it. Starting in 1960, Adolph Fine developed four apartment buildings on the site, called Aquila Park Apartments.
---
Nevada and Cedar Lake Road
Yet another L-N-C site was at Nevada and Cedar Lake Road.  On April 1, 1952, the Village contracted with the company to remove gravel in the Home Addition, Blocks 19-20, which don't show up on the County database but would be in that general area.  The company was still operating there in 1956.  Part of that land became the apartment building at 7307 Cedar Lake Road, just west of Louisiana.  Also in that area are Fire Station #2 and Northside Park.
---
28th and Virginia
L-N-C operated another sand pit at 28th and Virginia.  In December 1950, the Village contracted with L-N-C to remove sand and gravel and grade the former Holasek Farm at 28th and Texas.  It was converted to a concrete plant, then vacated in 1970.  That would put it by Victoria Lake.  Marc Kenton posted this picture and description:
This is the infamous "pits." Perfect place to ride your minibike. This place is now filled in and houses built atop. This view is looking to the west, from the approx. middle, with Virginia Ave right smack in the middle where the pits end. Remember, this was about 10 feet below street level (Virginia Ave). I took this in 1982.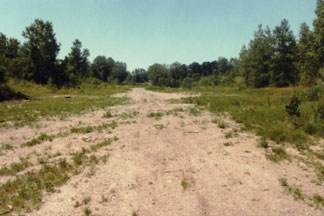 Marc also found an aerial photograph of the area from 1967: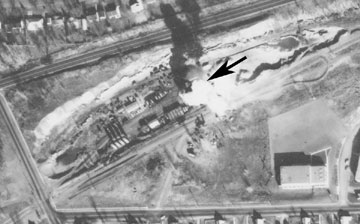 I found an aerial picture of SLP from 1967 and zeroed in on what the "pits" looked like then. If you were born after 1964, you probably won't remember a thing about it's industrial past. One thing I remember clearly was the cement operations and the noise and exhaust it produced. This picture clearly shows a plume coming from the mixer they were using. I put in the arrow to point it out. I have no idea what the plume was made of. Maybe harmless water vapor. Or ….. ? Next to the plume you can see the oil tanks for the creosote operations going on. Overall, this was a busy plant. Even had two sidings for the railroad operations. Why did this place get abandoned in 1970? Probably because it became unprofitable, the city wanting to get rid of the cement plants, and increased attention to creosote operations. Whatever the reason, this place was effectively gone by the end of 1970. Then it became a playground of sorts.
---
Langley and Sons Excavating – Sand and Gravel was advertised at Louisiana and Franklin in 1939-41.
---
Alfred E. Lindahl, a Brookside resident at 5612 Vermont, was prominently advertised as a sand and gravel contractor. The location of the actual sand and gravel was somewhere else.
---
Minnesota Sand and Gravel Co., at Cedar Lake Road and Raleigh Ave/Highway 100. On July 1, 1931, Voight O. Lenmark, Ivar L. Lenmark, and Gustave Holm requested a permit to excavate sand and gravel from the Butler Farm, located on Cedar Lake Road, Section 30. This site became Minnesota Sand and Gravel. Al Yngve remembers that at one time it was owned by a banker from Chaska named Kline.  Apparently Kline took a personal interest in the business to make sure nobody was helping himself to his gravel.  In 1949 it was owned by Burg and Carlson. In 1953 the Village demanded that they cease operations as they were in violation of an ordinance, but that apparently didn't stop them long, as there was an agreement made in October 1954 for Minn. Sand and Gravel to excavate 42 acres in that area, west of Highway 100.  This would be approximately the West End today.
---
In 1951 the State of Minnesota bought property that is now 2200 Louisiana to mine gravel for building Highway 12. The property is now vacant, zoned residential, and belongs to the City.
---
John A. Peterson and Son was located on the northwest corner of Princeton and 36th in 1928, and also made cement blocks.
---
Rice Sand and Gravel, the former site of a potato field, was located at 5000 Excelsior Blvd., between 39th and 40th, north of the Engell Dairy (also described as Princeton and Excelsior Blvd.). 1940-1942 ads claimed "Material washed CLEAN by Telsmith Process – almost dry – Brick Sand Without Quicksand." It was known as Beltline Sand and Gravel in the 40's. This may also be the site of the Glenn Johnson Sand and Gravel Co., located at 3724 Quentin (no such address today). This site may have become known as MAPCO. This was the same Johnson who owned Johnson's (later Wolfe) Lake. Once excavation was finished, the site became the Beltline Pay Dump and junkyard.
---
In 1960, neighbors accused Robert Ridgeway of "over excavating" a site at County Road 18 and 22nd Street (at the Minnetonka border).  He was mining gravel by using a rock crusher, and the noise bothered the neighbors.  The action was a prelude to development of the Ravenwood addition.
---
J.K. Seirup, at Wooddale and Hamilton, also made cement blocks in 1928.
---
Suburban Ready Mix was established at 3270 Gorham Avenue in 1954. It specialized in "specification concrete" for bridges roadways, and large industrial and commercial developments.
---
Suburban Sanitary Drayage Co. advertised in the Sand and Gravel section of the St. Louis Park Directory in 1941. The address was 3612 Alabama. See Garbage in the Park.
---
Superior Sand and Gravel was listed at Superior Blvd. and the Dan Patch Tracks in 1928. This was also the site of Minnesota Oil and Refining. By 1942-51 it was Century Sand and Gravel, listed at Zarthan and Wayzata Blvd.
---
Terry Excavating Co., run by Bill and Walter Terry, was headquartered at 3928 Xenwood in 1941. This being a residential neighborhood, the sand and gravel itself was evidently elsewhere.
---
For a memoir about Excelsior Blvd. and the gravel pits written by Tom Renner, see Something in the Water.
Save