The Great Northern Hotel was built in 1891 by T.B. Walker. The largest of the hotels, it had 50 rooms and a dining room.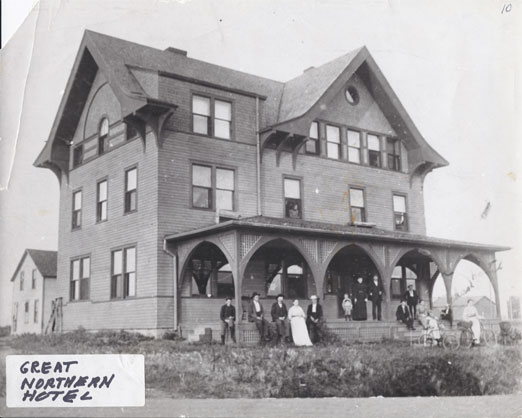 Its location has been variously described, but we have a sneaking suspicion that this may be the hotel on the 1898 map that is located on the north side of Gorham between Walker and First Street, behind Walker's Methodist Church.  The address today would be 3381 Gorham, which was built in 1958.
It was first operated by Mr. Peterson.
Marie Hartmann's notes tell us that the hotel was owned by the Duffs, but they probably had one of the Brownlow Hotels.

Tony Bruemmer, in a 1963 interview, said that his mother Lottie ran the hotel from 1903 to 1908.  She is described as a hotelkeeper in the 1905 Minnesota Census.  Lottie and Tony (then age 4) were born in Germany and Tony's sister Isabelle (age 2) was born in Minnesota.  He described it as very plain but clean.  Residents ate at tables set for 12.

Lizzie Summerville, age 45 and from New Brunswick, was listed in the 1910 Census as a hotelkeeper having a whopping 56 boarders.  This would almost have to be the Great Northern.
It is believed that the hotel was sold to the Drakes, who were the ones who named it the Great Northern Hotel, according to Marie Hartmann. The Drakes sold it to a lady from Minneapolis, Mrs. L.C. Sprague.
Three weeks later, on June 24, 1912,  it burned to the ground.  Despite assistance from the Minneapolis Fire Department, the building, owned by T.B. Walker, was a total loss, valued at $10,000 (covered by insurance). Somehow, the reaction to the fire by the hotel's guests was the defenestration of valuables. A contemporary news account is worth the reading:

Mrs. L.C. Sprague, proprietress of the hotel, asleep when the fire was discovered, refused to get up , believing it was not serious. Later she was carried out in her night attire by Fire Chief Joseph Williams… Many persons narrowly escaped injury when a big chimney fell. The hotel had fifty rooms and was full of guests. Thirty-five [who] were at breakfast… ran upstairs and roused the sleeping guests…. These articles were tossed from second and third story windows:

One piano, which was shattered beyond repair when it struck.
One big refrigerator, which suffered a similar fate.
One chair, which struck William Chase, 14 years old, and broke his arm.
One water pitcher, which struck Howard Bradford, 17 years old, on the head, inflicting a severe scalp wound and knocking him down.

In 1963 Pete Williams recalled what his father, Fire Chief Joe Williams, told him about the fire:  "There was so much confusion that firemen threw mirrors out the windows and carried mattresses that could have been thrown out the windows down the stairs."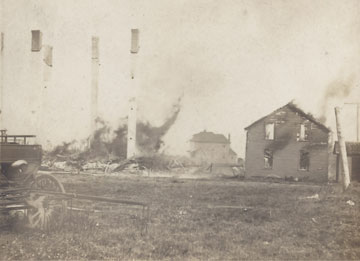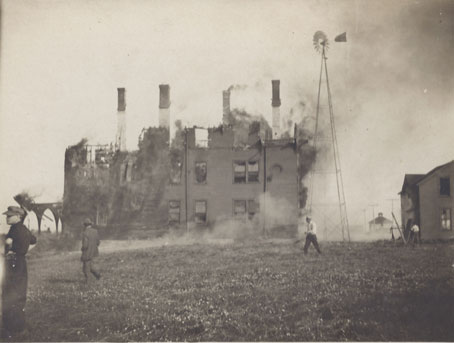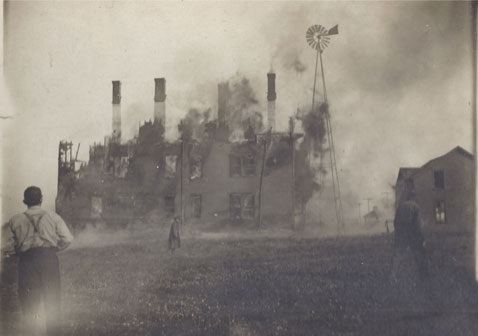 Save