SAMBO'S
This building was built in 1977 to be a Sambo's Restaurant.  The company was based in Santa Barbara, California.  Sambo's was started in 1957 by SAM Battistone, Sr. and Newell BOhnett. Though the name was taken from portions of the names of its founders, the chain soon found itself associated with The Story of Little Black Sambo, a children's book written in 1899. Battistone, Sr. and Bohnett capitalized on the coincidence by decorating the walls of the restaurants with scenes from the book, including a dark-skinned boy and tigers. By the early 1960s the illustrations depicted a light-skinned boy wearing a jeweled Indian-style turban with the tigers. A kids club, Sambo's Tiger Tamers (later called the Tiger Club), promoted the chain's family image.
---
---
The builder of the St. Louis Park Sambo's building was Trucker-Sheehy Contractors, St. Paul.  Being a California company, they did not exactly build to Minnesota specifications – there is no basement and the flat roof constantly leaks.
Increasing controversy about the name and theme of Sambo's restaurants drove them into bankrupt in 1981, although the original restaurant in California is still in operation.
---
VESCIO'S
Frank T. Vescio, second oldest son of Theresa and Charles Vescio, first generation Italian immigrants, founded Vescio's Restaurant in 1956. Frank got his beginnings at Vescio's Shoreham Market on Central Ave. in Minneapolis where amongst other grocery items, he started selling homemade pizzas and pasta. His love of family, people and delicious food was the perfect combination to launch him from grocer to restaurateur.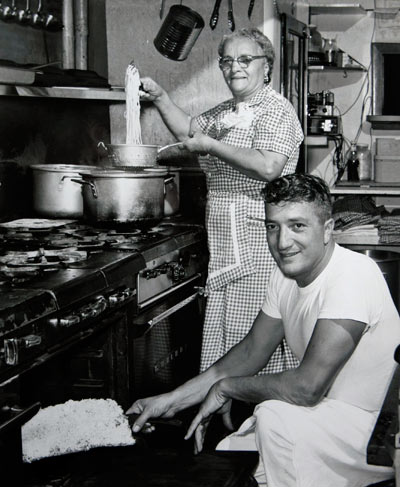 The first restaurant (406 – 14th Ave. SE) was a small storefront where Frank worked side-by-side with his mom who was affectionately known as Liz to family and friends. The two of them developed the family recipes we all enjoy still today. Some of us are lucky enough to have fond memories as little ones seeing Frank and Liz in the kitchen hand rolling meatballs and pinching the dough to make gnocchi while the signature red meat sauce simmered on the stove.
This original Dinkytown location is the site of the flagship restaurant, aptly named Vescio's Originale, and is now a favorite for surrounding University of Minnesota students, staff, locals and visitors. Frank C. and his son Tony Vescio run the restaurant following in their Dad and Grandfather's footsteps.
In 1983 second son Fred Vescio, along with his mother Charlotte, expanded the restaurant tradition with the opening of the second location in St. Louis Park, Vescio's Cucina. Fred and his youngest son Jon are the hands-on operators of Vescio's Cucina.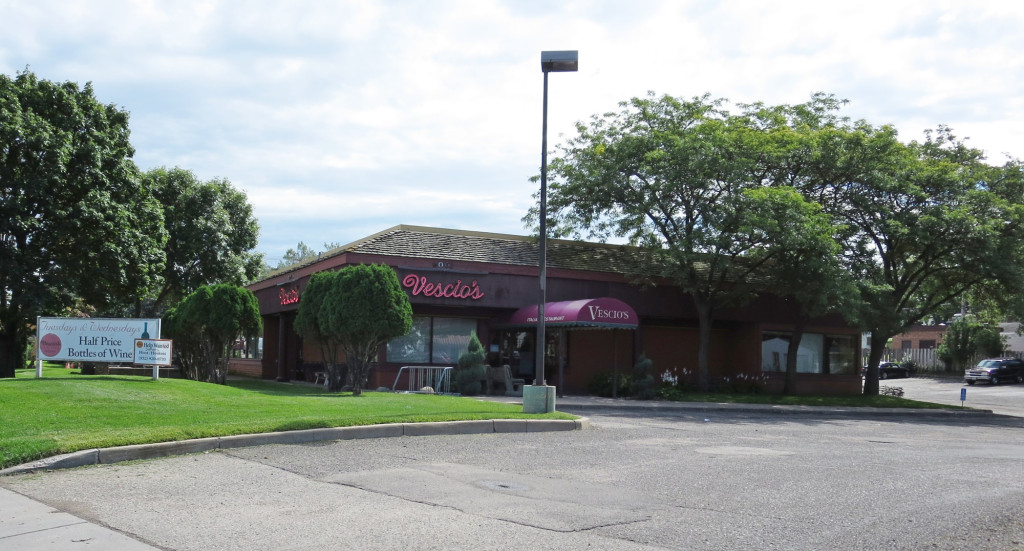 ---
From the March 2014 issue of the St. Louis Park Magazine:
Vescio's:  A Family That Cooks Together – by Angela Johnson
---
Nearly 100 years ago, a young Italian named Charles Vescio traveled across the Atlantic in search of his father, who had immigrated to North America. He searched New York and Chicago before coming to Minnesota, but unfortunately, never did find his dad (who family thinks might have ended up in Canada.)
But once in Minnesota, Vescio met his future wife Theresa, an Italian whose passion for authentic Italian food has lingered like the delicious aroma of simmering sauce for four generations, making Vescio's Originale and Vescio's Cucina successful legacies of a once-wandering immigrant.
This legacy began with a market in Minneapolis. Theresa and their second son, Frank, who had been a cook in the Army during World War II, would make pizzas at home every Thursday evening to sell at their grocery's meat counter. In the mid-1950s, Frank opened a restaurant in Dinkytown where he cooked side-by-side with his mother and later with his own sons, Frankie, Fred and Ronnie. Frankie and his son Tony still run the Dinkytown operation, now called Vescio's Originale. Fred expanded the family tradition to St. Louis Park with Vescio's Cucina. Ronnie is a dentist, but "he eats here a lot," says Fred with a smile.
Fred has the traditional Italian love of family, and has always enjoyed being with his parents. "I loved getting up early during grade school to go with my dad to the farmers' market," Fred says. "That's where we would get our fresh ingredients. I always wanted to be in business with my dad." Unfortunately, Frank senior died young, in 1978 at age 60, but Fred has the next best thing. He runs Vescio's Cucina with his son, Jon, and wife, Nancy.
Vescio's prides itself on making food in-house from scratch. The meat sauce is their oldest recipe and is the basis for many menu items. Vescio's buys only the freshest meats to make its sweet sausage and its increasingly popular "fire hot" sausage.
"In the old days, some customers didn't like spicy food," Fred says. "Italians adjusted recipes to local tastes. But tastes change. We developed our spicy sausage recipe about five years ago, but didn't put it on the menu for a while. Now, customers request it."
Fred's steps to developing new recipes are first identifying what he wants to do, seeing what else is in the marketplace and then striving to make his dish better than others. "I'll try new things and narrow down to my favorites," he says. "Then I take the parts I think are most intriguing from each recipe, including flavor, texture and aroma, and create my own dishes."
For something unexpected, Fred recommends walleye at Vescio's. "It's our breadcrumb that makes it so good," he says. "My dad was a big fisherman. He perfected our breadcrumb recipe. His buddies always hoped to catch little fish so they could bring any extra breadcrumb home." The recipe is still used for Vescio's parmesans, calamari and toasted raviolis.
When asked who is the best cook in the family, Fred and Jon point to each other. "Jon experiments. He grows his own tomatoes and basil for making flat bread pizzas. He also makes delicious handmade cannoli," Fred says. "My older son makes dry rubs for."
The Vescio family loves what they do. From catering to hosting banquets to selling their specialties to families hosting dinner parties at home, this family-owned restaurant is an evolving labor of love centered on authentic Italian cuisine.
Vescio's at the Fair
In 1971, Frank Vescio was part of an investment group made up mostly of golfers. Someone in the group had a friend who wanted to sell his food stand at the Minnesota State Fair. With prompting from the other investors, Frank agreed to advise the stand and eventually took over the operation. Vescio's at the Fair, located near the Grandstand, still feeds thousands of hungry fair-goers each summer.
"Back then, food stands had counter stools and most people sat down to eat meals at the fair," says Fred. "But Dad saw the future. First thing, he cut down the counter stools and served portable foods like pizza, garlic bread and meatballs."
Jon's earliest family food memories are of time spent at the fair. "We had fun making pizza and garlic bread, and brought home pasta for dinner," says Jon who, like his father, enjoys hanging out with family.
"Food at the fair has become very spread out," says Fred. "Our location helps our business, especially when there are popular acts at the Grandstand. But our goal remains the same: provide good food and good service, hopefully without long lines."