This building was built in 1958.  Houses at 3112 Lynn (built 1936), 3116 Lynn (built 1913), and 3124 Lynn (built 1927) were removed for its construction.
In 1961 it was the home of the General Fireproofing Company.  General Fireproofing started in 1914.
Since at least 1964 it was the home of General Office Products.  The company had been a division of General Fireproofing.  The company became a franchise dealer for that company when it was purchased in September 1963 by a group that included the former manager of General Fireproofing, Philip Mullen, who became executive vice president, Del Deming, president, and Jack Boss and Roy Utne, vice presidents.    By 1964 it had become a distributor of metal office furniture.  The new franchise dealer added chair and desk lines and office supplies.  They also added seating for hotels, churches, clubs and restaurants.  The firm had 24 employees in 1964.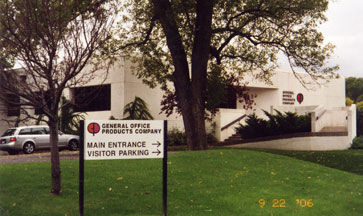 2006