In 1947 Good Foods, Inc. built a Skippy Peanut Butter plant on Highway 7, so close to Central Junior High you could smell it. In fact, almost immediately, neighbors from the 3400 block of Yosemite complained of the "smell and rattle." Skippy was first manufactured in Minneapolis in 1940.
An architect's drawing of the new St. Louis Park plant was included in the November 22, 1946, issue of the Dispatch, which stated that "Peanuts will be coming in by the carload to the new Skippy Peanut Butter plant on Highway seven when construction of the $200,000 building is completed."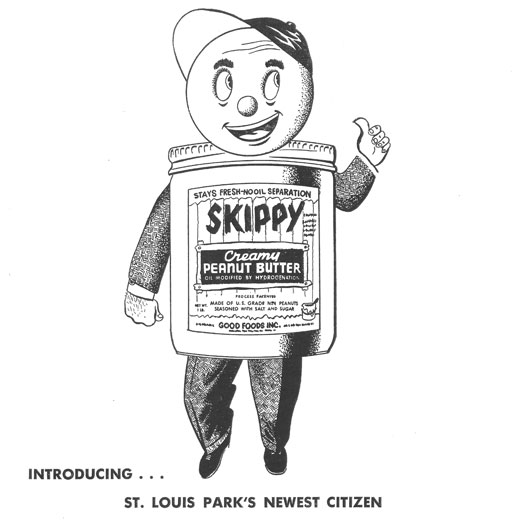 The text with this full page ad in the 1947 directory says:
Good Foods, Inc. will soon be your neighbor.  Their new plant now under construction will be completed the early part of 1947.  The location is at 5725 highway Number 7, here in St. Louis Park.

Their product, Skippy Peanut Butter, already a good friend of most of you, will then become a full-fledged St. Louis Park citizen.

Most of you already know Skippy.  It's creamy smooth peanut butter with the winning flavor fresh roasted peanuts.  Skippy's best because there is  no oil separation… stays fresh longer … sealed in flavor … only choice plum[ peanuts fresh from the roaster are triple-milled into Skippy.  Always a favorite … that's Skippy Peanut Butter, your new neighbor.
It's interesting that Skippy's wearing a business suit but his head suggests a baseball and he's wearing a ball cap.  A few years after Skippy came to town it became a major sponsor of Little League baseball, and built Skippy Field, which is still in use today.
---
In 1949 you could enjoy the "Skippy Hollywood Theater" every Wednesday evening at 9:30 on WCCO radio. The company built a $50,000 expansion in 1950.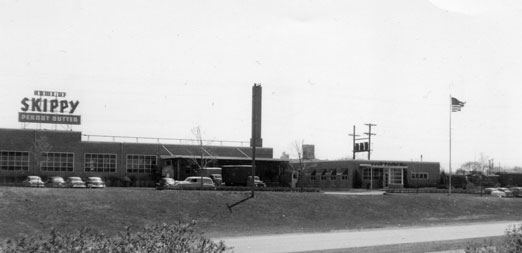 ---
In 1964-71, Skippy was a product of Best Foods, a division of Corn Products Co. (home office New York).  It employed 45 people.  In 1964 the plant manager was W.J. Gardner, and in 1971 it was J.B. Hanel.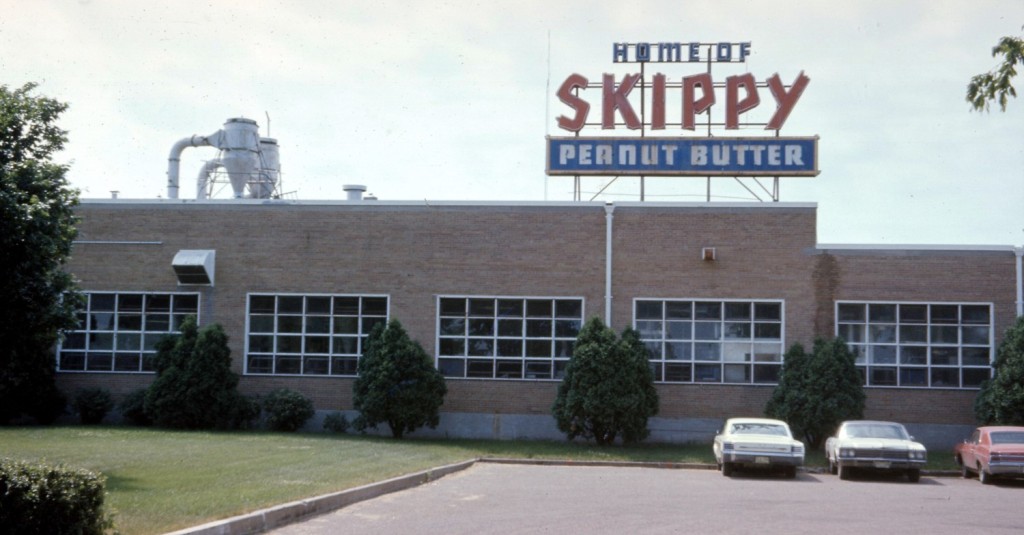 ---
It is said that Skippy moved to Georgia to be closer to the peanuts.
---
McGARVEY COFFEE
In around 1977 the building became the home of McGarvey Coffee, owned by Superior Coffee and Foods. The company was started in Minneapolis in 1922, and moved when it was displaced by highway construction.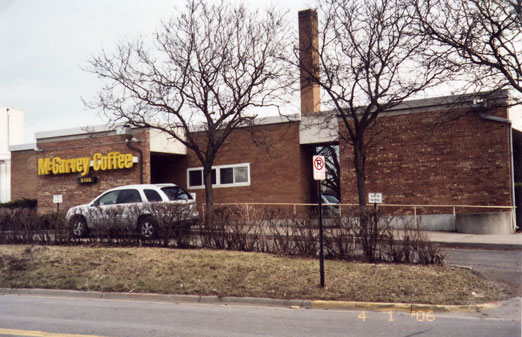 ---
Sara Lee bought the company in 1991; former owner Robert McGarvey, Jr. died in March 2001.
In January 2012, the St. Louis Park Patch reported that the plant would be closed in March and the building sold.
---
GREENWAY DEPOT
In 2013 the City Council heard plans to redevelop the site into apartments and a mixed-use building known as Greenway Depot.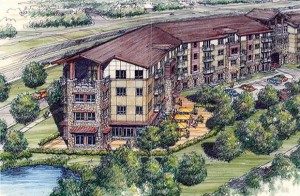 ---
PLACE
The old Skippy/McGarvey building was demolished in October 2017 for the PLACE development, which is being planned in conjunction with the Light Rail station at Highway 7 and Wooddale.  PLACE stands for Projects Linking Art, Community and Environment, and is the name of the nonprofit organization that is developing the project.  The project's actual name is Via.
The new development will include 299 dwelling units, a 110-room hotel, coffee shop, café, bike shop, greenhouse, and approximately 1 acre of urban forest.