The following restaurants were advertised in the 1950s as "across from the high school," which at the time was the Central building.  It's becoming clear that this was part of the group of buildings that were at Wooddale and Highway 7, specifically just east of Leslie Appliance. Part of a sign that must say Snack Shop can be seen in the photo from 1954 below.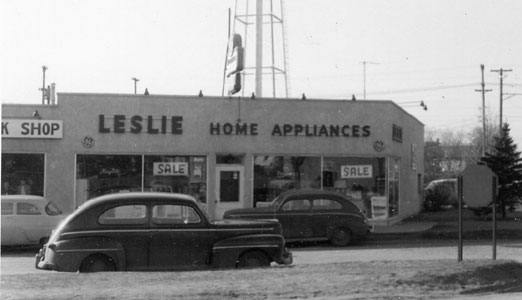 Bob's Snack Shop was owned by Bob and Lou Sewall.  It was listed in the 1949 Village directory and advertised as early as September 28, 1948, in the Park High Echo ("Compare prices, Compare cleanliness").  Early ads gave no address other than "across from the high school" (Central).  Short orders, soft drinks, and homemade pies were offered, as well as the "best hamburgers in town" and McGarvey's Flame Room Coffee.  Bob's was also advertised in the February 10, 1954 issue of the Echo.  Miraculously, Don Schimmel, via classmate Ann Sanders Maeder (pictured below), found the photo below of Bob inside his shop, although Don doesn't personally remember being there.  One contemporary said she didn't hang out there because she didn't smoke and all the smokers gathered there.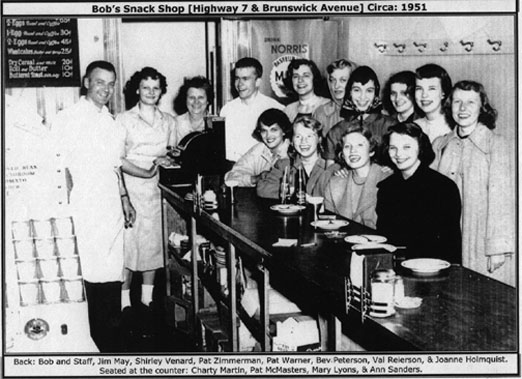 ---
Howley's Snack Shop was advertised in 1952 in the Dispatch with "Kilroy, Jr." cartoons.  An ad shows up for the place in the September 23, 1953, issue of the Echo as well, listing the address 6033 Highway 7.
Hazel's Snack Shop was advertised in 1955-56 at 6033 Walker and Highway 7.
The H&H Cafe was advertised in 1956 at 6033 Highway 7.