Although the County dates this building to 1961, this or a previous building was at this site in 1950 – specifically a brick building owned or built by Alden Syvenson.  That same year, tax records indicate that it was owned by Arthur Myers, who put on a $9,500 addition.  From 1950 to at least 1969 it was the home of  Meyers Outdoor Advertising Inc.
The picture below is from 1954: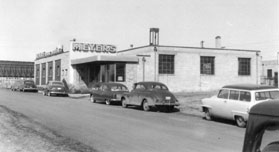 1974-81:  Oppegard Tire Co., owned by Ray Oppegard
1983-88:  Professional Instruments Co. 

@2007
The building is still in the Meyers family.