RUEDLINGER NURSERY
The Ruedlinger Nursery was started by Conrad Nicholas Ruedlinger, who was born in St. Gallen, Switzerland in 1869.
Conrad and his wife Rosina Hoeltzer married and immigrated to America together in 1891.  They had five children:
Arthur J.  was born in 1902 in Connecticut.  Art ran the St. Louis Park nursery and worked directly with the crews.  Art married wife Ann in 1925 and they lived in the Park continually from 1925. They had two daughters, Joan and Nancy.
Rudolph N. was born in 1903 in Connecticut.  Rudy attended the University of Minnesota where he graduated as a landscape architect.  He was the partner who drew up the plans and layouts of the yards and gardens.  He was instrumental in forming the St. Louis Park Rotary Club in 1947.
Louise S. was born on September 20, 1892 in New York.  She married Steven O'Connell and had a daughter Barbara, born December 25, 1921.  As early as 1930 she was living in Ventura, California.  Louise died on December 2, 1981, in Kern, California.
Madelyne B.  was born on September 7, 1893, on Long Island, New York.  Her first husband was Larson.  Her second husband was Graff Glorvig, an inspector for the Soo Line.  Madelyne died on November 3, 1982.
Lea R. was born in April 1897 in Connecticut.  It may be that she never married.  Records show that she lived at home and had clerical jobs.
Conrad's first job was a gardener at a private estate on Long Island.  In 1895 he moved to Hartford, Connecticut, to work for the City's Parks Department.  The June 1900 Census lists his occupation as a Park Foreman, but family history says that in 1900 he went into business for himself as a landscape gardener.
Ruedlinger sold his business in Hartford and moved to Minneapolis in 1906.  With his friend Theodore Wirth, also an immigrant from Switzerland, he became a city forester in the Minneapolis Park Department.  In 1910 he began his own business on Colfax Ave. South – his obituary gave his address as 2929 Colfax, which is listed now as 918 W. Lake Street, built in 1915.
[Note:  The January 1920 Census lists the family as living on Columbus (now Texas) Ave. in St. Louis Park.  His occupation is listed as proprietor of a Nursery.  By 1921 they were definitely living at the Colfax Ave. address, as evidenced by a telephone book listing.]
With expansion came the purchase of the property in St. Louis Park, originally called Cedar Hill Nursery.  For a number of years, the business was conducted from both locations.  Sons Art and Rudy worked with their father. An ad in a 1929 cookbook described the firm as "Landscape Designers and Foresters."  Earl Ames recalled that in the 1930s, "Most of us boys in Oak Hill worked at Ruedlinger Nursery."
Conrad died on November 19, 1933, in Minneapolis.  His obituary showed that he was quite active in the profession, serving as president of the Minnesota State Nurserymen's Association and the Minnesota State Florists' Association.  He was an honorary life member of the Minnesota Horticultural Society and a life member of the Society of American Florists and Ornamental Horticulturists. He was a member of the Royal Arcanum, lodge and of the Third Church of Christ Scientist.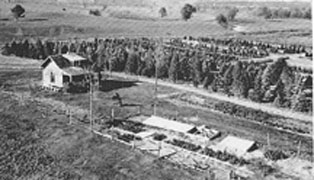 ---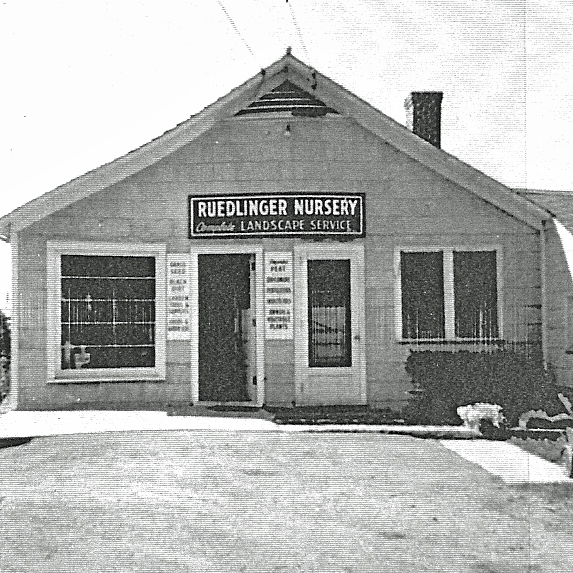 ---
Art and Rudy consolidated the business in St. Louis Park in the summer of 1939.
From Something in the Water:
During the Depression, supporting the families in the nursery business was not easy.  Very few middle-class homes were landscaped.  Much of the business was done for larger residences in Excelsior, Wayzata etc.  Ruedlingers was the only nursery in the area in the early years.  A spur track on the west side of the St. Louis Park property allowed boxcars of imported shrubs and stock to be shipped directly to the nursery site.  All tulip bulbs came directly from Holland.
After World War II, much of the farmland near the nursery was being sold off for housing adjacent to what became the Knollwood Shopping Center.  The nursery was cut down in size and a garden store building was built on Texas Av. and Highway 7.
In May 1952 they opened a new building at 7924 Highway 7.  By 1953 Rudy and Jessie Ruedlinger were operating the store and living in an apartment above the business.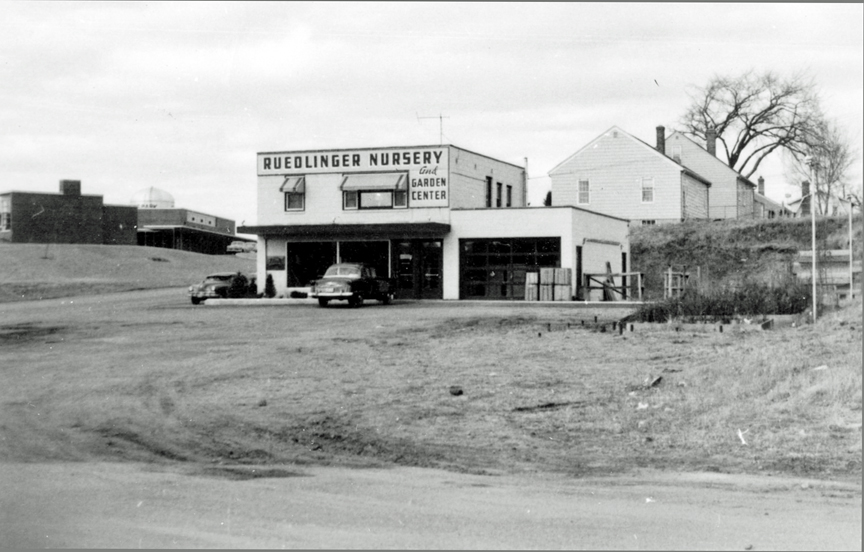 ---
Art and Rudy were getting older.  There were no sons to carry on the business.  [Sometime between 1954 and 1960], a decision was made to sell the nursery property.  The Garden Store became a liquor store which they ran for several years.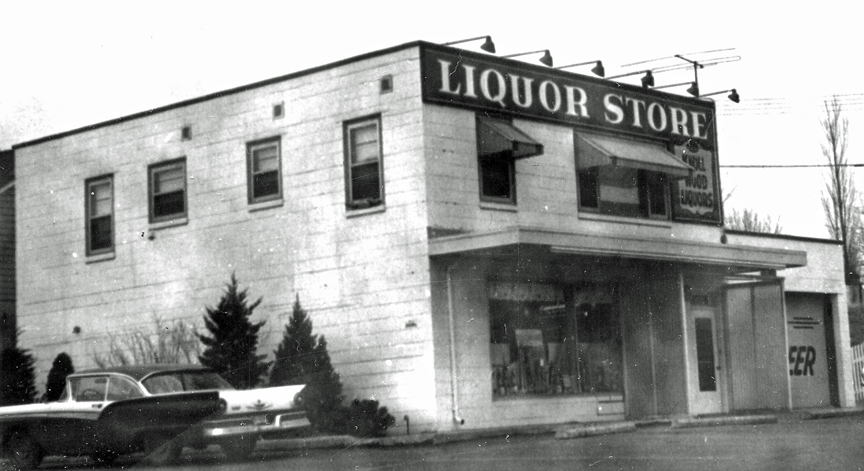 ---
In 1974 Rudy and Jessie moved to New Germany, Minnesota, and lived there for five years.  They then returned to St. Louis Park and rented an apartment on land which had once been the Ruedlinger Nursery.  Rudy, Art and Ann all died in 1983.  Jessie died in 1985 – the last to bear the Ruedlinger name.
---
KNOLLWOOD LIQUORS
John and Lois Ralles bought the property in 1967. John Ralles has previously been the manager of the liquor store at McCarthy's.  Lois Ralles remembered that the building originally faced Texas Ave., but it was deemed too close to Oak Hill Elementary School, so it was changed to face Highway 7.  (In the 1940s it was listed in the directory as W. 35th Street and Texas.)  John Ralles died in 1978 and Lois Ralles sold the business in 1986.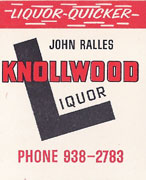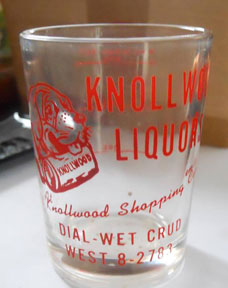 ---
KNOLLWOOD COURT
In 1994 it went through an iteration as Knollwood Court, hosting a Little Caesar's, a dry cleaner, and liquor store.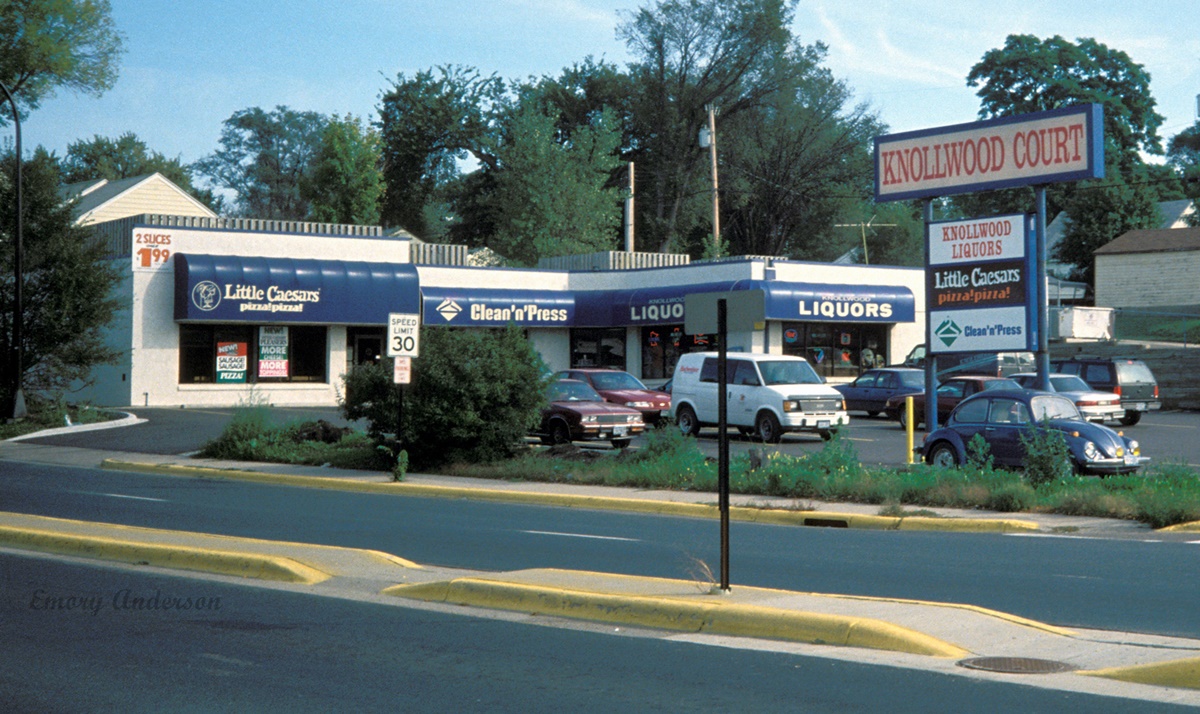 ---

---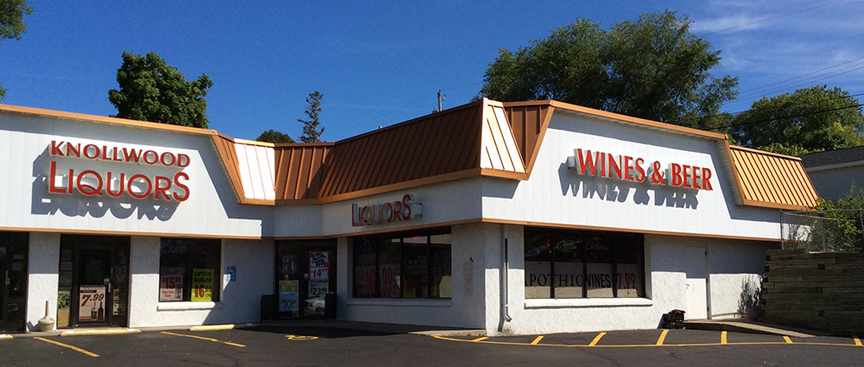 Save