This was a very active intersection!  All in one place were two sets of railroad tracks, St. Louis Park High School (later Jr. High/Community Center), the infamous tunnel, the bus company, and a strip of businesses.  In 2010 the intersection was separated, with Wooddale going over Highway 7, but before that it was the site of much activity and many accidents.  One fender bender from about 1958 is pictured in the two photos below.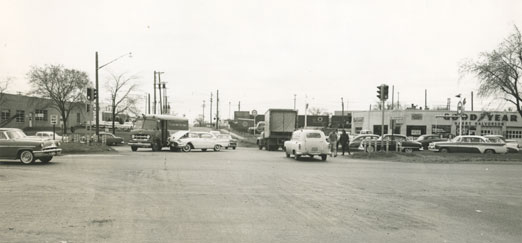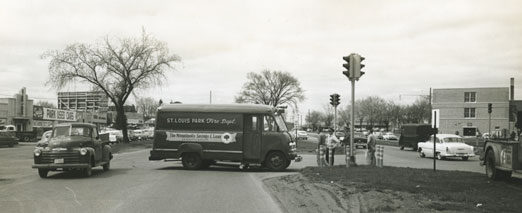 ---
BUSINESSES
The strip of buildings across Highway 7 from Central was built by the Seirup family.   Many businesses just gave their address as Highway 7 and Wooddale, making it a bit difficult to piece together, but here's our stab at it.  Any assistance is appreciated:  please contact us for any additions or corrections.  All of these buildings were demolished in 2006.
---
PARK BUS COMPANY was just north of the railroad tracks on Wooddale.
---
J.K SEIRUP FUEL/HARRY'S PURE OIL
Seirup opened a coal business at about 6007 Highway 7 in 1930.  The J.K. Seirup Fuel and Oil business shows up in the directories until 1947.  After J.K. died in 1944 it was run by his son-in-law, John Leslie.
When Highway 7 was built in 1934, it passed right in front of Seirup's property, so he built a Pure Oil Station on the corner.  In the late 1940s the station was taken over by Harry Halvorson [with Andy Folke].  It was Harry's Pure Oil until at least 1969.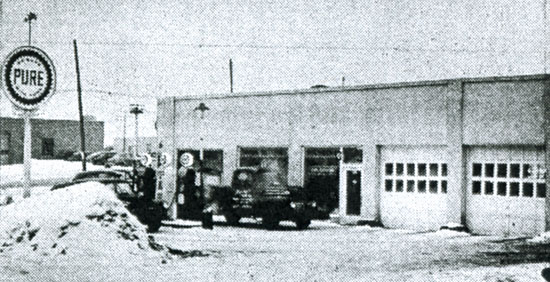 ---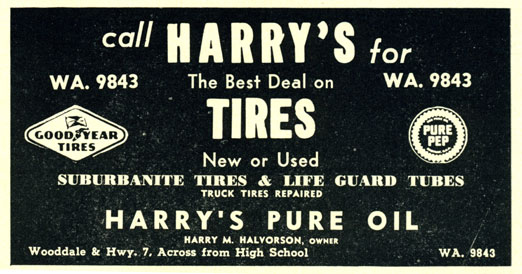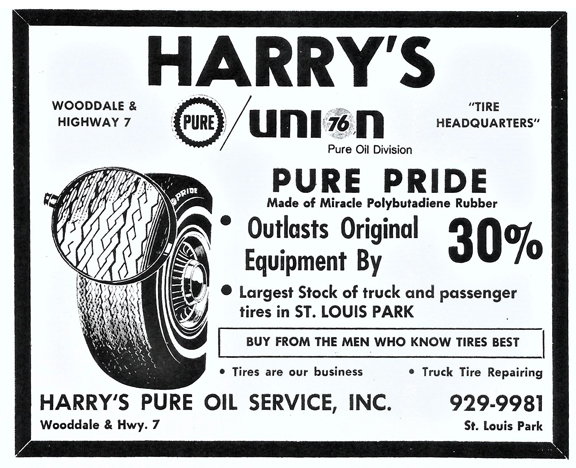 ---
In 1970 it was Harry's Union 76.
In 1989 it was Auto Technology.
Harry and his son opened and ran Samaritan Tire on the SW corner of Minnetonka Blvd. at Oak Ridge Road.
---
SEIRUP AND SONS FORD – 6015 HIGHWAY 7
Some time between 1934 and 1939 Seirup built an addition to the western end of the Pure Oil station and started Seirup and Sons Ford dealership run by George Seirup.  Seirup got his cars from Dahlberg Ford in Hopkins and received $25 for each car that he sold.  The receipt below says "Opposite the New High School," meaning Central, built in 1936.  Note the ornate detail on the building that looks like a theater marquee, both on the order form and in the photos below.  Also note that the buildings were not added onto in a straight line but kind of zig-zagged.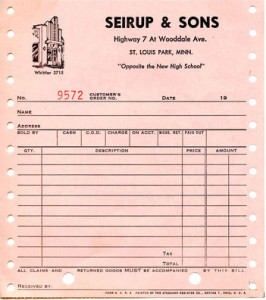 The photo below is undated.  In 1956, "Irv" ran the dealership.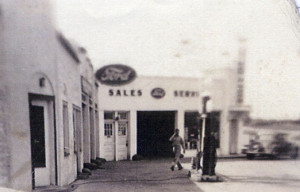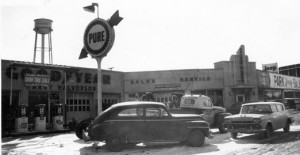 1960
---
ELMER N. OLSON
From about 1961 to at least 1975 the building with the marquee on it was the Elmer N. Olson Co.  The company was founded in 1922 at 500 So. 11th Street in Minneapolis.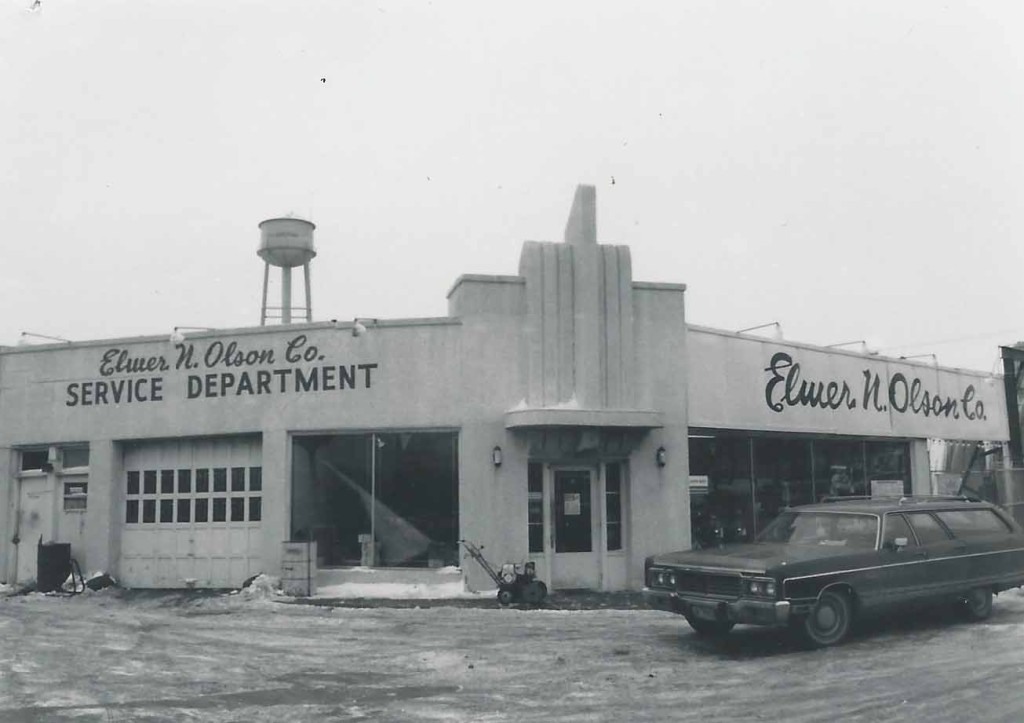 ---
PARK-HY AUTO SERVICE
A puzzler is the Park-Hy Auto Service, advertised in the Echowan in 1952.  In 1961 this was listed at 6015 Walker Street and owned by Alfred G. Johnson.  There is no 6015 Walker Street, so one might assume that they mean Highway 7.  But the Pure Oil Station would have been right next door.
---
PINECRAFT FURNITURE STORE
The building's last iteration was a Pinecraft Furniture store.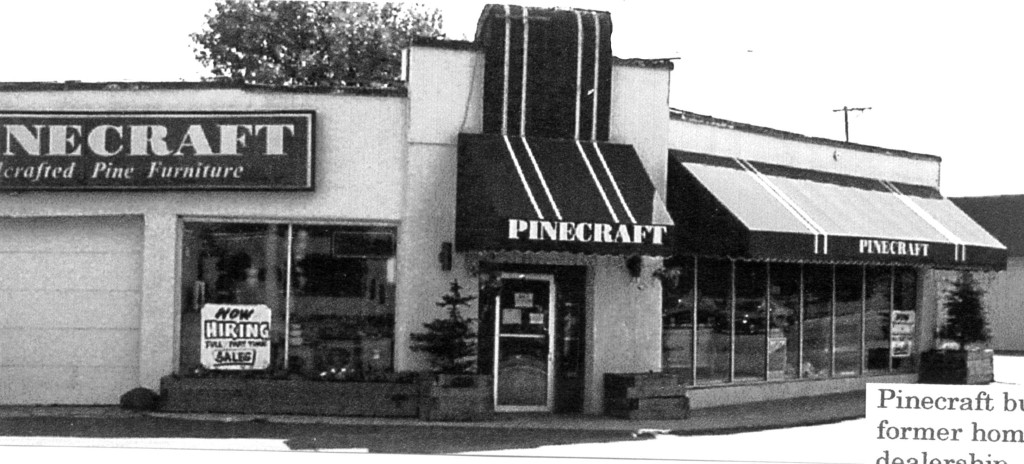 ---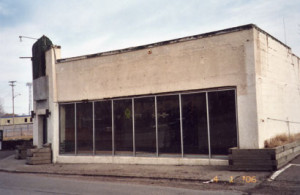 ---
SNACK SHOPS
6033 Highway 7 is the address of a series of snack shops "across from the High School (Central) in the 1950s.
---
LESLIE APPLIANCE – 6039 HIGHWAY 7
In 1939 the Seirups constructed a building next to the garage for the Leslie Appliance Store. John Leslie was the son-in-law of J.K. Seirup.  This may have been the location of Schaefer and (Dale) Gernbacher & Co. Appliances and Television, advertised in the Dispatch in February 1960.  It does not show up in the directory in 1961 or '62.
---
PARK JEEP
From 1960 to about 1981 6039 Highway 7 was Park Jeep.  In 1961 Park Jeep was owned by Sam Schribman; Robert B. Dworsky may have been an owner at one time.  Someone told us that pictures of the old Park Jeep were on the walls at the current Burnsville store, and sure enough, Travis Bronson sent us these photos!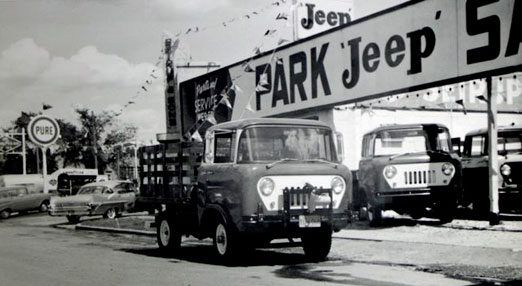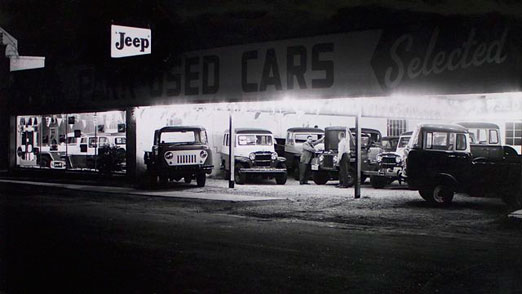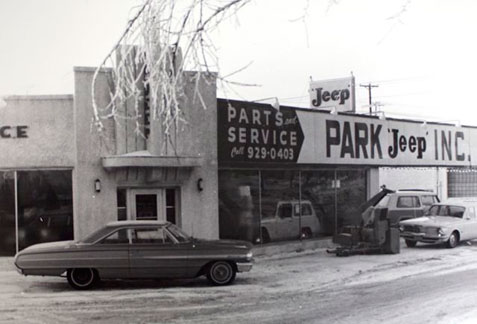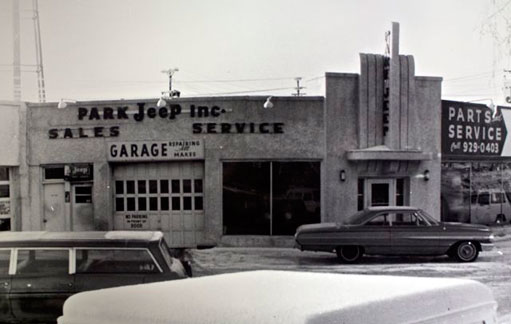 ---
CARPET KING
Its last tenant was Carpet King, owned by William A. Garrison.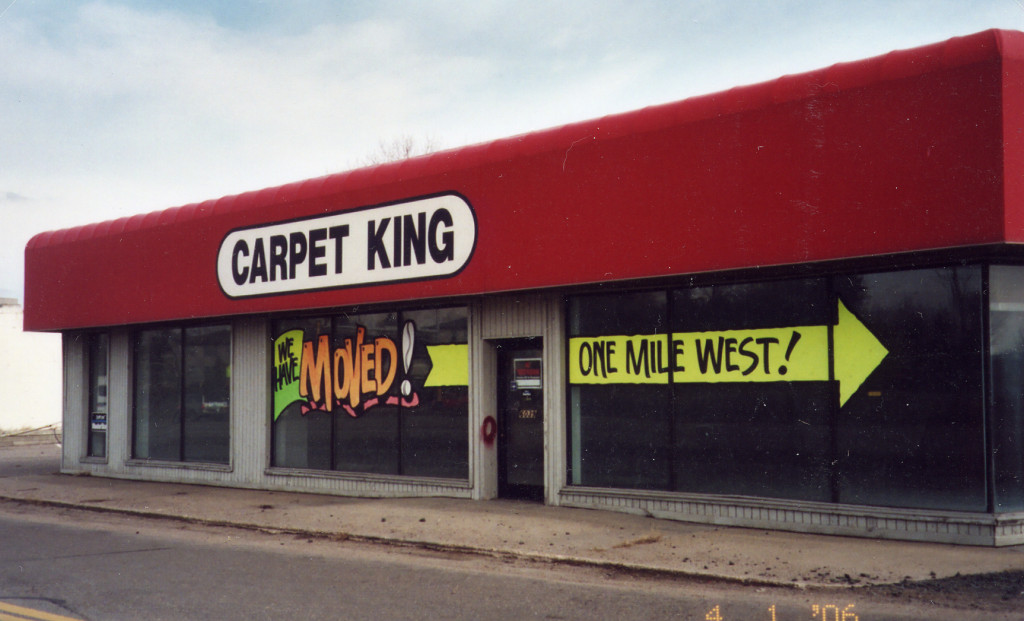 ---
STRAYS
Here are some businesses we can't pinpoint:
In November 1950 Park Lane Carpet Company was advertised in the Echo at Highway 7 and Wooddale.  It moved to Excelsior Blvd. that same month.
Carl (O. Nordberg) and Bud's Auto Repairs was advertised in the 1951 Echowan at Highway 7 and Brunswick.  In 1954 it moved to 10016 Minnetonka Blvd. in Minnetonka.
---
1950-63:  Johnson Auto Service – Texaco Gas and Towing – 6201 Highway 7