Dan Israel is a singer-songwriter from St. Louis Park who has made his mark on the music scene both locally and nationally.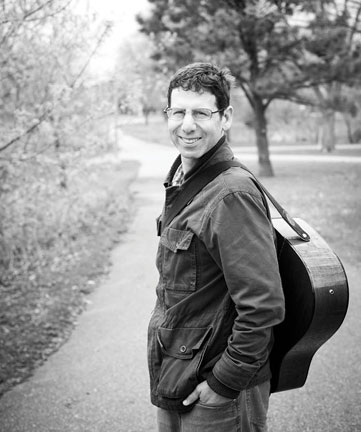 Photo by Amanda Gahler of the St. Louis Park Magazine
After graduating from St. Louis Park High School in 1988, Dan undertook a musical Odyssey starting with college at Northwestern University where he led the folk-duo One Town Horse in Chicago in 1991.
In Austin, Texas, his band was Potter's Field, and  he was named one of Austin's top 15 songwriters.
In 1996 he returned to his Minnesota roots and Dan Israel and the Cultivators.  He released a slew of critically acclaimed CDs, both solo and with the Cultivators.
His 2000 solo release Dan Who? received a 4-star review from noted music critic Jim Walsh from the St. Paul Pioneer Press, who summed up his outrage at the under-recognition of Israel's talent with these words: "Well, somebody buy a billboard, hire a blimp, and give this guy his due already. His name is Dan Israel, one of the mad ones, one of the strugglers, and he just made the record of his life."
Dan won Song of the Year (for "Come to Me") in the 2005 Minnesota Music Awards.
Israel has been reviewed favorably in national magazines like Paste and No Depression and in major American newspapers such as the Chicago Sun-Times, has received extensive radio airplay both stateside and overseas, has showcased multiple times at the prestigious South by Southwest Music Conference, and has opened for acts such as Morrissey, the Tragically Hip, Todd Snider, Iris Dement, Peter Himmelman, the Honeydogs, Mason Jennings, Martin Zellar, Mary Lou Lord, Ike Reilly, Steve Poltz, the Silos, and many more.
His influences include Bob Dylan, Neil Young, the Beatles and the Rolling Stones as well as ones more unique to his particular jangly folk-pop style – Westerberg, the Jayhawks, Petty, the Byrds, Big Star, World Party, Husker Du/Sugar/Mould, R.E.M., and others.
Dan was a regular participant in the Salute to the Music of Bob Dylan, presented for seven summers to hundreds of avid fans at the Wolfe Park Amphitheater in the Park.  He now hosts his own annual Folk Festival at the Amphitheater.
See Dan's website at http://www.danisraelmusic.com/
Growing up in St. Louis Park, Dan Israel lived at 2822 Salem Ave. So.
---
MEET DAN ISRAEL:  Article in the St. Louis Park Magazine, July 2014, by Julie Pfitzinger
The cover of musician Dan Israel's latest CD, Live On, features a black-and-white drawing of a majestic tree, where it is clear the tree's roots run deeply into the ground. Israel's roots are also strong: in family, in the St. Louis Park community where he has lived most of his life and in his music, which remains a constant for him in the midst of personal and professional challenges.
"Over the years, in my own mind, I've asked myself why I am still doing [music]," Israel says. "The answer is I can't stop. I'm always hoping to stumble over my best song. I always feel I'm on the cusp of something great happening."
Israel, 43, has been a folk singer for 25 years‒Live On is his 12th album‒although he first began playing music before entering his teens. "My parents made my brother, sister and I all take piano lessons when we were young. I switched to guitar when I was about 12," he says, recalling his first teacher as a "hippie lady" who lived in the Park. "She taught me to play 'Space Oddity' by David Bowie. It was hilarious."
While at St. Louis Park High School, Israel gravitated toward journalism, working on the school newspaper, and also dabbled in making short films with friends (including one about "a killer shopping cart at Byerly's"). His interest in film carried over to his college years at Northwestern University in Evanston, Ill., but Israel soon turned his attention to music and formed his first professional band, One Town Horse, in 1991.
"It did start to seem like around that time, the Chicago scene was unfriendly to folk music. I felt like I had just missed a trend," he says. From there, Israel moved several times‒for music, for work, for love (calling 1992 "the year of total heartbreak" due to a failed romance)—before landing in Texas. He started a band called Potter's Field, which saw some success, cracking the top 15 of the Austin Chronicle Songwriters' Poll in 1994.
Inspired by the attention Twin Cities artists Soul Asylum and the Jayhawks were getting at the South by Southwest music festival, Israel knew "it was time to come home" and try to further his music career in his hometown.
Jump-starting success here involved time and effort; in between working full time in the office of the Revisor of Statutes for the Minnesota State Legislature (where he still works today), making music with his new band Dan Israel and the Cultivators, and a new marriage, the juggling took its toll.
"I did some touring across the country, but wasn't meeting with enough success to justify [the travel]," Israel says. "I never got a big record deal, but people were coming to my shows."
In 2005, Israel's son Isaac was born, followed in 2008 by daughter Susie, both now students at Peter Hobart Elementary. "I set up a studio in my house and I kept writing music," he says. In 2006, Israel was named songwriter of the year by the Minnesota Music Awards, besting another St. Louis Park talent, Dan Wilson, who has since won a Grammy for his work with British singer Adele.
Another popular St. Louis Park musician, Peter Himmelman, is the former frontman of Sussman Lawrence, the first band Israel ever saw in concert, and the two are now friends. Himmelman admires Israel's talent. "Dan's sensitivity-antennae are very acute. He can take an everyday emotion and crack it open like a walnut to get at the meat of it," says Himmelman, who now lives in Santa Monica, Calif. "His songs are deft and surprisingly, deceptively, simple. Before you know it, they've cut into you somehow and made you look at the smallest points of your life in a different way."
In the midst of building his music career and embracing his role as a father, Israel suffered several health setbacks, some of which continue today. He still plays several gigs per month, depending on his schedule. He and wife Lisa separated recently, and Israel says time with Isaac and Susie is his priority.
But the music always continues. "I never feel right when I'm not playing," he says. "While I don't feel like I'm always trying to be a rock star, to say I have let go of that dream would be a lie."
Asked to describe one of the highlights of his musical career so far, Israel points to an appearance in 2013 when he and his band played before a Minnesota Twins game at Target Field, a night which combined his love for baseball ("it has always been very spiritual for me"), his music and his children, who were with him.
"It was a perfect night," he says, his voice tinged with emotion. "That was my life right there."