Fine yellow brick buildings were built on the south side of Excelsior Blvd. and Joppa in 1940. Although there appears to be three buildings, there are actually two separate buildings and one official address, which is 3655 Joppa. There were three parts to the U shaped complex.  The building closest to Excelsior is known as 3651 Joppa.  Going south, the next section carries the address 3655.  The next section is a separate building, known as 3699, but legally it is part of the 3655 address.
---
JOPPA PHARMACY
The first building, known as  3651 Joppa, housed the Joppa Pharmacy starting on June 19, 1948, owned by L. R. Maxfield. It was the first drug store where you could buy a TV set, in an era before there were many appliance stores. It carried the franchise for RCA televisions for the entire area. Downstairs in the "soda lounge, customers were offered "Television for your Enjoyment." The store was robbed on August 25, 1951.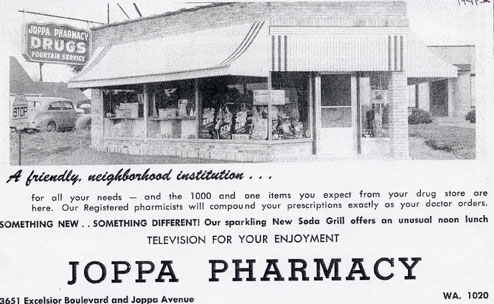 1941-42
---
WARREN DRUG STORE
The building became the Warren Drug Company in August 1953 (Warren Pharmacy until 1970), owned by Robert W. Warren and managed by L.R. Maxfield. (The 1955 ad below pictures brothers Al, Dick, and Bob Warren, described as operating their Drug Store.)  It is reported that local TV personality Jack Thayer, who hosted a show called Jack Thayer's (Corner) drug store, spent a lot of time at the St. Louis Park store. (Ironically, the drug store wasn't technically on a corner.)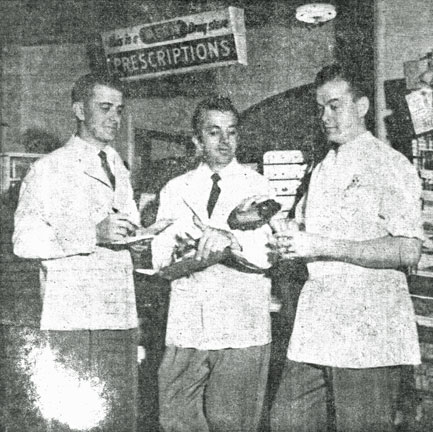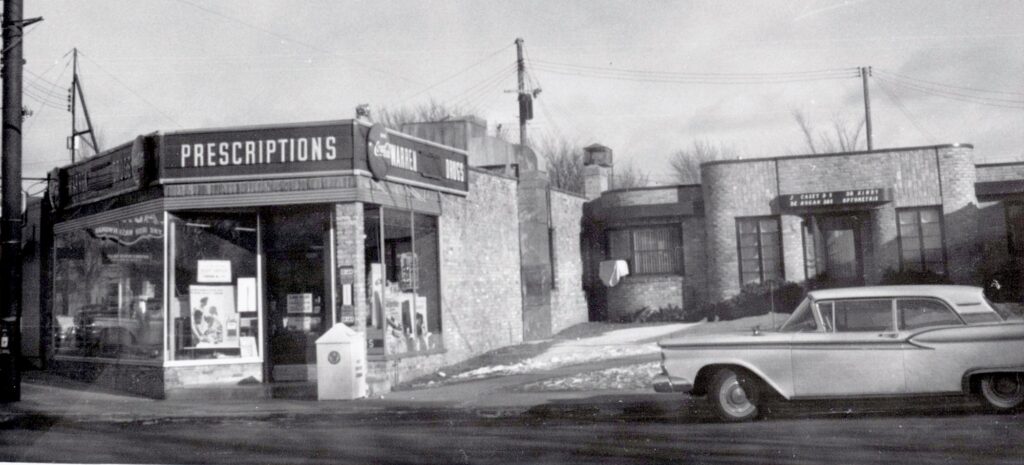 ---
IRISH WASHERWOMAN
In 1948 until 1967, the Irish Washerwoman (in the basement of the drug store) was advertised as the first self-service laundry, featuring 20 Bendix washing machines and a TV Lounge. It was run by Mrs. L. Casey and Mrs. M. Fagan.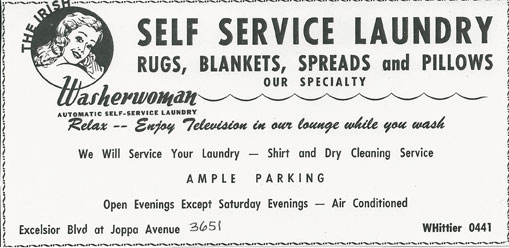 In 1994 the building was home to a business called Socially Yours, but it isn't listed in the directories around that time.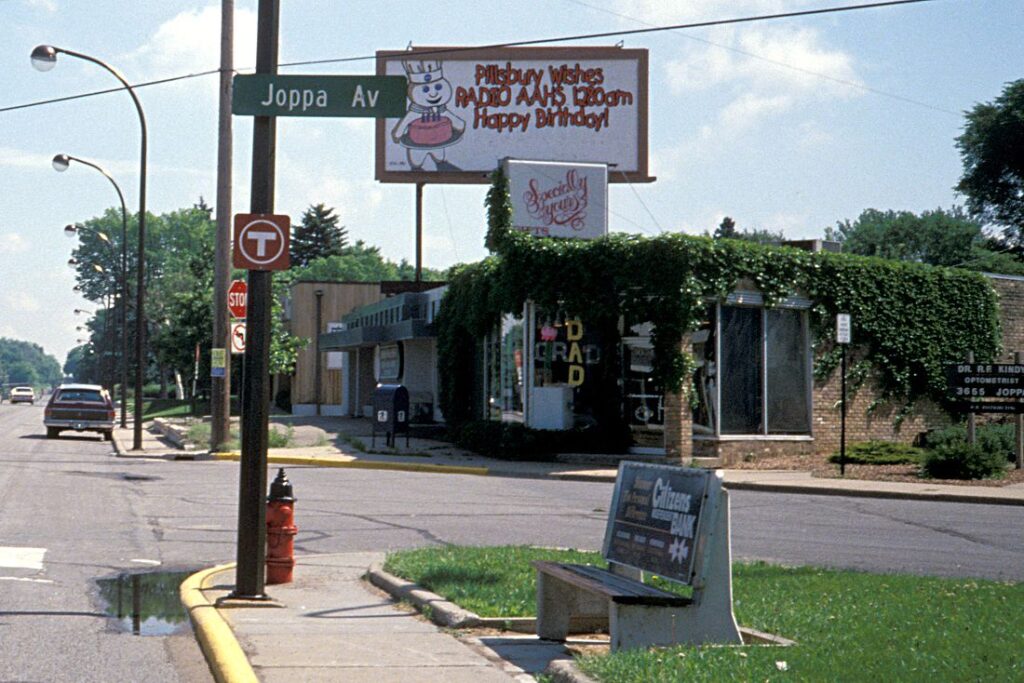 ---
The middle section was known as  3655 Joppa.   This building had a host of doctors and dentists, including Casey, Hogan, Pleissner, and E.V. Johnson. Dr. Richard Kindy, famous for his waiting room putting green, was in residence from 1954 to at least 1962. The Kindy Optical Company was founded in 1908 and was a union shop.  In 1956 they also had an office at 45 So. 8th Street across from Dayton's.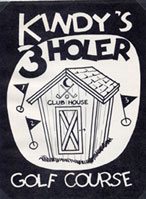 ---
In the basement was a beauty/barber shop: Ruth Swanson and Norma Kadechka operated the Joppa Beauty Salon (from October 1, 1942 to 1947), offered "Pine Vapor Baths" – for ladies only, of course. Noel Nelson opened the Joppa Barber Shop at the same time.
In 1951-61 Deloris Larson ran a beauty salon at this address.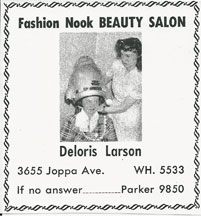 1951
---
In September 1999, Jon Wiczling and his wife opened the Jon English Salon. He closed that location in 2006.
---
The next section was a separate building that was known as 3699 Joppa. This building housed Arcade Television and Appliances with a Grand Opening on September 28-30, 1950. Ads in the Park High Echo for 1951 indicated that there was a second Arcade TV & Appliance store in Golden Valley, at 5404 Wayzata Blvd., in the old Golden Hills Shopping Center.  In December 1951 the store held a Saturday Night Disk Jockey Party to celebrate the arrival of Admiral TV sets. In attendance were WTCN stars Jimmy Delmont and Clellan Card. In 1952 the manager was Vic Feeny. In 1959 it was known as Arcade TV and Organ. The shop closed in 1972, when the manager was Harlan "Platz" Platzer.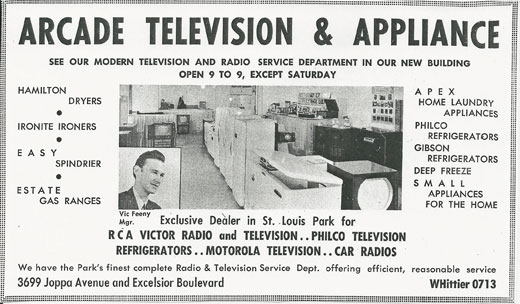 1951
Here's a closeup of Vic and the inside of the shop.
In 1951 there was also the Arcade Record Shop.

1951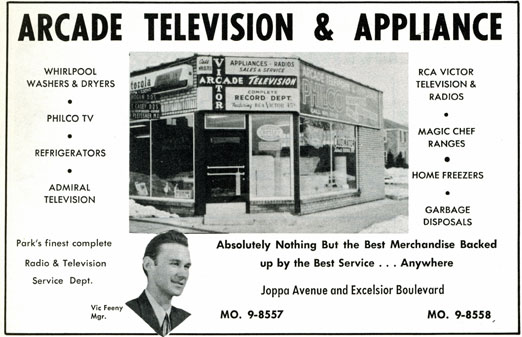 1952
---
There must have been another section to 3699 Joppa. In 1954 it was the location of Winstead's Rugs, Carpeting, and Home Furnishings.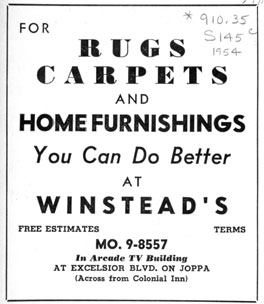 1954
In February 1960 the Minikahda Barber Shop was advertised at this address in the Echo.  Wayne and Esther's "Cameo Coiffure" was listed at 3699 Joppa in 1962.