Twin Cities Public Television's (tpt's) Mary Lahammer has had a number of accomplishments, not the least of which was serving as Miss St. Louis Park in 1992. 
From tpt's website:
 
Almanac political reporter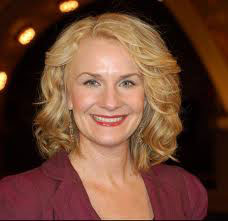 Mary Lahammer is a program host and political reporter for Twin Cities Public Television. Since joining tpt in 1998 she earned unparalleled access to the world famous Governor Ventura and followed him around the world to Japan, China and Cuba. She has won several Emmys and numerous other awards in several states for her anchoring, reporting, producing and photography. Lahammer was named "Best Newscaster" by City Pages Magazine in 2002.
Prior to returning to tpt (where she interned during college) she was an anchor/reporter for an ABC station in Wisconsin and NBC in North Dakota. Mary is a native Minnesotan who began attending the University of Minnesota's Honors College at age 15 where she went on to graduate with Phi Beta Kappa and Summa Cum Laude honors. She holds degrees in Journalism and Mass Communications and Constitutional Law History from the U of M.
You might say Mary has been in training for her job since birth. She learned the business under the wing of her father, an Associated Press capitol reporter for more than three decades. Her State Capitol office is now just around the corner from her father's former stomping grounds.

Adds Mary:  "I continue to do lots of public appearances giving speeches and moderating events in St. Louis Park. The most interesting appearance was when the chamber asked me to speak about how SLP could produce another Mary Lahammer. I often tell audiences how my excellent St. Louis Park education was essential to my success."
On March 15, 2013, Mary was named one of "40 Under 40" young business and community leaders by the Minneapolis St. Paul Business Journal.
Growing up in St. Louis Park, Mary Lahammer lived at 2943 Vernon Ave.