The Lenox subdivision consists of 402 lots from Minnetonka Blvd. south, between Dakota and Louisiana Avenues.  This is a huge area – the third biggest subdivision in the city where most are less than 100.  It was platted in 1913 by Charles I. Fuller.  Formerly known as "The Goodrich Home," the land was initially purchased by George E. Goodrich when he moved to St. Louis Park by ox cart from Anoka in 1864.  Like many of the Park's original settlers, George and wife Jemima (also seen as Jemina) were born in Maine.  Purchase price at that time was $10 per acre.  The Minneapolis Journal reported that the subdivision was to contain 500 lots on 80 acres, and that if all went according to expectations, Minnetonka Blvd. would become a paved road.
The subdivision, school, and neighborhood are all called Lenox, but the source of the name is unknown.
Stories about the neighborhood can be found in Something in the Water.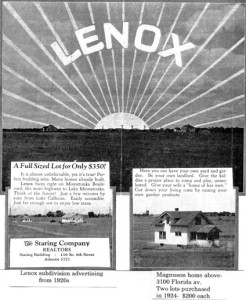 Brochure advertising the Lenox subdivision.  The house on the right above is at 3100 Florida. The text reads: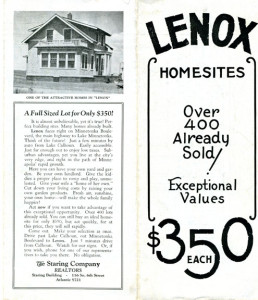 It is almost unbelievable, yet it's true!  Perfect building sites.  Many homes already built.
Lenox faces right on Minnetonka Boulevard, the main highway to Lake Minnetonka.  Think of the future!  Just a few minutes by auto from Lake Calhoun.  Easily accessible.  Just far enough out to enjoy low taxes.  Suburban advantages, yet you live at the city's very edge and right in the path of Minneapolis' rapid growth.
Here you can have your own yard and garden.  Be your own landlord.  Give the kiddies a proper place to romp and play, unmolested.  Give your wife a "home of her own."  Cut down your living costs by raising your own garden products.  Fresh air, sunshine, your own home – will make the whole family happier!
Act now if you want to take advantage of this exceptional opportunity.   Over 400 lots already sold.  You can still buy an ideal homesite for only $350, but act quickly, for at this price, they will sell rapidly.
Come out.  Make your selection at once.  Drive past Lake Calhoun, out Minnetonka Boulevard to Lenox.  Just 5 minutes drive from Calhoun.  Watch for our signs.  Or if  you wish, phone for one of our representatives to take you there.  No obligation.