The Meadowbrook Medical-Dental Building at 6490 Excelsior Blvd. was built by private investors for $5 million as an office building for doctors and dentists practicing at Methodist Hospital.  Groundbreaking was held in July 1968, and an article in the Dispatch stated that tenants would have the opportunity to buy a limited partnership in the building.  The land was owned by Methodist Hospital.
The Open House was held on April 18, 1970.
The building featured a health club for professional men. The 4,000 sq. ft. clubroom featured an exercise room, shower, lockers, massage and sun lamp room "with attendants ever-present," sauna bath, snooze room, and a lounge and relaxation area.
Problems arose because the site was built over swampland – the floors dropped about 3 feet and undulated. On the ground floor, services included Dahl Pharmacy, Lucille Heinen Beauty Salon, Benson Optical, Blue Ribbon Cleaners, Victor Kieweno Hearing Aid Lab, Alko Dental Studio, Mikrotts Continental Barbers, Uniform Shop, dining facilities, and an extended care wing. There was also a skyway to Methodist Hospital.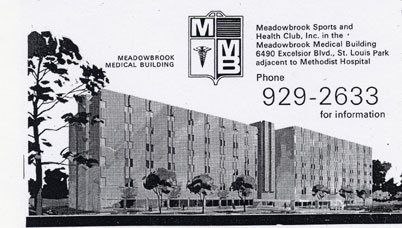 Incidents at Meadowbrook:
In May 1973, the Meadowbrook Women's Clinic opened, run by Dr. Robert McCoy. A staff of four doctors and eight counselors performed up to 100 abortions per week. Methodist Hospital made it clear that it was not affiliated with the clinic. In 1973, an anti-abortion sign was placed over the parking lot. On October 15, 1973, the St. Louis Park City Council passed a resolution "expressing concern for human life" and condemning the clinic for performing abortions. Councilwoman Rose-Mary Griak was the only member to vote against the resolution.
In 1981, David Corum of Brooklyn Center made his way to the Clinic and threatened to detonate a bomb, which turned out to be made of soap, gas, water, and a double boiler. He thought an ex-girlfriend might get an abortion there, and he was demonstrating against convenience abortions. At the time, the Clinic was the region's largest abortion clinic.
Methodist Hospital purchased the building in 1990.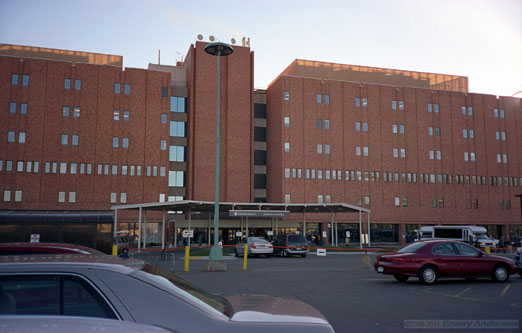 2004 Photo by Emory Anderson