Methodist Hospital began life as Asbury Methodist Hospital, founded in Minneapolis in 1892. In the early 1950s, facing a deteriorating building and a baby boom that left the area short of hospital beds, it was decided that, for the first time, the new building would be built in the suburbs.
In August 1954 the site at 6500 Excelsior Blvd. was purchased from Salkin & Linoff, a local drygoods firm, for $70,000. The swampy site next to Minnehaha Creek had to be filled and 100-ft. pilings had to be sunk. Carl Pohlad of Marquette National Bank was instrumental in assisting with the financing.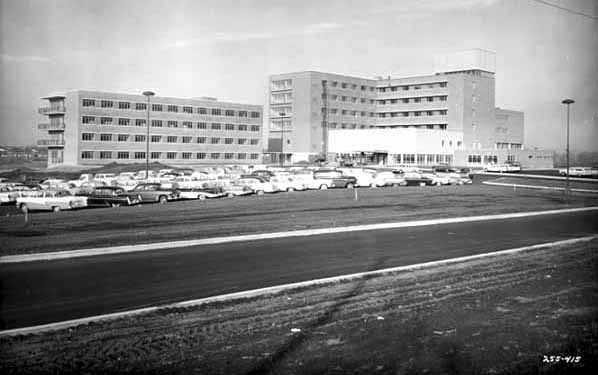 Now called Methodist Hospital, the Open House was held from January 20-31, 1959, and over 10,000 people toured the facility before it opened for business. The first baby was born and the first patients admitted on February 16, 1959. That day they served 60 patients: 20 transfers from Asbury, the rest new patients. Initial capacity was 246 beds and 60 bassinets. Many additions have been added since then, starting in 1962.
Much more information can be found in the book Methodist Hospital, A Tradition of Caring by Bill Beck, 1992. Also see the hospital's web site at http://www.parknicollet.com/methodist/.