The Midwest Badge and Novelty Co. was started by Frank Collins in 1931.  It was apparently located in several places in Minneapolis before moving to St. Louis Park, including (in no order):
1425 Hennepin Ave.
104 No. Third Street
119 No. Fourth Street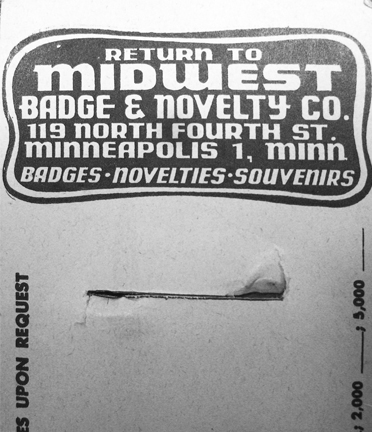 ---
In 1950 the company moved to 4420 Excelsior Blvd.  In 1969 Joseph Saba bought the business from Collins' widow.  Joseph's son Mark and his wife Barbara took over the business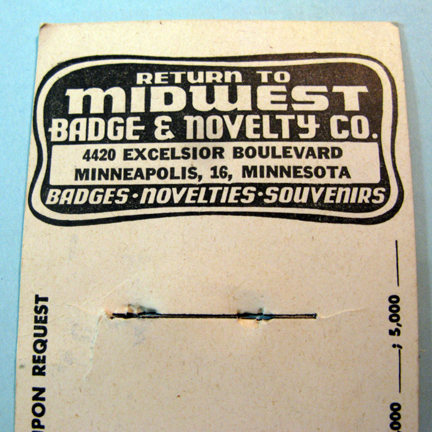 ---
In November 1989, Mark and Barbara Saba moved the company to 3337 Republic Ave.
The business was founded on the production of metal name badges and foil seals.  Their slogan was "We Badge the World."  Some of their customers were Red Owl, National Foods, and the American Legion.  They also made arm bands, sashes, campaign buttons, ribbons, and military insignia.  At one time the company had 12 employees, including a commercial artist.
The industry has changed, and many of the products the company used to make are now jobbed out.  The punch presses that they used to stamp metals were deemed too dangerous by OSHA.  And with the advent of hand button machines, anyone could make buttons.  Another enterprise that didn't pan out was a line of Twins jewelry – necklace, cuff links, and a money clip.  For whatever reason, the Twins didn't go with the program, although the jewelry is beautifully made.
But Mark and Barbara are still a great source for ribbons, name badges, name tag holders, buttons, inscribed pens and pencils, and more novelty giveaways than you can imagine.  Their shop is full of examples of their work and a fun place to browse.  And Mark is a great source of St. Louis Park history.  Shop local!