MINIKAHDA MOTOR LODGE
 The 36-room Minikahda Motor Lodge was built at 3924 Excelsior Blvd., next to Al's Liquors, in 1958. The developer was Oscar J. Husby.
 The coffee shop was built as the Excelsior Embers Restaurant.  The Embers was there in June 1960; surely earlier and later as well.
A Falcon gas station sat in the parking lot.

1960
---

AMBASSADOR EAST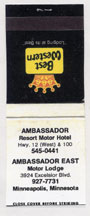 In 1968 it became the Ambassador Motor Lodge East, a sister motel to the Ambassador Resort Motor Hotel at 5225 Wayzata Blvd.
In about 1976 the Rasmussen family came to work at the motel:  Mary as resident manager, Anita (Mary's mother) as head housekeeper, Del (Mary's father) as chief of maintenance, and Joanne (Mary's sister) on the housekeeping staff.
At some point the motel was willed to St. Olaf College.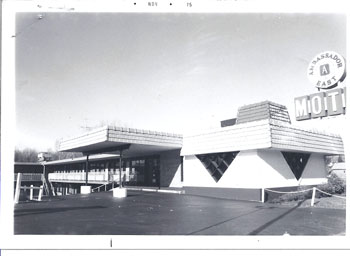 1975
---
AMERICAN INN
In March 1981, still the Ambassador East Motel, it was advertised as newly remodeled.  At that point it was a Best Western.  Later that year it was bought by Bonnie Adams and a silent financial partner. Bonnie changed the name to the American Inn. Adams (later Bonnie Crouch) refurbished and renovated the motel, which had become pretty run down.
In June 1998 records show that it was purchased by Midwest Hospitality, Inc. for $815,000.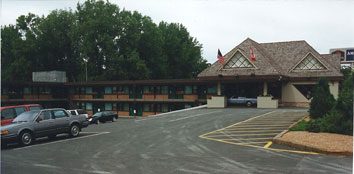 1998
The St. Louis Park Economic Development Authority bought the property in November 2009 for $750,000 for future development, and demolished it in January 2010.  The photo below is by Seth Rowe of the Sun Sailor.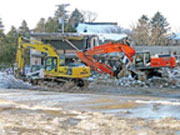 ---
THE ELLIPSE II
In 2012 the Elliipse II (e2) apartment complex was built on the site.