The area that is now commonly known as Minikahda Vista was once the farm of Christopher Hanke. When he died in 1903, the land was parceled off among his children, Charles, Lydia, and Louise. It appears that subdividing the land into homesites began in the teens. The family hired John Reid of Wadsworth and Reid to sell the plats.
Hanke's Minikahda Terrace (platted by Charles Hanke on November 29, 1916), was so named because it overlooked the Minikahda Golf Course in Minneapolis, which dates back to 1898. Road grading was completed on September 1, 1917. An undated advertising pamphlet for the new development listed "Twelve Facts to Consider Carefully." One promised "Building restrictions of $5,500 to $6,500 to protect your home investment" – no shacks here. Also no apartments or duplexes, just single family homes that had to have two stories. An aerial photo of the area that was the Hanke farm (between 34th and 36th, France and Joppa) taken in 1931 shows a smattering of houses built in the 20's. 93 houses now exist in this subdivision.
There was also a Minikahda Heights platted by Dr. John Watson (Louise Hanke's husband) on December 30, 1916, but it was vacated on November 7, 1918.
Hanke's Replat was recorded on July 9, 1923 by Lydia Hanke, clearing the way for lots on the south side of Excelsior Blvd. to be sold. It now contains 8 properties
West Minikahda was platted on April 22, 1925.  The 32-lot plat covers the 3700 blocks of France, Glenhurst, and Huntington.
Minikahda Vista St. Louis Park consists of 247 properties on the 3800 blocks of Joppa to Quentin, Excelsior Blvd. and Vallacher.  It was platted on June 12, 1925.
Minikahda Vista 2nd Addition runs along 36-1/2 Street from Kipling to Monterey, encompassing 28 sites. It was platted on August 6, 1925.
Minikahda Oaks is on the other side of Excelsior, from Randall to Excelsior, France to Inglewood. These 86 homes are surrounded by the golf course, a former sand and gravel pit, Bass Lake Preserve, and what was Al's Bar (now the Ellipse).  It was platted on July 22, 1926.
Minikahda Terrace 2nd Addition was platted on October 6, 1934 by the Hanke family, covering the 3700 blocks of Huntington, Inglewood, and Joppa. 46 homes now make up this subdivision.
Minikahda Park consists of 13 houses on the 3700 blocks of Huntington, Inglewood, and Joppa. It was platted on May 8, 1951.
Robert Johnson was a prominent businessman in the area.  The ad below is from 1938: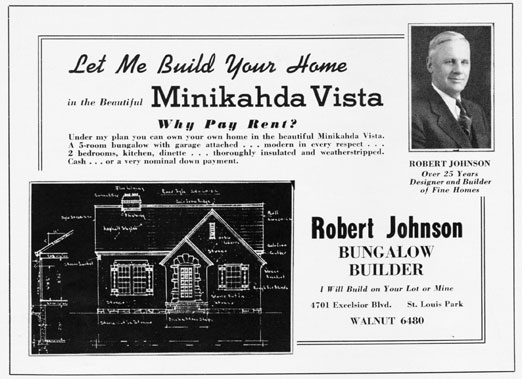 ---
The Minikahda Vista Neighborhood Association began organizing in the spring of 1993, meeting at Susan Lindgren School.  One of the first issues it faced was keeping track of the Park Nicollet project.  About 60 people attended its first monthly meetings.
Save