Mosquitoes surely must have been a problem for early Park residents, since much of the Park was swampland before it was developed. We'd love for you to contact us with any stories you may have about life before chemicals. 
A present-day resource is a website called pests.org, which gives a mosquito forecast each year.
---
THE BATTLE IS ON
On July 26, 1926, Ordinance A-4 dealt with public health nuisances, and included a prohibition of keeping standing water where mosquitoes can breed.  It also outlawed manure or rubbish that attracted flies, mosquitoes or vermin.
In 1948 the Village Council was looking into what other areas of the country were doing about the problem and found programs in Oregon and Ohio. They were told that a spraying program would cost $5,000.
By 1956 the mosquitoes were intolerable. In July 1956, a large group of women confronted City Hall and spoke strongly for mosquito control. The Council voted for it, but then held a second hearing, which was standing room only. Not all were in agreement: Councilman Jorvig strenuously objected to the project, stating that mosquitoes can travel 20 miles – presumably meaning that we would be killing other municipalities' mosquitoes. He declared such spraying to be a luxury, and not scientifically or economically sound. Nevertheless, on July 30, 1956, the Council passed an emergency ordinance approving the spraying by Allied Master Sprayers.
In 1957 the City began a regular program of mosquito control spraying, the first of its kind in the area. On June 13, a $14,650 project was begun to spray the little buggers. Streets with no alleys were sprayed by the Heliflights Helicopter Service. The press made much fun of the proceedings, at the mosquitoes' expense. That summer, Hennepin County proposed a county-wide mosquito control program.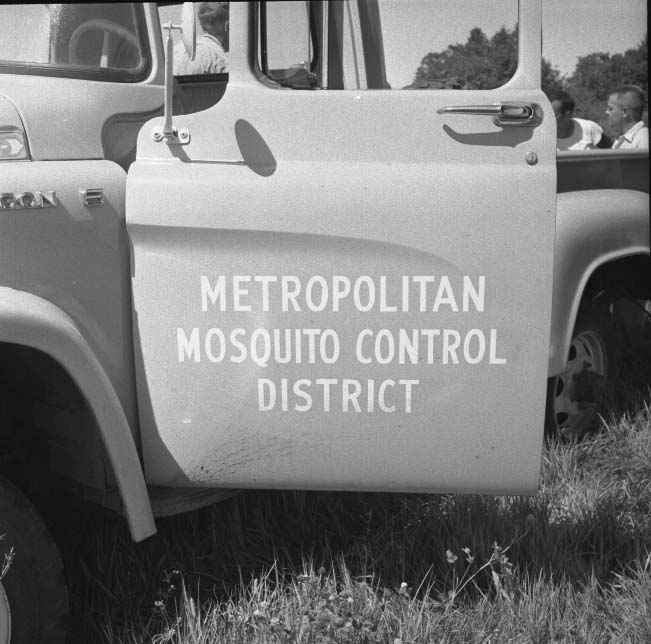 The war was serious: by 1959 the Commission declared that there were no "native" mosquitoes in the Park – any pesky critters found were blown in from outside the city limits. We learn about the Aedes Vexans variety of mosquito, which pits (?) in shady areas or after sundown. The monsters have a flight range of 15 to 20 miles and a lifespan of 2 to 4 weeks. By June 1959, 106,240 acres of confirmed mosquito breeding sites have been treated in the metropolitan area. The City paid $4,950 to the Helicopter Services Corp. to do the dirty work.
Heaven know what was in that insecticide; it was probably the dreaded DDT, now banned. In July 1959 the headline read "Mosquitoes, Beware! Here Comes Death by Air and Land." The helicopter was back, targeting parks, bog lands, and non-residential areas. Two spray-mounted trucks were also used.  Boomers who were kids during that time remember following behind the trucks, getting a good dose of the poison.
Then it was "Death for Mosquitoes," as decreed by the Council. Even though the county commission declared that they had treated 700 acres and declared victory, the City Council called for and additional seven days of additional spraying, focusing on parks and schools. Yikes.
The 1960 mosquito contract was let in June.  Councilman Jorvig still against.  Here are pictures of a mosquito control helicopter from March 1960.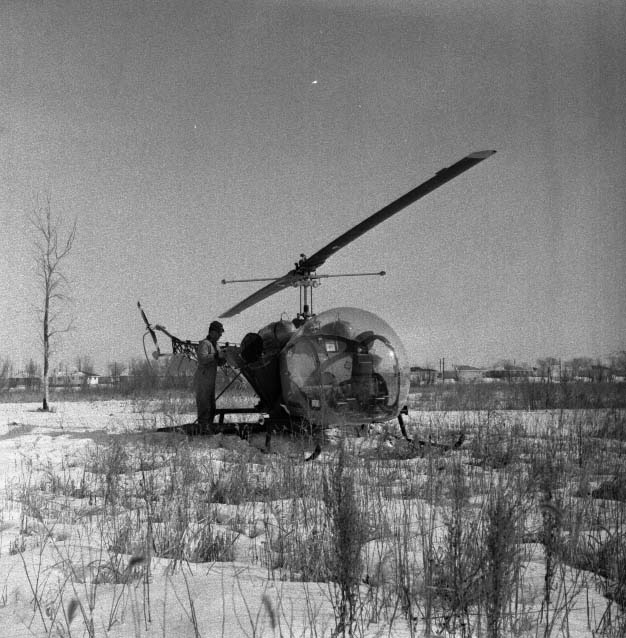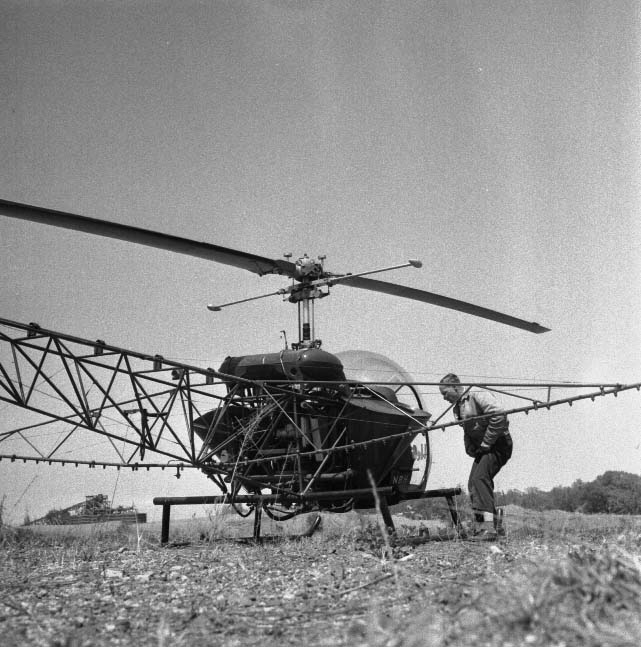 A note from 1983 indicates that the commission will continue spraying for outdoor civic events and for scheduled park and recreational activities, but will start charging a fee to spray private property for weddings, etc.
In 2006 the Star Tribune reported that St. Louis Park was the starting point of the mosquito war in the Twin Cities. In April 2006 the Metropolitan Mosquito Control District used a helicopter to drop a granular pesticide over wetlands to kill mosquito larvae. The goal of the District was to reduce mosquito breeding in 70,000 acres of wetlands across the seven-county area, making it more pleasant to be outdoors and checking the spread of West Nile virus.