The Minneapolis Golf Club, located at 2001 Flag Ave. So. at Cedar Lake Road, began in 1916 by five members of the Minneapolis Athletic Club to meet the growing popularity of golf in those days. There were only two golf clubs in Minneapolis at that time – Interlachen and Minikahda. At first the 9-hole course was located on what is now the Golden Valley Golf and Country Club.  Later that year it was moved to St. Louis Park.  1916 was the same year the first PGA Championship was held. The 175-acre club was and remains a private course.
The golf course was designed by famous Scottish architect Willie Park Jr. (1864-1925) of Musselburgh.   An existing four-room farmhouse was converted to a clubhouse. The club's first event at its new location, a match play versus bogey, was held on May 19, 1917.
In 1920 Donald J. Ross (1872-1948) of Dornoch Park produced a revised routing of the course to make way for a new clubhouse.
In 1950, trap shooting at the course was a popular sport.
Sher Meagher remembers:  "In High School I lived across Texas Ave facing the golf course. I think we looked down the 4th fairway. If someone sliced on the 3rd tee the ball would go over the fence, bounce in the street and land in my front yard. We had buckets of balls. I got 10 cents a ball (in the mid 1964-66) as there was no way the golfers could get past the fence to retrieve them. I would sell them back through the fence. THEN is was off to Sol's or Mike Zoss Drug. I think they paid the price and then got such a charge out of watching the ball hit the road, bounce in the yard, and me watching and waiting to sell it back. My sister took over the business when I got to busy with high school and swimming."
Dale Caldwell has been the greenskeeper since 1985.
See the Club's website at www.minneapolisgolfclub.com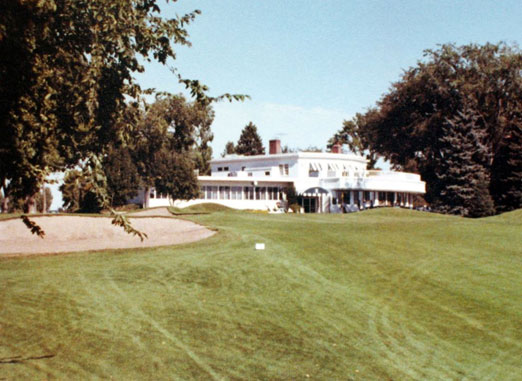 Clubhouse, 1980 – posted by Karl Erickson