The National Lead Company operated a secondary lead smelting facility on the former site of Monitor Drill at 3715 Monitor Street:  south of Highway 7 and bounded by Lake Street, Hampshire and Monitor Avenues. From at least 1963 the address was listed as 3650 Hampshire Ave.  The plant operated from about 1934 to 1981.
At first it was known as Northwestern Metal Works. National Lead had many factories around the country, producing solders, plumber's lead, lead pipe, and lead-based Dutch Boy Paint.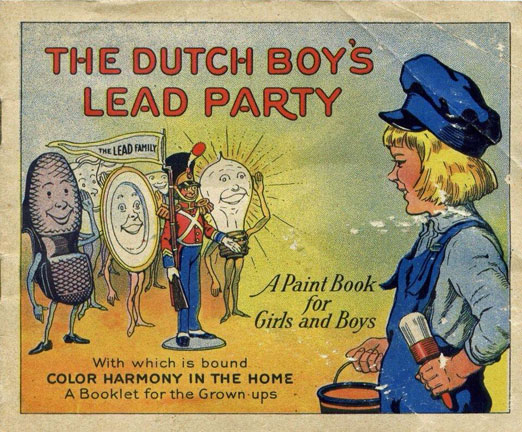 The Dutch Boy's Lead Party, Copyright 1923. Tells the story of the Little Dutch Boy, peddler of Dutch Boy White Lead Paint, who throws a party for all of his friends who contain lead. Invitees include a toy soldier, a light bulb, various members of the china and enameled ware community, a few rubber-soled shoes, a baseball, a pencil (you'll find out why), and a gregarious bullet. Courtesy of the Winterthur Library, Printed Book and Periodical Collection.  See the inside pages of this book on YouTube.
---
National Lead owned the Minnesota Linseed Oil plant in Minneapolis, which was also used for paint. National Lead had a major facility in St. Paul, but began moving certain functions to St. Louis Park, perhaps as early as 1933-34.  In 1945 the local manager was Norman Schroder.
Sources of lead (lead plates, old car batteries, and lead containers) were melted down, impurities removed, and then poured into 5″ by 5″ by 24″ "pigs" of lead. Smoke and residue were filtered through 20-foot long vacuum-cleaner-like bags, and then released through a 200 ft. smoke stack that became an area landmark. Other residue was dumped on the site, polluting the ground with lead.
A telling note was in 1949, when Stoge Williams complained of the odor from National Lead. Other complaints streamed in in 1948.  George Rye noted that his father told him that odor complaints came to National Lead regularly from neighbors whether they were operating or not, and the Prestolite Plant, which was just west of National Lead, was likely the source of some of the smell.  As his father said he was the recipient of some of the complaints, he just figured National Lead was blamed for any odor.  There is a memoir about National Lead written by George Rye in Something in the Water.
In 1963 part of the property became Golden Auto Parts.
Identical descriptions from 1964 and 1970 indicated that National Lead produced type metals, battery lead, ingots, solder, and warehousing paints. At that point it was a branch of National Lead of New York. Roger Anderson was in charge of metal sales. There were 40 employees.
From a 1971 promotional brochure:  "Meeting the worldwide needs of the chemicals, metals, nuclear, petroleum, automotive, and aerospace industries, National Lead Company is prod to be part of the St. Louis Park community.  Even the fashion industry – whose designers demand more vinyl- and urethane-coated fabrics – has created a major new market for National Lead's plastic stabilizers and titanium pigments.  Today its mines, plants and offices are in over 20 foreign countries." The little Dutch Boy from Dutch Boy paint was prominent in its logo in those years before the perils of lead-based paint were known.
These pictures are from 1954.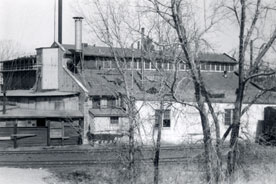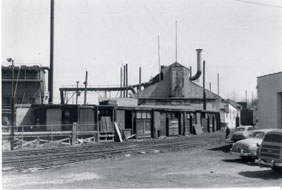 On August 22, 1979, the National Lead property was sold to Taracorp, Inc. an Atlanta-based company headed by James Taratoot. Although there were concerns about lead levels, runoff, etc., the City issued a permit. The site was first investigated by the EPA in 1980 for contamination of the site and ground water. The plant ceased operations in 1981.
For information about the cleanup and redevelopment of the site, see 7003 W. Lake Street.