Park Knoll School was built in 1952 with 19 classrooms and two Kindergartens. Despite a petition submitted by Park's chapter of the Federation of Teachers to name the school after Ethel Baston, it was dedicated as Park Knoll on September 29, 1952. Architects were Haxby, Bissell and Belair.  Builders were Kallestad and Nelson.  It had a "Y" shape with two stories.

Undated photo from school district.  Consensus is that the "dome" is actually the top of a nearby water tower.
Instead of forming a separate PTA, Park Knoll joined with the nearby Oak Hill to form the Oak Hill-Park Knoll PTA.  See our separate page to see highlights of that organization from 1952 to 1963.  Jeannette Edgar was the Principal during those years.
In the 1960-61 school year, the K-6 school had 694 students.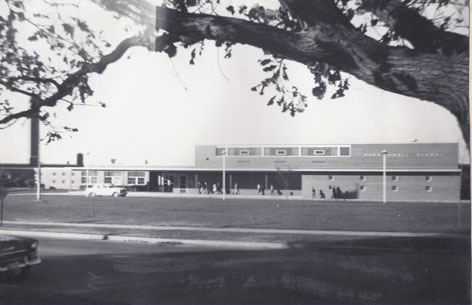 1960
Click here, and you will see an aerial shot of the school, all the way to the right.

Above:  return address from an envelope furnished by Joel Swanson
Park Knoll and Aquila schools had a football rivalry started when PK coach Dick Blenkush moved to Aquila.  The winner of each year's big game won the little green jug.  Where is it now?
In June 1978 the school was sold for $750,000 to the United National Corporation, New York, the developers of Knollwood Shopping Center, to be used as a parking lot for Montgomery Wards [now Cub].  During the last week of class, students got to paint murals on the walls.  One fourth grader remembers:  "We would sing 'Be True to Your School' by the Beach Boys on the playground and shout it in the direction of Knollwood. Oh the passion we possesed! 'Aint you heard of my school Its number one in the state So be true to your school now..'"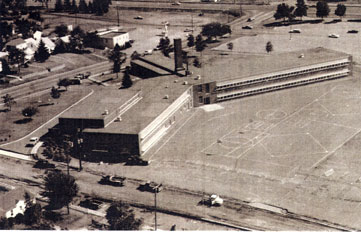 1968
The Historical Society has photocopies of Park Knoll yearbooks from 1976-77 and 1977-78.  We also have a photocopy "Park Knoll Memories" book from 1976-77 that contains photos but no captions.