St. Louis Park basketball player Jim Petersen was an outstanding athlete – at Park High, the University of Minnesota, and the NBA.
His achievements started at St. Louis Park High. In the 1978-79 school year he was All Conference Center, All State Center, and the first McDonald's All American basketball player ever from Minnesota. He repeated his All Conference and All School honors in 1979-80, and was Parade Magazine's All American Center. He served as team captain both years. On April 20, 1980, he was named "Minnesota's Mr. Basketball." A high point was in 1980 when he scored 36 points against Hopkins, with Park winning 86 to 69. He helped carry his team to the State tournament in 1978, 1979 and 1980.  During his career at Park High he averaged 18.1 points and 12.6 rebounds per game.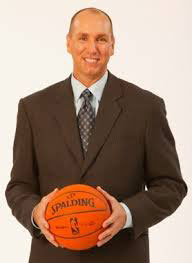 He played for four years for the U of M, helping the Gophers win their last official Big Ten Conference championship in 1982. He served as team captain in the 1983-84 year.
In 1984 he was selected by the Houston Rockets in the third round (51st overall) in the NBA draft. He played with the Rockets until 1988, when he became a member of the Sacramento Kings. From 1989 to 1992 he was a member of the Golden State Warriors.
Jim has worked as a Timberwolves radio and television analyst since 2007. He has also been a KFAN talk radio guest host on at least three occasions. Jim has spent much time as a volunteer coach.
He has been a WNBA coach for the Minnesota Lynx since November 2008, earning a championship ring in 2011.
Jim's father was Bob Petersen, an outstanding basketball player for Minneapolis Vocational High who graduated in about 1950. Jim, his father Bob, and his brother Dave were all about 6'10." Bob passed away in 1999.
Jim Petersen was in the inaugural group of inductees into the St. Louis Park Athletic Hall of Fame in 2005.
Read more about one of Park's greatest athletes in a September 18, 2013 article in the StarTribune.