St. Louis Park was still a small Village when World War II ended, with lots of open space to build houses on.  Even before the war was over, officials sensed what was coming.  In a letter dated May 15, 1945, Mayor O.B. Erickson reported that:
Our Planning Board has just completed a comprehensive zoning map for all St. Louis Park, designating residential, commercial and industrial factory land use. This is quite important in order to regulate the tremendous building of homes and businesses establishments contemplated after this war.
VA loans authorized by the Servicemen's Readjustment Act of 1944 (the G.I. Bill) often required little or no money down, making five million Veterans able to buy homes. Home construction also benefited from technology developed during the war, and standardization of building materials brought the price to an affordable level. National housing production jumped from 140,000 units in 1944 to a million in 1946.
Changes in the Federal Housing Act of 1949 provided homebuilders with profit incentives to construct single-family home developments in the suburbs. Locally, despite the Planning Department's argument for 50 ft. lots, the Village allowed 30 ft. and 40 ft. lot sizes, which made large-scale development profitable for developers. Hundreds of homes were built for an average price of $7,000.
A record 1,122 building permits were issued by the Village in 1950. This was the third largest number granted in the state, behind Minneapolis and St. Paul. St. Louis Park was also third the following year. Adolph Fine was responsible for 219 of those homes, just some of the hundreds that he built. Between 1950 and 1956, 66 new subdivisions were recorded and 2,700 new homes were built. In all, 60 percent of St. Louis Park's homes were built between 1946 and 1954. The largest number of building permits were issued in 1950 and 1951, with a dip in 1953 (1,046 permits) and a resurgence in 1954 (1,288 permits).
Some of those homes, built to VA specifications, were so small that the neighboring homeowners appeared before the Village Council to complain that they were having a negative effect on their home values. A representative from the VA testified before the Council that their goal was to stimulate the building of homes that veterans could afford for $25 a month. Some of those houses are located on the 3100 block of Utah, and the 1600 block of Blackstone and Alabama.
By 1955, the boom seemed to be waning; an article in the Dispatch that July said that sites in the Park were "filling up" and that builders were moving on to other suburbs such as Brooklyn Park, Bloomington, and Edina.  The estimated number of houses in St. Louis Park in 1955 was 9,000.
By 1965, the SLP Sun reported on a boom in apartment buildings, which had only just begun.  In 1960 there were 1,741 apartment units – at the end of 1964 there were 3,440.  The predictions were an increase in townhouses and luxury apartment units.
---
ADOLPH FINE
The importance of Adolph "Bob" Fine's role in this building boom cannot be overstated.  Fine Homes was headquartered at 6301 Minnetonka Blvd. as early as 1947. Fine's prodigious construction activity is important not only for the sheer numbers of homes that he built (estimated at 2,000), but for the fact that he sold to members of the Jewish community when others had restrictive covenants, thus greatly contributing to the movement of the area's Jewish community from North Minneapolis to St. Louis Park. The story of the Postwar building boom is not complete without the story of Adolph Fine.  Most of his homes were located around Texas Ave. and Minnetonka Blvd. on the northwest side of town, but he did build some infill houses as far south as Brookside.
By 1955, Fine had moved on to other suburbs like Bloomington, but was finishing up the Golf View Terrace subdivision at 24th and Cavell Ave.
---
ECKLUND & SWEDLUND
In 1946, Len Swedlund returned home to Minnesota from World War II and joined with boyhood friend Stan Ecklund to form Ecklund & Swedlund Construction, Inc. Since then the company managed well over 3,500 home construction, room addition, and remodeling projects in St. Louis Park, Minnetonka, Plymouth, Eden Prairie, Chanhassen, Mound, Champlain, Rockford, Delano, and many more Minnesota cities.
In 1954, St. Louis Park annexed the 75-acre Ecklund & Swedlund tract west of County Road 18, south of Wayzata. Ecklund & Swedlund, who owned the property, lobbied for the annexation due to the Park's ability to provide sewer and water and to expedite their ability to develop the land. This property became the Kilmer neighborhood.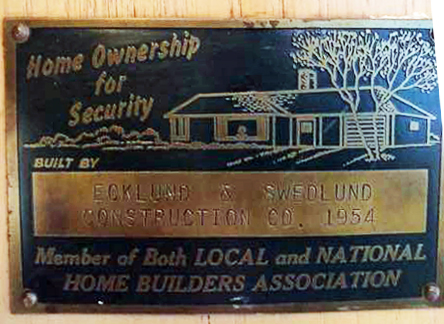 In 1955, the company was just finishing up a 50-home project south of Cedar Lake Road between Pennsylvania and Oregon Avenues.
In 1958, Ecklund & Swedlund managed the construction of a model home and gave it away in the parking lot of the Knollwood Plaza shopping center to promote "new" neighborhoods around the metro area. At the time this was the largest retail giveaway in Minnesota's history.
Len Swedlund's two sons, Jack and Mark joined the business in the 1970s. A family business since its inception, Ecklund & Swedlund continued that legacy as the second generation continued to uphold its reputation for excellence. (Len passed in 1999.) Ecklund & Swedlund was even mentioned in the Academy Award Winning Movie Fargo by Joel and Ethan Coen. They recall their childhood memories of Ecklund & Swedlund while growing up in St. Louis Park.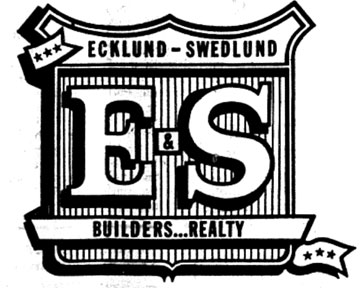 ---
BRUCE CONSTRUCTION
Another major builder was the Bruce Construction Company, owned by Wallace T. Bruce.  In 1955 the company was located at 6810 W. 25th Street; at another time it was located at 1820 Independence Ave.
A color, glossy booklet called Better Living in a "Bruce Built" Home offered decorating ideas and featured advertising from local contractors such as the Black Top Service Co., 7400 W. Cambridge Street, and Plehal Heating Co., 3982 Alabama Ave.
Bruce's biggest development were along Cedar Lake Road, where he built the Westwood Shopping Center and several apartment complexes on land purchased by  Landers-Nordblom-Christenson Sand and Gravel Co.
The company announced the opening of the Westdale Addition to St. Louis Park, located one block south of Wayzata Blvd. east of Highway 169, overlooking Westwood Hills Golf Course. Homes ranged from $16,000 to $22,000, which were fairly high end at the time. Approximately 100 homes were built in this development of Westwood Hills.
The Crestview Addition, south of Westdate and adjacent to the Minneapolis Golf Club, was an exclusive area of 18 homes in the $26,000 to $40,000 range.
Bruce Construction also built 125 homes in the Cedarcrest subdivision, south of Cedar Lake Road and east of Louisiana  Ave.
---
S&H CONSTRUCTION was Arnie Hill and Bill Swedlund, 6804 W. Lake Street.  In the mid-1950s they built 25 homes south of Cedar Lake Road on Boone Ave.
---
WESTWOOD HILLS CONSTRUCTION CO.  was owned by Robert J. McNulty, who was developing his family's Westwood Hills Golf Course.  As of 1955, 70 acres from the south of the course were being developed into 250 homes located north of Cedar Lake Road and east of Texas Ave.
There were also 35 homes at Flag and 22nd Street, just off the 17th fairway of the Minneapolis Golf Club.
And being finished up were 31 homes in the Westwood Hills Grove area on Westwood Hills Drive.
---
VICTOR FORMO, 6739 Eliot View Road, was noted in 1955 as working on 20 homes between Cedar Lake Road and Eliot View Road.
---
SAM SEGAL built homes in St. Louis Park from 1945 to 1955, moving on to Brooklyn Park.  In 1955 he was finishing a 106-home development bounded by Maryland and Pennsylvania Avenues, 16th Street, and W. Franklin.  That subdivision, called La Petite Ferme, had been platted in 1917.
---
RUSSELL SMITH.  In 1955 Smith was developing six homes on 18th Street between Maryland and Louisiana Avenues, and five homes at 18th and Kentucky Ave.
---
PAUL E. OLSON AND SON, Edina.  In 1955 they were completing seven homes at 24th and Decatur, and planned to turn their attention to Edina.
---
DOUGLAS REES ASSOCIATES began in 1924 and was headquartered in downtown Minneapolis.  The company was particularly active in St. Louis Park's Lake Forest neighborhood.  Some of the neighborhoods the company developed include (not all in St. Louis Park):
White Oaks
Cedar Shores
Lake Forest
Glenurban
Brooklawns
Huntington Woods
Cedarwood