The following are somewhat random facts about electricity and gas in St. Louis Park.  Please contact us if you have corrections or additions.
In 1880 Thomas Edison is often credited for inventing the electric light bulb, although many other inventors were also working on the idea before and after that time.  Edison's incandescent lamp with a filament of carbon of high resistance was deemed one of the most practical.
The electric light bulb was introduced in Minneapolis in 1883.
Minneapolis experimented with the "Electric Moon" in 1883.  A type of street lamp, perhaps?
On July 3, 1891, the St. Louis Park Village Council passed two ordinances regulating the provision of electricity and gas. One authorized, permitted, and regulated a plant for providing electric light, heat and power, to be provided by the Minneapolis Land & Investment Co. ML&I was granted the right to string wires for carrying and transmitting electric currents for the supply of light, heat, and power. Apparently only the streetcar was wired at that time.
The other July 3 ordinance regulated the manufacture and supply of gas by granting the Minneapolis Land & Investment Co. the right to manufacture gas, to be made from coal and other materials. ML&I was also granted the right to lay gas mains and pipes. But a 1927 ordinance grants the right to manufacture, sell and/or distribute gas for heating, illuminating and other purposes in the Village and to use the streets, avenues and alleys for that purpose.
The first hydo-electric generating plant in the Western hemisphere was built at Bridge Square in Minneapolis in 1882.
The Carpenter Electric Heating Manufacturing Co. of St. Paul created the first electric oven in 1891.
On July 3, 1891, the Minneapolis Land and Investment Co. (headed by T.B. Walker) was granted the right to string electric wires through town by the St. Louis Park Village Council. That same day the company won the right to lay "gass (sic) mains made from coal and other materials."
The Main Street Station in Minneapolis was built in 1894, providing electricity for industrial use only. It was damaged by fire on January 6, 1911.
In 1899, 24 gasoline street lamps were purchased by the St. Louis Park Village Council for $5.85 each. Mr. Cox was appointed Village lamplighter.
Daily maintenance of these required a man with a carriage to light the lamps each night. He carried a can of gas for refilling as needed. R.D. Lewis served as lamplighter in 1900 and 1905. Harvey Harris had the job in 1901, and was paid 3 cents a light.
In April 1907, $25 was offered for information leading to the conviction of anyone breaking or damaging street lamps.
In 1909 easterner Henry Byllesby began buying and consolidating small electric utility companies. In 1916 the company was named Northern States Power. Byllesby continued buying companies, purchasing 42 power companies in seven years. NSP lasted for almost 100 years before being merged out of existence.
In about 1910 employees of the Monitor Drill Works were able to tap into the plant's generator for their homes. They say Monitor employee Schwab was the first in the area to have electricity. Joe Williams: "A friend and I wired the first building in St. Louis Park for electricity. We used all open wiring with porcelain knobs. Up to this time some buildings used mantel lights that had to be warmed up before they gave out their glow. Oil lamps were in the most common use. Chimneys and wicks had to be tended most every day, and they did not give out much light."
---
The Council voted to discontinue all street lighting in May 1910, but in February 1911, The Minneapolis General Electric Company submitted a proposal for incandescent street lighting as follows:
We will install, furnish and maintain:

25 candle power series incandescent lamps @ $17.50 ea. per yr.

32 candle power series incandescent laps @ $20 ea. per hr.

40 candle power series incandescent lamps @ $25 ea. per yr.

This price is based on the lamps being installed on suitable brackets equipped with reflectors attached to poles.  The above rates are based on all night every night service.
The company expected a guarantee of $1500 per year for five years, to be paid monthly, which would entitle the village to:
86 – 25 candle power lamps

75 – 32 candle power lamps

60 – 40 candle power lamps
---
In March 1911 the Village Council passed an ordinance granting permission to the Minneapolis General Electric Company "to erect and maintain poles, wires, masts, and other fixtures in streets, alleys, and public grounds in the Village of St. Louis Park for the purpose of furnishing light, power, and heat by the means of electricity." The 30-year franchise was to provide electric streetlights and to wire private homes with power generated by coal at its Riverside power plant.
Residents began requesting the Village to put in street lights. In March 1913 Dr. G.M. Wade requested that lights be installed "in the restricted district" of Brookside.
In April 1913 the electric company was called on the carpet for not lighting Excelsior Ave. from Pleasant (Wooddale) to the City Limits (which way?)
In 1914 the Minneapolis General Electric Company ("You Are Always Welcome") placed an ad in the Minneapolis Daily News with the headline "Electric Lighting Adds to the Value of Your Property." The ad exhorts the reader to get wired, stating "Every cottage on our lines, or extension, is a welcome customer," which is good since there were plenty of cottages in the Park. The ad also specifically states, "We are interested in the growth and prosperity of St. Louis Park."
Once electricity was available, residents had to specifically request that their homes be wired. At first each room was lighted by a single drop cord with a single bare bulb.
Foreseeing a shortage, Mr. Larkin of Republic Creosote offered to sell coal to the Village at cost in January 1918.
Electric lights came to Oak Hill School in June 1920.
On April 14, 1924, an ordinance granted permission to Northern States Power Co….to erect, enlarge, operate and maintain… a high power electric transmission line, with the necessary poles, towers, masts, wires, and all fixtures for the transmission of electric current into and through [the Village], and to use the streets, alleys, avenues and public grounds.. for such purposes."
---
In 1925 Ashton B. Collins, Sr., an Alabama power company manager, was looking for a way to humanize electricity, with the frequent message of "the servant of mankind." He got his idea during a thunderstorm, when two lightning bolts formed the arms and legs of a person. He added rubber gloves and shoes for safety a light bulb nose, and used electric outlets for ears. Reddy Kilowatt was introduced by Alabama Power Company on March 11, 1926. More than 200 power companies around the world contracted to use Reddy as their spokes bolt. He came to NSP and the Twin Cities in 1942.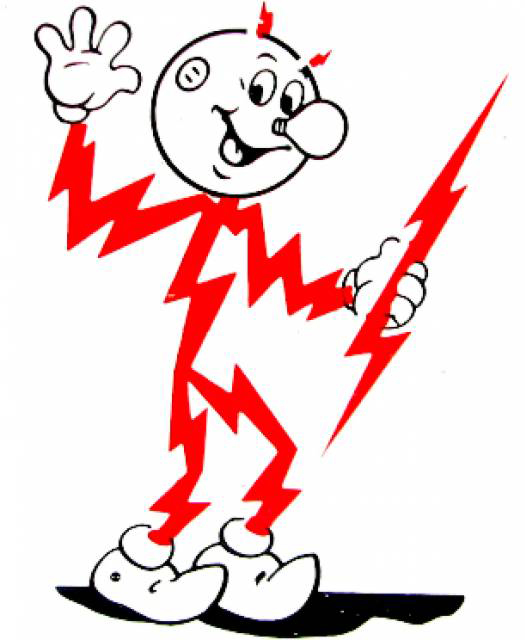 ---
Natural gas came to the Park in 1926 when the Minneapolis Gas Co. was given authority to lay pipe and sell gas manufactured from coal in the Village. The first 194 feet of gas main was installed in 1926, and more than 10,000 feet were installed the following year. The first customers began receiving gas service in 1927.
On August 6, 1927, the Village Council passed an ordinance granting to the Minneapolis Gas Light Co.  the right to manufacture, sell and/or distribute gas for heating, illuminating, and other purposes in the Village and to use the streets, avenues and alleys for that purpose.
In 1932 coal-generated gas was replaced by natural gas from the area's first high-pressure natural gas transmission line.
In 1935 NSP instituted a 1 cent rate for water heating to promote the sale of electric water heaters; the news was advertised with a picture of a woman (mostly toweled) in the shower.
Also in 1935, natural gas was supplied by the Minneapolis Suburban Gas Co. in Hopkins, which advertised a new flat rate for water heating for suburban districts, indicating that the electricity/gas rivalry has gone on from the start.
The refrigeration was invented in 1937. One of the early models was called a Coolerator, which, as it turns out, was not a word that was invented by Chuck Berry.
In 1942 ads from utility companies asked citizens to turn down the lights and not use the phone over the Christmas holidays. Northwestern Bell cited the lack of copper as the reason for inadequate phone lines for the growing demand. And instead of urging consumers to buy appliances, ads actually told people to hold off until after the war – which one ad predicted would be 1947.
---
A Plehal Heating Co. ad from 1944 makes a case for conserving energy.  From the (half page) ad:
Our Job in the War is to Help You CONSERVE

– Conserve that precious furnace so it will last.

– Inspect that heating plant to insure that you get maximum heat units from coal, oil, or gas.

We can't see you much new merchandise any more, but we can help in these and many other ways….

SAVE MONEY WITH INSULATION AND BUY MORE WAR BONDS
---
Due to the tremendous demand for electrical appliances after the war, NSP's electric sales doubled, gas tripled, and rates dropped between 1945 and 1951.
In 1947 Reddy Kilowatt, Your Electrical Servant, advertised new low electric rates, claiming that Mrs. Housewife could squeeze 240 oranges in an electric mixer for only a penny's worth of electricity. Walter Lantz directed Reddy in a movie. Reddy became controlled by the Reddy Kilowatt Corporation, a wholly owned subsidiary of NSP.
In 1949 MinneGasCo was selling new automatic gas ranges, refrigerators, and water heaters. In 1950 the name was changed from the Minneapolis Gas Light Co. to the Minneapolis Gas Co.
In 1951 there were 575 street lights in St. Louis Park, operated under a contract with Northern States Power. This number represented an increase of 231 lights over 1941.
Electric stoves were all the rage in 1952: NSP extolled, "Live Electrically – and you're really living!"
On October 18, 1954, at the request of Mrs. Elsie Dahlstrom, Treasurer of Park Baptist Church, the Village Council approved a street light at 41st Street and Highway 100 and ordered NSP to install it.
In 1958 NSP promised atomic power by 1962. In 1964 NSP's first nuclear plant, Pathfinder, near Sioux Falls, was put on line. America's first nuclear power plant had opened in Shippingport, Pennsylvania in 1957. Pathfinder was the country's first all-nuclear generating plant with a nuclear-fueled superheater. In 1968 Pathfinder was converted to natural gas.
---
1959 ads read "meet Minnegasco," which may have been the introduction to the Indian princess with the blue flame.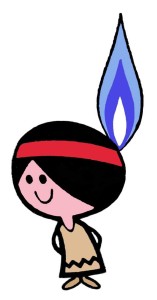 ---
Also in 1959, NSP's Reddy Killowatt was replaced by the characters Homer and Roy, who exclaimed that electricity was "penny cheap."  Here's an example of a Homer and Roy vignette, courtesy of Jeff Lonto: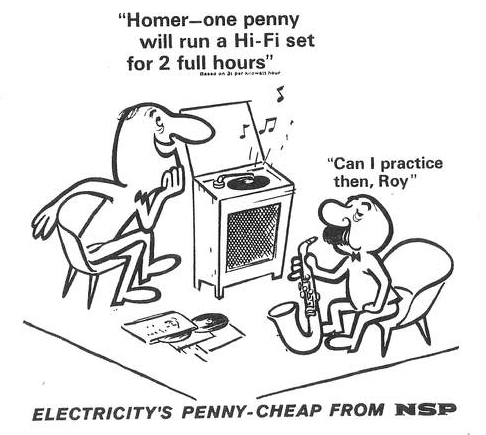 ---
In 1964 and '65 NSP urged new home builders to specify Hydronics (hot water heat). It promised to give you as much as 51 sq. ft. of living space by replacing your furnace with a 6 sq. ft. boiler.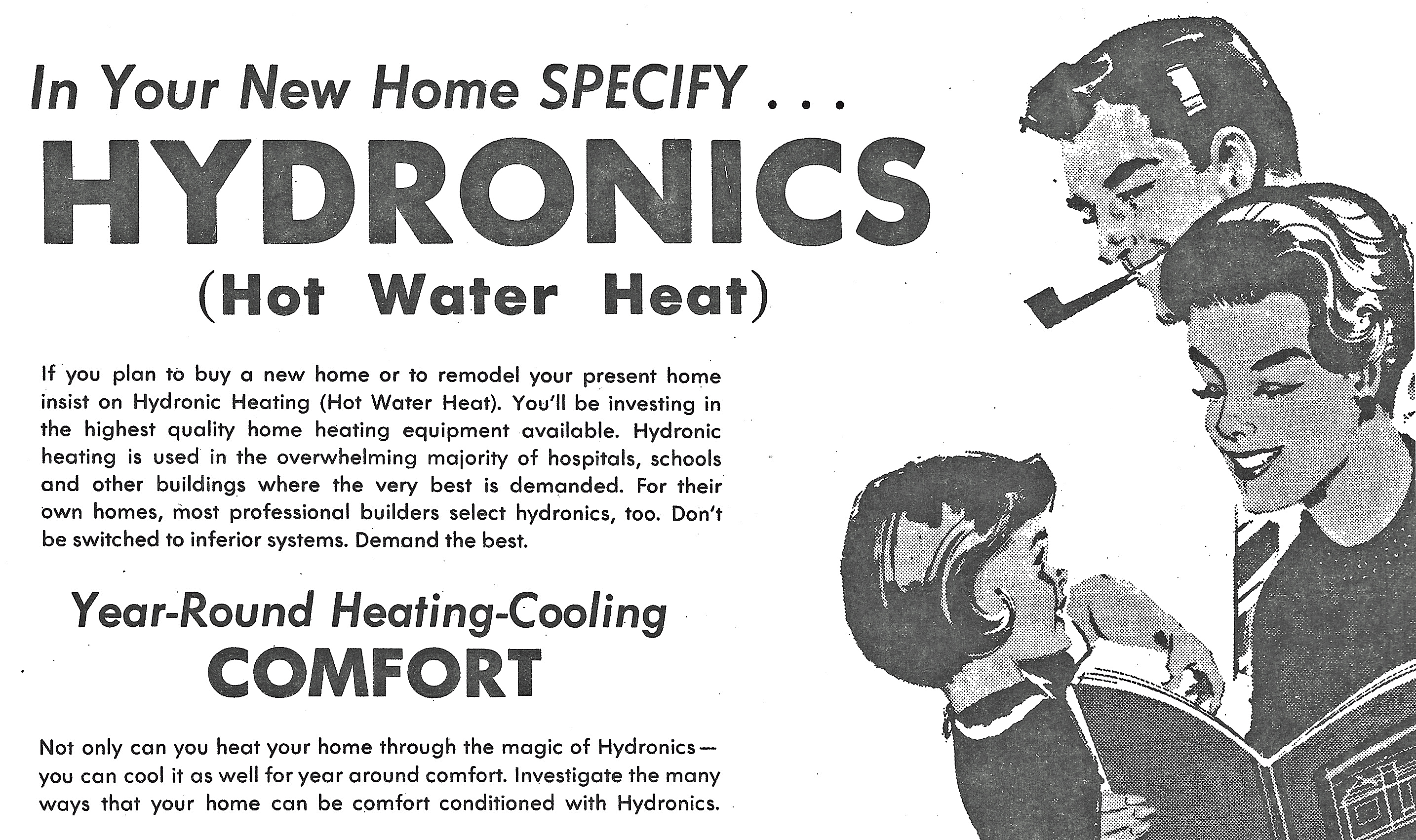 ---
---
Apparently this didn't catch on; perhaps Park's notoriously hard water had something to do with it.
In 1986 NSP installed three 65-kilowatt experimental wind turbines in southwestern Minnesota.  It predicted that by 2002 the company's mix of electric generating sources would include 425 megawatts of wind power.