Thanks to Douglass K. Daniel, author of Harry Reasoner:  A Life in the News (University of Texas Press, 2007) for information about Reasoner's life in Minnesota.
Harry spent many important years in Minneapolis. He moved there as a child from Iowa and graduated from West High School in 1940 (technically he was in the Class of 1939 but the principal punished him for a renegade school paper by putting off his graduation until January 1940).  After a year at Stanford, he attended the University of Minnesota until he flunked out and was drafted. After the war he worked for several years at the Times, then WCCO before moving to Manila, the Philippines, for a three-year posting with the U.S. Information Agency.
He apparently wasn't employed when he first got to Minnesota, but he took his first TV news job here in Minneapolis in late 1954. He served as the first News Director at the new KEYD-TV, which was a member of the DuMont Television Network and precursor to KMSP-TV. His work at KEYD was his first in TV and set him on that path.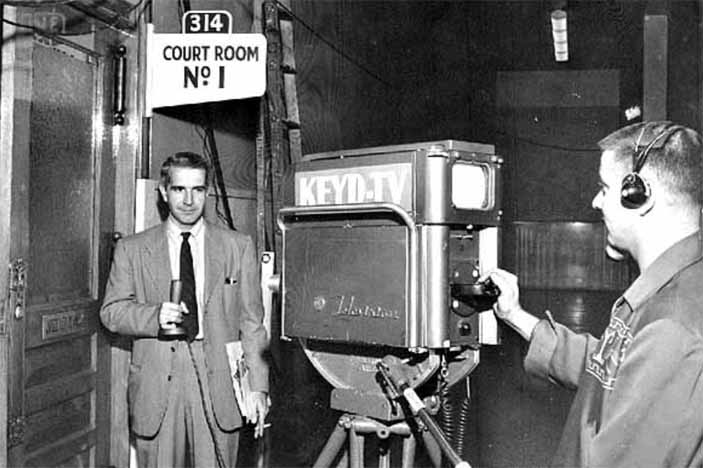 The Reasoners lived at 4085 Alabama Ave. in St. Louis Park from 1953 to 1956. He and his wife Kathleen Carroll "Kay" Reasoner (from Minneapolis) came with four of their eventual seven children.  During the family's stay in St. Louis Park, former neighbor Betty Beach Barrus reports that the Reasoners were quite social, and kept some of their St. Louis Park friends for decades.
In 1956, the DuMont network shut down, KEYD was sold, and the news department was no more. That was the year Reasoner got the job at CBS in New York. Brookside teacher Pearl Heitke remembers that son Stuart Reasoner was in her 4th grade class, and that he left for New York in the middle of the school year.
Harry Reasoner wrote his autobiography, Before the Colors Fade, in 1983, but while he did describe his days at KEYD, he didn't write about St. Louis Park.