The following was taken from a memoir written by Robert Carl Reiss, one of four Reiss sons who grew up working at the Waiting Station.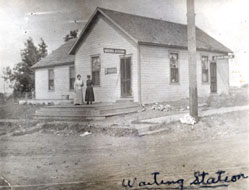 The building variously known as the Waiting Station and Reiss's was located at 6900 Lake Street. It was called the Waiting Station because it was located at the end of the Lake Street Streetcar Line. It is unknown just how old the building is, although it could date as far back as 1892, which is when T.B. Walker first put in the Lake Street line. The streetcar turned around there in a "Y" motion, and people waiting for it to start back to Minneapolis would warm themselves inside.
As early as 1917, it is believed that the building belonged to Creosote Foreman Dutch Reider. Dutch was apparently in business with Elmer Whipps, the local constable, as the two were issued licenses for pool and cigarettes between at least 1917 and 1920. Reider was also operating pool tables in a room next to the Waiting Station proper, also in partnership with Whipps.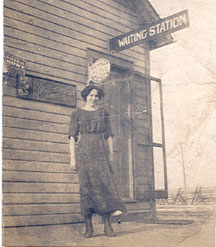 Viola Williams Lundberg
The place may have been owned by a J. Rouchar in 1922, since a man by that name received a permit to operate 2 pool tables in the west room of the waiting station. In 1923, a man named S.A. Nolan was the petitioner for the pool table permit. Reiss was involved with the property as early as 1923, as evidenced on one of his children's birth certificates, which lists him as proprietor of the Waiting Station. Nolan received a permit for one pool table in 1926.
In 1925 Anna and Carl Reiss purchased the property from Dutch Reider. At first the Reisses ran a confectionery store, and Carl also sold radios. On March 5, 1930, he applied for permits for one pool table and two gas pumps. Later that year, Carl sold the business to Charlie Isett and went to work with his father at the Reiss Greenhouses in Golden Valley for the duration of the Depression. During that time, Isett ran a confectionery and newsstand in the building, and at various times the location had a barbershop.
Isett had obtained a 3.2 beer license, and when Carl Reiss and his wife Anna repurchased the building in 1937, they served beer as well as food that they cooked at home and transported to the Waiting Station. They remodeled the building extensively over the years: inside plumbing was added in 1938/9, a kitchen and basement were built in 1940, and an addition on the west end in 1948. A liquor store was added in June 1953, staffed mostly by post office employees who worked after their shifts.
---
In 1963, the waiting station moniker (long out of date, since the streetcars had been gone since 1938) was retired, the building was remodeled, and the business became a family oriented restaurant known as Reiss'. In 1965/66 the business was sold to Reiss sons Dick and Jim, and Carl passed away soon afterwards in 1967. Anna stayed involved as hostess up until her death in 1979.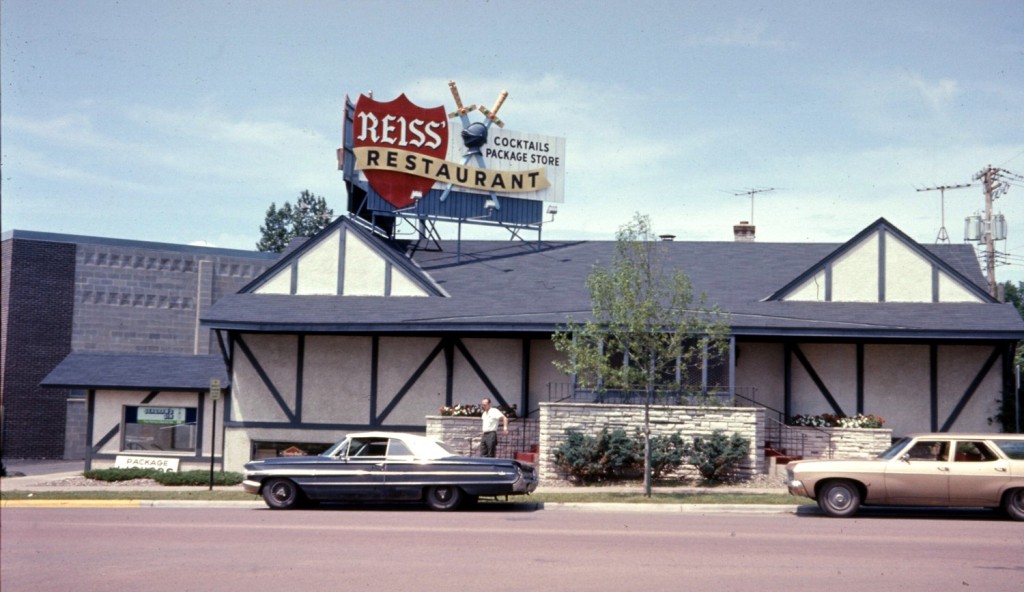 ---
In 1981, a disastrous business deal had the restaurant in bad shape, and in 1987 the Star Tribune reported that Gregg Zafft and his partners in The Boston Group Ltd. Purchased it from the Reiss family. Zafft had worked at Reiss's as a kid, and his group owned three Mamalu's Ribs restaurants in the area.
The Reiss brothers took operations over again in 1989, only to close for good in May 1991. The building stood vacant until 1998, when it was sold for a song by the county, which had taken it for back taxes.
But despite its ignoble end, Reiss' has a proud role in the annals of Park history. Carl and Anna Reiss fed and watered the hard working tie buckers from the Creosote Plant, city employees, railroad workers, grain elevator workers, and other regular joes. In an area that was often cold and dirty, they provided a neighborhood meeting place with a friendly, warm atmosphere that is remembered fondly to this day.
Also see the chapter in Something in the Water.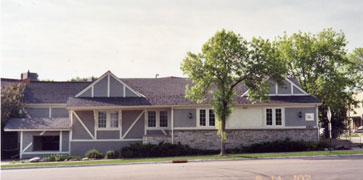 2007