Mark Rosen began his broadcasting career in 1969 while he was a junior at St. Louis Park High School.  His neighbor, Phil Jones, a political reporter for WCCO, inspired Mark to pursue a career in broadcasting, and Mark was hired as an unpaid employee.
---
Associate Sports Director of WCCO remembers alma mater fondly
Acquires awareness of importance of human ingredient to reporting
By Gregg Litman
WCCO sportscaster Mark Rosen admits to a "special feeling" whenever he announces a Park score. The reason is that he graduated from Park in 1970.
Rosen doesn't believe that his allegiance to his alma mater interfered with his objectivity. "When I go out to do a story on Jim Petersen, the fact that I went to high school at Park doesn't mean anything," he explained. "I go there because they happen to have the best high school basketball player in the state."
Though as Associate Sports Director Rosen now regularly reports and sometimes anchors Channel Four sports, he got his start doing odd jobs at the station during his junior year in high school.
"I'd be the one putting up the little numbers on the green scoreboard we had," he recalled.
As he learned the business, WCCO gave him more challenging assignments. "My senior year at Park I wrote and produced the sports year-end show. It was one of the biggest learning experiences I had," he stated.
Rosen's learning has continued in the decade since. He feels that an important awareness he has acquired is that athletes are real people.
"They have real concerns," he said. "Their kids go to school. They have to pay high taxes. Some of them are making a lot more money than the rest of us, but there are also those who aren't, and we try to get that across to people."
That human element was a big part of what Rosen termed his most memorable assignment, covering Jim Marshall's final home game.
"People knew what Jim Marshall was really like, what a great human being he is," commented Rosen. "To have the opportunity to do the story when he retired was one of the proudest moments of my career. To be in the locker room when he pulled off that jersey was something really special for me because Jim Marshall was one of my idols when I was a young kid."
Looking back to the start of his career, the 28-year-old Rosen remembered present Park Language Arts teachers Pete Peterson and Roger DeClercq along with former Journalism instructor Hattie Steinberg as being particularly helpful.  "You don't appreciate people like that until later on," he noted. "As hateful as high school can become, there are some good people working there."
---
In the spring of 2012 Mark authored his memoir, Best Seat in the House:  Mark Rosen's Sports Moments and Minnesota Memories, which recounts some of his experiences growing up in St. Louis Park and highlights of his 40 year career at WCCO.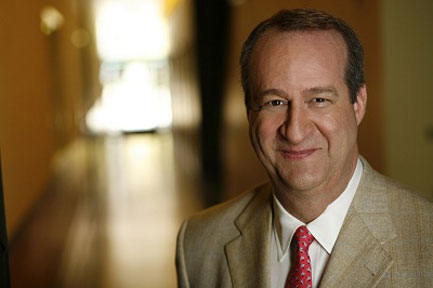 In October 2013 Mark was inducted into the Minnesota Broadcasting Hall of Fame.
Growing up in St. Louis Park, Mark Rosen lived at 27th and Hampshire and went to Lenox Elementary School until the middle of 5th grade.  Then the family moved to 9011 Stanlen Road (off Flag Ave.) and Mark attended Cedar Manor Elementary before going on to Westwood Jr. High School and St. Louis Park High School.
Save