All additions, updates, and corrections to this information is welcome; please Contact Us.    Also see St. Louis Park Schools, Public Schools
Bais Yaakov High School is a "college preparatory high school for young women offering Jewish and academic studies." It is the only Orthodox Jewish girls high school in the Twin Cities. The Bais Yaakov movement was started by Sarah Schneirer in 1917, and there are over 60 such schools in the U.S. and Canada. The St. Louis Park school began in 1996 with seven students in 9th grade. Mrs. Peshie Silverberg was one of the parents who strove to found a school so that their daughters could stay in Minnesota to study. Each year a grade was added, and the first graduating class of four students was in June 2000. Enrollment is about 25 students, grades 9-12. The school, which offers a dual curriculum of Judaic studies and general studies, is located in the upper level of Congregation Bais Yisroel, 4221 Sunset Blvd. but is independent of the congregation.
Chesterton Academy is a private Catholic high school. It opened in the Fall of 2008 at the Eliot Community Center with 10 students in the 9th and 10th grades.  In the 2010-11 and 2011-12 school years it was located in the Cedar Manor building.  The school is moving to Calvary Lutheran Church in Edina for the 2012-13 school year and plans to accept 80 to 90 students.
Classical Academy: In 1993, approximately 90 students, PK-8, attended classes at the old Holy Family School at 5915 W. Lake Street. It was a pilot school of the Maxin Learning Institute (Mastery and Excellence in Education), founded by Janet Oliver and Nancy Nicholson Terry. The school previously operated out of Oliver's home in Minnetonka. The school was intended for people who were dissatisfied with the existing educational options. The group started with a five-year lease, hoping to add a grade each year. The school had high standards, requiring graduates to speak five languages, including the mandatory Latin and Greek, which begin in the third and fourth grade. Japanese started in kindergarten. Teaching methods used included Kumon (math), Spalding (language), and Montessori.  Still in the Park in 1995.
Discoveries for Children:  1995
The French Academy of Minnesota was started by Veronique Liebmann in 1988, when she founded a preschool-kindergarten immersion program in Eden Prairie.  The school at that time was called La Maison des Enfants.  In 2005, the name was changed to the French Academy of Minnesota and the school moved to 6800 Cedar Lake Road in St. Louis Park (the site of the old Eliot Elementary School).  Due to the closure of Eliot at the end of the 2009-2010 school year, the school will lease the also-closed Cedar Manor school building for two years.
Holy Family Academy is a "Catholic school in the classical tradition." It opened in the fall of 1951 at 5925 W. Lake St. with approximately 200 students, taught by four Servite Sisters from Ladysmith, Wisconsin. In 1991, in the face of declining enrollment, the decision was made to merge with Good Shepherd School in Golden Valley, creating the new Parkvalley Catholic School. In its last year, Holy Family had 131 students.
Maimonides High School was founded in September 1982, renting space at the Jewish Community Center. At the time it was the first and only Jewish high school offering grades 9-12 in the upper Midwest. Director and Principal of Judaic studies was Rabbi Gary Menchel. Principal for General Studies was Margaret Liebfried. Originally there were 11 students, but by the next year there were 17. In 1984 there were 18 students. It ceased operations in the 1990s.
Medicine Lake Lutheran Academy:  1995
Metropolitan Open School provides a "home-like environment offering guided choices that emphasize problem-solving, creative thinking and learning by doing."
Amos and Celia Heilicher Minneapolis Jewish Day School is a "co-ed day school providing general and pluralistic Jewish studies." It was started in 1984 with 20 students, K-2. It was first located in the old Talmud Torah building at 8200 West 33rd Street. In 1990 it moved to the Jewish Community Center, 4330 Cedar Lake Road. In 2002 it moved onto the Barry Family Campus, a new educational wing of the Sabes Jewish Community Center. The school now serves grades K-8 school with nearly 400 students representing a broad cross-section of Jewish practice.
Most Holy Trinity was one of twoCatholic schools in the Park.  The school, located at 3949 Wooddale Ave., opened in September 1945 with 146 pupils, grades 1-6. The school, as well as the church, operated out of a basement structure at first until June 1952. The teaching staff consisted of several sisters of St. Benedict from St. Joseph, Minn. Grade 7 was added in 1946, and Grade 8 in 1947. The superstructure of the basement building was begun in 1952. The school moved into a new building in February 1955. In 1961 there were 375 pupils. In January 1971 the Archdiocese of Minneapolis and St. Paul announced that MTH may be among area Catholic Schools forced to close for lack of operating funds.  At the time enrollment was about 150 students, with seven grades and plans to add an eighth grade in the fall.  School parents and supporters were able to keep it open. (Sun, January 14, 1971) The school finally closed in 2008 and the building has been demolished.
Mrs. Liiste's Day Nursery/Montessori School was at 4119 Excelsior Blvd. from 1966-78.
New Dimensions School was a private, nonprofit school founded in 1981. In 1984 it was located at the old Brookside School. It provided programs for students in grades 1-12. Carol Robson was President and Sheridan Robson was Vice President.
---
Talmud Torah of Minneapolis is an "afternoon and evening school offering Hebrew, Bible and Jewish history, customs and practices." It was founded in Minneapolis in 1894. The St. Louis Park school opened in  October 1959 at 8200 W. 33rd at Utah (below).  At the time over 300 children attended the school.  On June 14, 1970, the new Menahem Heilicher Building addition was dedicated.  The building cost $900,000. Heilicher was a faculty member from 1912 to 1962.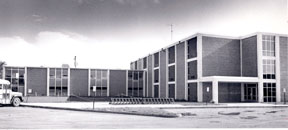 Photo courtesy of the Jewish Historical Society of the Upper Midwest
The school is now located in the Heilicher Education Center Education Building on the Barry Family Campus of the Sabes Jewish Community Center at 4330 Cedar Lake Road.  The original site is now the Aquila Commons elderly coop.
---
Timothy Lutheran School, Park's first protestant day school, was convened in 1958 in the basement of Timothy Lutheran Church, 7814 Minnetonka Blvd. The school closed in 2008.
Torah Academy is a Jewish day school serving pre-K through 8. Since 1982 it has been located in the former Fern Hill School building at 2800 Joppa.
Twin Cities Jewish Middle School served grades 7-8. It was dissolved in 2006 when grades 7-8 were added to the Amos and Celia Heilicher Minneapolis Jewish Day School.
The Whole Learning School, "for kids with unique learning skills," was founded in 2003 atd at the former St. Luke's Church, 5524 West 41st Street.  "John and Maryanne Dennis founded The Whole Learning School out of love for their daughter, Krystyna, who needed a specialized school environment to meet her academic, social and emotional needs. The Whole Learning School was created for students who are failing to succeed in traditional school models." After a time in Plymouth, it moved into the old Cedar Manor School in 2012.