This synagogue was located at 2734 Rhode Island Ave. in St. Louis Park from 1965 to 2008.  The following was provided by the Congregation:
The current Sharei Chesed Congregation, through the establishment of its two predecessor synagogues, Sharei Tzedek and Gemelus Chesed, traces its roots back to 1906. The organization that year of Sharei Tzedek, located at 8th and Bryant, was the culmination of a dream and need shared by many Eastern European Orthodox Jews who fled their homelands and immigrated to Minnesota in the early 1900s. They found their way to North Minneapolis and weaved their way into the social and business fabric of the community.
GEMELUS CHESED
Gemelus Chesed, formally registered in 1914 – but founded earlier – was one of a number of combination-type fraternal societies which loaned money, administered relief and provided religious services for the growing influx of immigrants. It was located originally on Eighth and Girard, then moved to Logan Avenue before building its edifice in St. Louis Park.
[The building was built in 1965 by the Gemelus Chesed Benevolent Society. It was designed by Irwin Mandel and constructed by Maurice Mandel, Inc.  It was dedicated in December 1965.  Participants at the dedication banquet included St. Louis Park Mayor Kenneth Wolfe and Minneapolis Mayor Arthur Naftalin.]
The congregations' early members were the forebears of many current, prominent Twin Cities' families.
SHAREI CHESED
In 1969 Gemelus Chesed and Sharei Zedek merged to form Sharei Chesed, which means "Gates of Kindness."
Early spiritual leadership of the congregation rested in the devoted and capable hands of two legendary figures of the Orthodox Jewish community. Rabbi S.I. Levin served the Congregations Sharei Tzedek and Sharei Chesed for more than 63 years. He was the highly respected dean of Minneapolis Orthodox rabbis until his death in 1984. A prolific writer in scholarly Hebrew journals, he was one of the founders of the Minneapolis Federation and the Jewish Family and Children's Service.
For 54 years, Rabbi George S. Sektor guided Gemelus Chesed and the merged Sharei Chesed Congregation until his death in 1988. He was a great Talmudic scholar, a trained mohel and a shohet. In 1965, under his zestful leadership, the congregation built and dedicated the facility at 2734 Rhode Island Avenue – the first Orthodox synagogue in St. Louis Park. He is remembered warmly for his fulfillment of the meaning of "Gemilut Hesed" through his contributions to many Jewish institutions of learning and various homes for orphans.
MOVE TO MINNETONKA
The Sharei Chesed Congregation moved to 1712 Hopkins Crossroad Minnetonka, MN 55305 for the High Holy Days 5769 in 2008.
Today, and for almost 20 years now, Sharei Chesed has been a modern Conservative synagogue where families sit together and listen to both men and women lead services in both Hebrew and English. We are also blessed to be in our new home in Minnetonka on the shores of beautiful Crane Lake (click here for directions), led by the wise counsel and dynamic leadership of our spiritual leader, Rabbi Avraham Ettedgui.
Rabbi Ettedgui has served Sharei Chesed Congregation for the past ten years, and has guided it during the transition period from St. Louis Park to our current home in Minnetonka.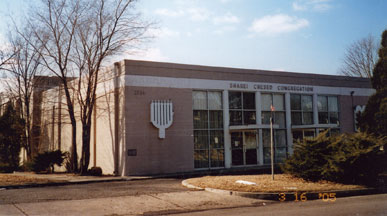 Sharei Chesed building at 2734 Rhode Island Ave. in St. Louis Park, 1965-2008.
Photo taken in 2005.