The T.B. Walker-owned St. Louis Park Hotel had 8-10 rooms and was located on the northwest corner of 36th and Grant Street (now Brunswick), north of the railroad tracks, across from the Minneapolis & St. Louis Depot.
It was managed by Henry Keller, who was born in Switzerland in 1864, and his wife Rosa (from Germany)  The Kellers came to St. Louis Park from New Ulm in 1899, where they had been managing the Turner Hall. The Kellers had ten children, some of whom stayed in New Ulm.  Daughter Anna Keller married Doc Brown, who had a barbershop next door, in July 1902.  The ceremony and reception were held at the hotel.  Anna Keller Brown remembered:  "Those trains came through frequently and made the place noisy and dirty.  Passengers had to flag the train down for a ride or they just wouldn't stop."
Rosa did the cooking and prepared lunches that the workers could carry to work, wrapped in wax paper and newspaper and tied with string from yesterday's meat purchase. The morning and evening meals were served in the dining room, where Anna and her sisters waited on tables. All meals were served family style with only one menu item a day.  Every day someone had to take the streetcar downtown to buy the meat. Residents worked at the sugar beet plant, a shoe factory, and the Monitor Works.  They paid $ a week for room and $3 for meals.  No alcohol was served.
The 1900 Federal Census shows that Henry Keller (written as Heller)'s occupation was "hotelkeeper" and that he had 10 boarders.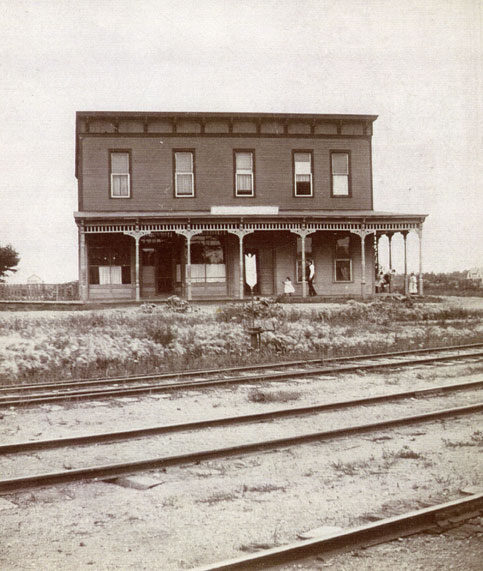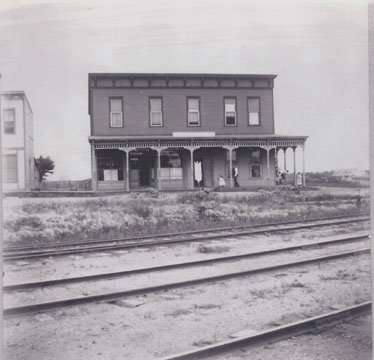 This version of the picture is not as good but it shows the white building on the left where Doc Brown had his first barber shop before moving to Walker Street.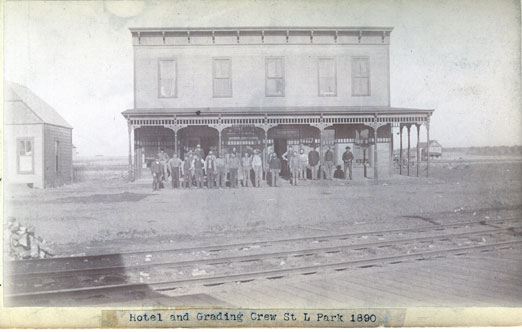 Here is yet another shot, courtesy of the Hennepin County Library Special Collections.  The building to the left was apparently supersized along the way.
THE HINKLE HOTEL
Some time between 1900 and 1909 the hotel was purchased by John Hinkle, and was apparently known as both the St. Louis Park Hotel and the Hinkle Hotel.  Hinkle was born in Wisconsin in 1862 and came to St. Louis Park in 1892, a time of great industry and expansion in the Park.  His wife's name was Christine.    There must have been a substantial expansion, for when Hinkle owned it it had 22 rooms.
Lars Johnson remembered the hotel in a 1963 article in the Dispatch.  He said it was two stories and had 22 rooms, a living room, dining room, and bar. It also had a patio where the male boarders entertained their girlfriends on Saturday afternoons. The hotel had no indoor plumbing, however, and one former boarder remembers that they would go downtown to the Lumber Exchange building where they could take a bath for a quarter.
Village Council minutes indicate that he had liquor licenses from at least 1909 to 1915. In 1909 he requested permission to put a curtain across the room used for a saloon and shut off all parts of liquor and to use such room as a hotel office on Sundays.
The 1910 Census shows that he had 23 boarders and was listed as a saloon keeper.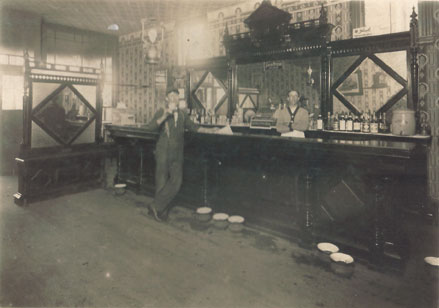 Photo of interior of Hinkle Tavern courtesy family of Clayton Timian
By 1920 Hinkle no longer owned the hotel.  It closed after 1928, and in 1933 Mr. C.A. Chrisidis requested permission from the Village Council to "wreck" it.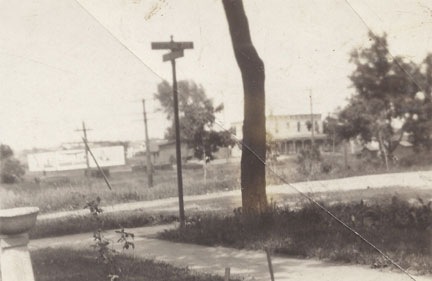 This may be a late photo of the hotel.  Oh to be able to read those street signs!