St. Louis Park native Bob Stein was an outstanding athlete and has had many accomplishments during his career:
At Park High (1962-65), Bob played for the 1964 Lake Conference championship football team – he was co-Captain with Bill Gresko. He was named all-Lake Conference in 1963, and in 1964 he was named All Conference, all State, and all American. He was also a member of the Park High State championship track team in 1965, becoming the Minnesota state champ in the discus throw in his first year of track. His Championship throw came within 3/4 inch of the State Meet record. He also played basketball and baseball.
At the U of Minnesota, where he received an athletic scholarship, Bob concentrated on football. He was three times named to the All-Big Ten first team, playing defensive end and placekicking. He was the first team All-American and first team Academic All-American in 1967 and 1968. He was the first player in Minnesota history to win the NCAA National Student-Athlete Scholarship Award, one of 11 annually. In 1968 he broke Minnesota records for carer field goals and longest field goal (40 yards). Bob also lettered in the discus in 1967. Bob served as President of the Undergraduate and Graduate "M" Club, and was a member of the Gray Friars Men's Senior Honorary Society and Beta Theta Pi fraternity. And he was a Rhodes Scholarship semi-finalist in 1968. He majored in political science with a minor in chemistry, and took a B.S. degree in 1969.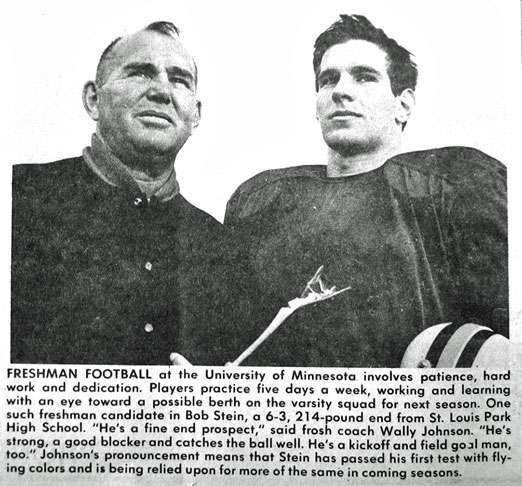 SLP Sun, 1965
In 1969 he was drafted by the Kansas City Chiefs and was a member of the 1969 Chiefs' Super Bowl Championship team under coach Hank Stram. He played in Kansas City for four years. Stein graduated from the University of Missouri-KC law school in 1973 in the top 10 percent of his class, having attended full time while playing NFL football.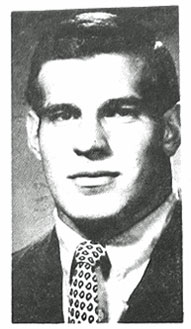 SLP Sun, 1971
He was traded to the Los Angeles Rams in 1973, where he played for two years. [San Diego Chargers, 1974]
In 1975 Stein joined the Minnesota Vikings on the team Bud Grant called his greatest ever. He finished his NFL career in 1976 with New Orleans Saints, re-joining future Hall of Famer Stram.
Among his best abilities was his rush on the passer as well as being a leading field goal kicker.
Bob Stein was the first President/CEO of the NBA Minnesota Timberwolves, serving from 1986-1995. He was in charge of securing the franchise and building the Target Center, where he was also President.
Bob was inducted into the National Jewish Sports Hall of Fame and the St. Louis Park Athletic Hall of Fame, both in 2005.
Growing up in St. Louis Park, Bob Stein lived at 2656 Inglewood Ave., where his family resided for 46 years.