Bruce Stillman is a kinetic sculptor, working in stainless steel.
From the website of El Prado Galleries:
At the age of 21, Bruce Stillman and his stainless steel kinetic sculptures had already been featured in national media including, Vogue Magazine, CBS Morning news and People magazine, attracting comparisons to artist Alexander Calder. Not bad for a young man who had managed to support himself solely thought the sale of his artwork since the age of 18.
Bruce began sculpting in his junior year of high school. His early pieces were constructed of copper and brass, and attracted the admiration and interest of buyers at local art fairs. He was introduced to stainless steel through a friend dealing in scrap metal and liked the balancing characteristics and luster of the metal for his elegant rocking sculpture designs. His high school art teacher [Robert Anderson] recalls, "He was always evolving, constantly exploring new ideas. I simply lit the fuse and Stillman went off to create one concept after another. He has an affinity for motion." The art teacher encouraged Bruce to study art at the university level. Bruce did so for a year at Northern Illinois University, then returned to full time studio work.
"I approach motion," Bruce explains, "as an added dimension to three dimensional sculpture, and interpret my style of motion as having a lively energy, playing with gravity. I'm interested in the art of pleasant motion, a slow tranquil motion that in some viewer's judgment, is relaxing and almost hypnotic to watch. My outdoor sculptures move with the wind. In some case, I consider them a tool for the environment to express itself, from the delicacy of the breeze to the power of high winds. Indoor pieces are operated manually by starting the bottom weight swing, while the counter weight slows the motion."
Indoor sculptures are up to five feet in height, while outdoor pieces can be monumental, exceeding 15 ft. in height and 85 ft. in length. Precision balance is the trademark of Bruce Stillman sculptures. The mass and weight of steel, often combined with granite, are transformed under the artist's guidance into delicate, graceful works that captivate one's attention and stimulate childlike wonder.
Over the years these hypnotic works of art have attracted the attention of art collectors around the world. Bruce Stillman's works are in the collections of corporations such as General Mills, Lutheran Brotherhood Insurance, Mayo Clinic and Dayton-Hudson Corp. Prominent private collectors include movie Producer and Director Robert Altman, artist Yaacov Agam, Henry Mancini and more. An outdoor kinetic sculpture is in permanent collection of the Kansas City At Institute.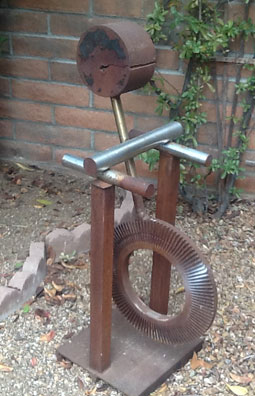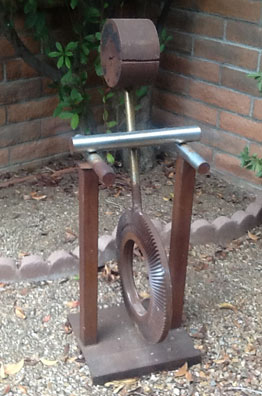 The photos above are of a piece owned by a local collector.  He says that once piece is set in motion, it will continue by itself for about an hour.
---
As a second career, Bruce has created a monumental minigolf course at his property in Minetrista.  Read about it in the New York Times and the StarTribune.
Growing up in St. Louis Park, Bruce Stillman lived at 3035 Sumter Ave.