Shoemaker John Kinsell built this extraordinary home facing Highway 7, where it stood for decades before coming to an unfortunate end.
Kinsell came to America from Poland in 1913 and worked in Minneapolis.  In 1936 he bought property in St. Louis Park at Sumter and 37th, the latter being a service road to the then recently-completed Highway 7.  The property was actually on two lots:  the address of the house was 7850 W. 37th Street, and the adjoining yard was 3647 Sumter.
Over the course of  ten years Kinsell and his family built this very large and impressive home.  The house was faced with clay tiles, then covered with stucco.  Kinsell dug the basement by hand.  It had a flat roof, which "leaked like a sieve," according to his grandson.  The home included a self-contained separate apartment which could be rented out.  Kinsell moved into the 15-room house in March 1947.  Kinsell worked at a shoe repair store in Texa-Tonka between at least 1955 to 1960.  He sold the house in 1977 and died in 1980.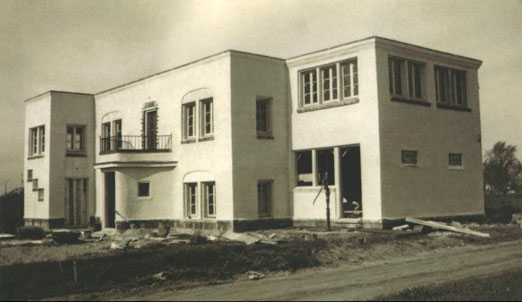 3647 Sumter Ave. So. under construction.  Photo courtesy Cloutier family.
After a couple of changes of hands, the house was purchased by State Representative Gloria Segal in 1992.  Rep. Segal had a child who who suffered from mental illness, and she was a driving force behind funding programs for the mentally ill during her years in State government, 1982 to 1992.  She donated the property to Vail Place to be used as housing for the mentally ill.  At that time it was remodeled with a $50,000 grant from the State.
From Vail Place's web site:
Vail Place is named after Dr. David Vail, a psychiatrist trained at Harvard Medical School. He became the Medical Director of Minnesota's Department of Public Welfare (now the Dept. of Human Services) for 11 years before he died at the early age of 45 in 1971. During his tenure, Minnesota was recognized as a leader in humanizing its psychiatric facilities – changing them from custodial institutions to treatment programs designed to meet the specific needs of their residents.
Dr. Vail's work also resulted in the expansion of state-supported community services. "It seems to me," he said, "that there is no reason why the greatest part of major mental disorders cannot be dealt with at the community level." With Dr. Vail's vision in mind, Vail Place opened in 1981 in downtown Hopkins to meet the growing need for community services resulting from de-institutionalization. Vail Place is based on "clubhouse model" programs. These are internationally-replicated psychosocial rehabilitation programs that offer dignified, consumer-centered services that have proven effective in reducing hospitalizations and promoting recovery and reintegration in the community. The South Minneapolis facility opened in 1988.
On August 20, 1999, one of the three residents living in the building set it on fire.  He was distraught after being turned down for a transfer to another facility, so he set his curtains on fire and went to his sister's house.  The call was answered by the St. Louis Park and Edina Fire Departments, the St. Louis Park Police Department, and the Hennepin County Sheriff's Crime Lab.  The resident's sister contacted police and he was charged with arson.  Damage was estimated at $50,000 and although it was limited to the second story bedroom where it started, the decision was made to demolish the house.
Vail Place built a new, seven-unit apartment building on the property in 2002 called Vail in the Park.  It now serves as permanent, supported housing for the mentally ill.