The Pavek Museum of Broadcasting has an excellent Twin Cities Television Milestones page on its website.  Some scattered St. Louis Park-related items are below.
1950
In April 1950 there were 44,300 TV sets in the Twin Cities. By July, there were an approximately 100,00 TV sets in the Twin Cities, ranking 14th in the country. Arcade Appliance on Joppa Ave. increased its store size to get ready for the onslaught of TV buyers.
Coaxial cable and radio relay came to the Twin Cities on September 30, 1950:
KSTP became part of the NBC network.  Station engineer John McMahon pulled the switch at 12:45 pm.  The first network program was a football game.
WTCN became connected to ABC, CBS, and Dumont programming.  WTCN's changeover was accompanied by a ceremony where the mayors of Minneapolis and St. Paul pulled a prop switch.  The actual switch was pulled at 1:30 by two station employees, one of which was Charles Olson of 1816 Maryland Ave., St. Louis Park.
---
CASEY AND ROUNDHOUSE
Noon Time Express, starring Roger Awsumb as Casey Jones, signed on May 14, 1954 on WMIN (which was a station that shared airtime with WTCN Channel 11 until they merged in 1955.)   The description in the TV Guide was "Rog Awsumb as Casey Jones."
When Casey's original sidekick left in 1959, Lynn Dwyer was hired to play Roundhouse Rodney. Dwyer had an education degree from Macalester College and had been a professional skater with the Ice Capades. He had been a floor director at the station before being "discovered."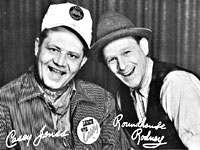 ABC took over WTCN's daytime schedule and Casey was dropped, but in response to irate letters, the show was revised to be broadcast after school from Grandma Lumpit's Boarding House – with Dwyer as Grandma. In 1961 the station lost its ABC affiliation, the station went independent, and they were back in business, now titled Lunch With Casey. The afternoon show stayed on, as did a new morning show, Wake up with Casey and Roundhouse. Casey had a one-hour Saturday show in the early 1960s, followed by a separate Roundhouse Rodney Show at 1:00.
By the early 1970s, live TV kiddie shows were on their way out; partly because fewer kids were coming home for lunch, and partly because of efforts of the Action for Children's Television to prevent hosts from doing commercials. The last Lunch With Casey was presented on December 29, 1972.
Dwyer continued on with his own "Roundhouse Show" on public television in 1974. On September 3, 1976, at age 48, he had a fatal heart attack while jogging in Brainerd.  Roundhouse lived in Minnetonka, but went to church at St. George's Episcopal in St. Louis Park and is remembered fondly by thousands of boomers.
---
AXEL AND HIS DOG
Also in 1954, Axel and his Dog made its debut on August 12 on WCCO Channel 4.  TV Guide said:  "Thursdays at 5:00 pm, gives old favorite Clellan Card a chance to trot out his inimitable Scandinavian accent.  Built around animated cartoons, the show features Axel, his faithful dog Towser, who can almost talk, and a host of animal friends." Towser was played by Don Stolz, owner of the Old Log Theater, until spring 1962. The show originally alternated with shows like "Terry and the Pirates,"  "Superman," and the "Cisco Kid."  On October 8, 1954, Axel was the first live local show broadcast in color. Clellan Card had played Axel on his radio show since 1937. He passed away on April 13, 1966, just weeks after his final program. Carmen the Nurse, played by Mary Davies, had joined the show with Axel and continued it until March 25, 1977.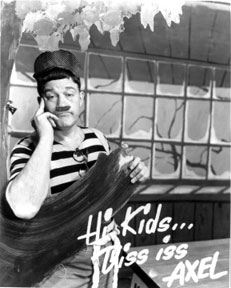 ---
1957
On April 4, 1957, Mr. Earl R. Mohr of St. Louis Park won a Garry Moore lookalike contest.
"Queen for a Day" was telecast from the St. Paul Civic Auditorium in January on Channel 5.
1971
An article in the Sun (September 23, 1971) described the upcoming era of cable TV fairly accurately, except that it predicted that people would use their televisions in ways that they now use their computers.  At the time it was reported that cable TV had been installed in five million homes in 2,500 communities.
1974
In January 1974 the Echo reported that Warner Cable Company has been awarded a franchise to set up a cable television system for St. Louis Park.  It was a slow process, waiting for FCC approval and also because KSTP was considering setting up their own system.  The expected month rate was between $5-$6, with free wiring if done while wiring is going on.  City Manager Chris Cherches said "We hope to be able to eventually read the newspaper, do our shopping or even vote by cable, as they already do in Japan."
1979
Cable TV came to St. Louis Park on September 14, 1979, after two unsuccessful attempts. The St. Louis Park Sun reported that the first community to get cable in Minnesota was Lanesboro, in 1955. Bloomington, Fridley, and Apple Valley were wired in 1974. Northern Cablevision was the provider – in 1980-81 it was located at 3516 Beltline Blvd. 26 channels were available at first, available in stages by section of the city. Monthly charge: $7.95.  Dave Nyberg was the community coordinator in 1979.  Community TV was shown on Channel 22.  Plans were made to provide the school district with the means to produce shows and broadcast games and school plays.
In December 1979 a cable TV show was produced called "Mindflick."  By students, no doubt.
1986:  Storer Cable
1987-90:  Nortel Cable TV, 3516 Beltline Blvd.
In 2004 Time Warner was the TV and Internet provider.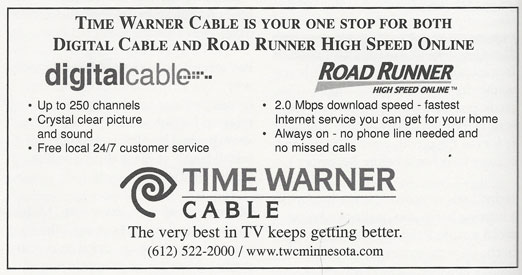 2004