Each year the seventh grade geography class at the St. Louis Park Junior High is asked to pick and research a subject of St. Louis Park history and submit a report on it. Alise Hofstad-Parkhill picked Wagner's Drive-In at 3712 Quebec Ave. With her permission, this account is based on her report. Please contact us with any additions or corrections.
R.M. Roles built the original drive-in in 1951 (permit no. 9631). It was constructed on 3712 Quebec Ave. at the intersection of Highway 7 and Quebec Ave. Mr. Roles had a permit dated June 20, 1951 to build a building, costing $3,500 to construct. The builder was George Fernholm.  [The Grand Opening was held on April 24, 1952; an ad from the Dispatch has a picture.]
---
OAK HILL DRIVE-IN

Mr. Roles sold the building to Bud and Jean Rodberg, who remodeled it an added it to their Dairy-Mor franchise. At one point they changed the name to Bud's Big Boy. In 1954 the name was changed to Oak Hill Drive-in (permit No. 319), possibly by the Rodbergs.  The following two pictures are from April 1954.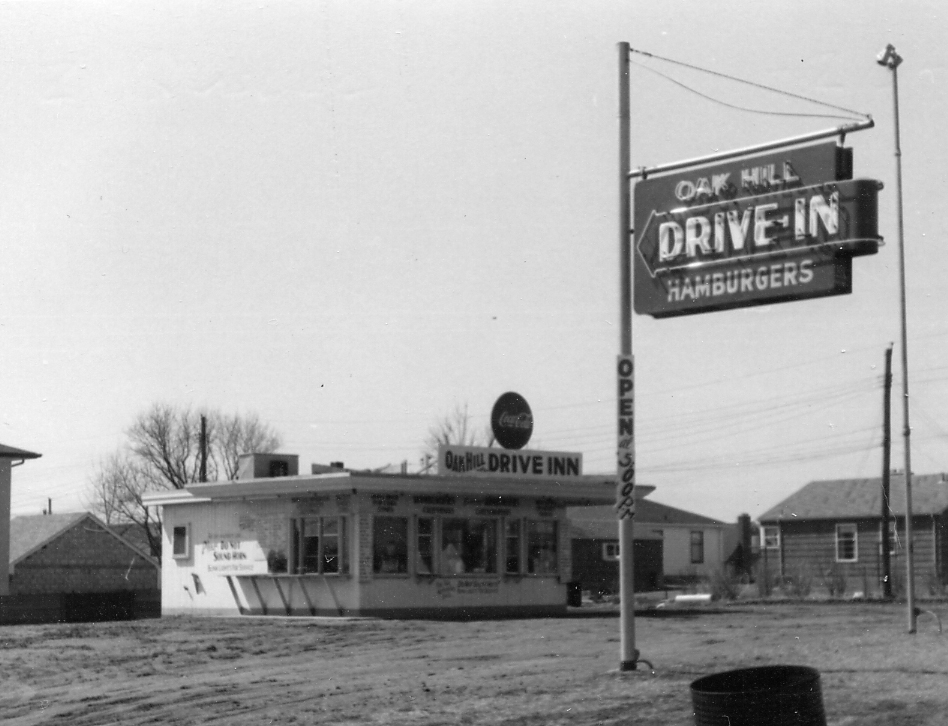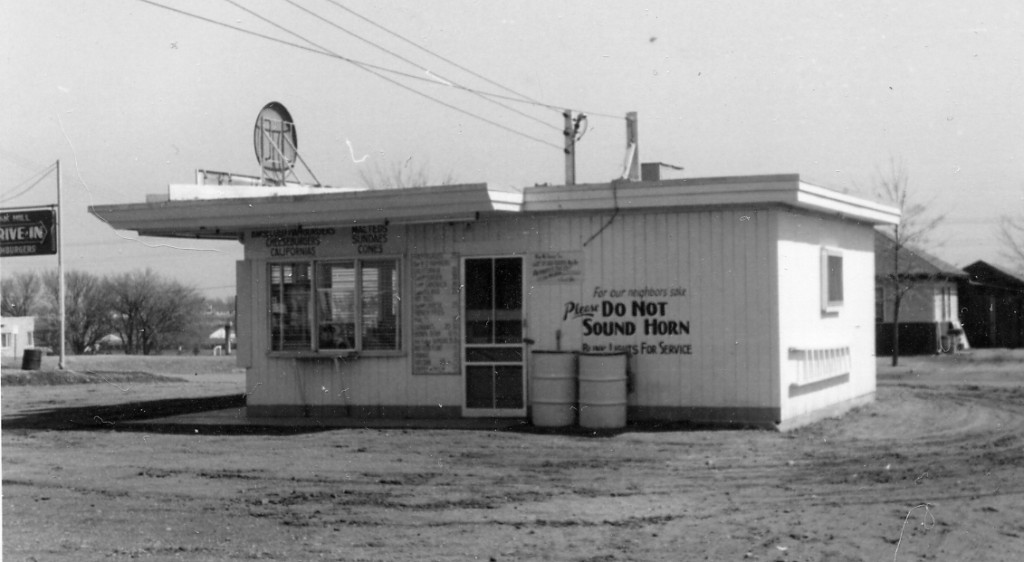 ---
At that time a burger cost 20 cents, a hot dog 10 cents, French fries 10 cents, and a pop 5 cents.
Mr. Rodberg sold the building to Dick Kapinski and Don Schlacter in 1961; the permit (No. 179) indicates that they built the steel awning covering the parking and picnic area. Ted Meland says "It was commonly referred to as Schlacter & Kapinski's, quite a mouthful but we got used to it."
[An ad in a fall 1962 issue of the Echo features a hip cat in a tux, requesting "Another cat-nip blitz, if you please… an exclusive at… Oak Hill Drive-in.]
In 1963 they sold Oak Hill Drive-in to Pete Rhodes. [Jim Clifford (Class of '66) was the manager during the '60s and remembers that Roger Dobbs and Dick Erickson were the owners.]  Pete kept it until 1979 when he sold it to Ed and Annalise Wagner.
---
WAGNER'S
The Wagners changed the name to Wagner's Drive-in, and also expanded the menu. For example, they added chicken and roast beef. They also added a 30 ft. setback of grass to the property (see letter, April 8, 1975).

---
Photos below from 1994 by Emory Anderson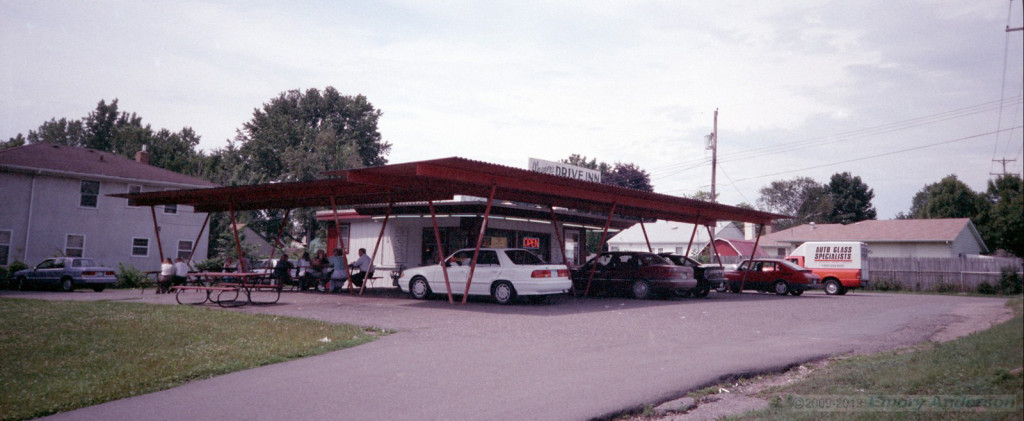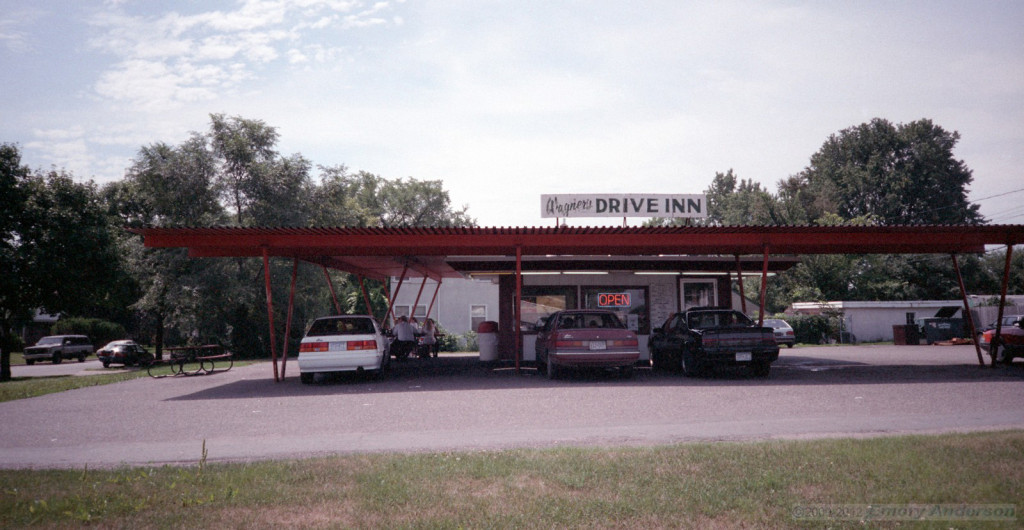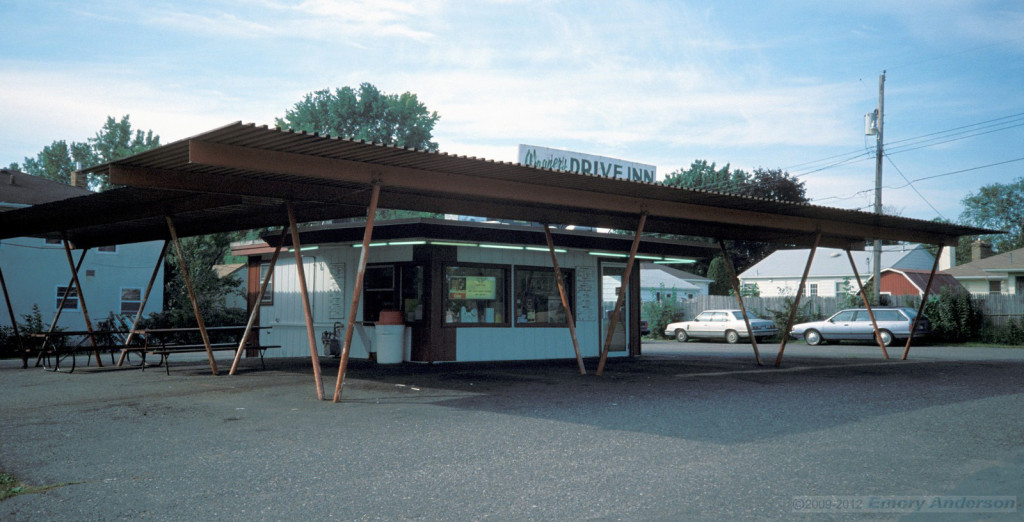 ---
Yet after 22 years, they had to sell Wagner's Drive-in because their son needed a kidney transplant and the sale would pay the bills. Food brokers Bob Keening and Curt bought Wagner's from the Wagners in about 1999. In 2001 they sold it to Jayne and Al Wohl. By 2003, the Wohls had increased the quality of Wagner's food to where it was acknowledged by the Mpls St. Paul Magazine as the number one burger in the Twin Cities.
---
THE GALAXY
In 2009 the drive-in was purchased by Steve Schussler of Schussler Creative, located across Highway 7.  Schussler made extensive renovations and has changed the name to the Galaxy Drive-In.