Originally called Broadway, Walker Street was part of T.B. Walker's plan to create an industrial village.  Just as he had platted an area for housing (now the South Oak Hill neighborhood) and the Industrial Circle (where the triple traffic circles are today), Walker Street (renamed in 1933) was to be the commercial hub of the new village.
THE BRICK BLOCK
In an effort to create what had heretofore been a nonexistent downtown for the nascent St. Louis Park, village leaders Joseph Hamilton and Walker built two large buildings across from each other on Broadway. Together the two buildings, built in 1890-92, were referred to as the Brick Block.  There were storefronts below, and large halls above.  All manner of businesses, from grocery and general stores to a turn-of-the-last-century movie theater, came and went in these buildings.  Walker Street ceased to function as a commercial hub in about the early 1950s, with the advent of shopping centers and highways.  The Hamilton Building burned down, but fortunately the Walker Building is still with us, giving the street the only hint of prewar St. Louis Park.
The photo below shows the "Brick Block:"  The Walker building to the north/west and the Hamilton Building to the south/east.  Highway 7 has not yet been built, but you can see Lake Street stretching diagonally.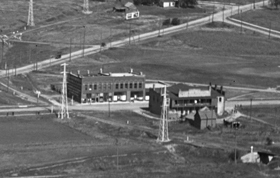 ---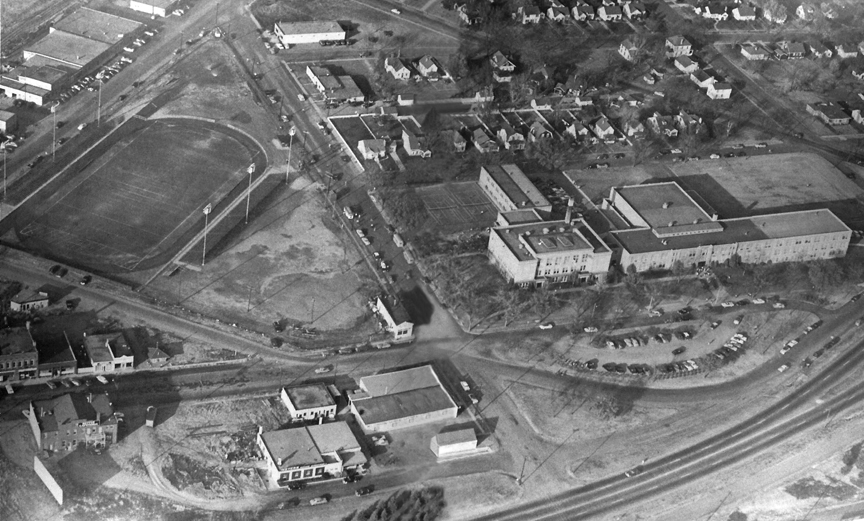 The Brick Block is seen above at the very far left, with the Walker Building to the north and the Hamilton Building to the south.   The old Bank building is west of the Central building, across Dakota.
---
Below is an enlargement of the photo above.  Walker Street separates the Walker Building to the north and the Hamilton Building to the south.  The diagonal street behind Walker Street is Library Lane – before 1972, when Louisiana Ave. went through former Creosote Plant land, Library Lane was known as Louisiana Ave.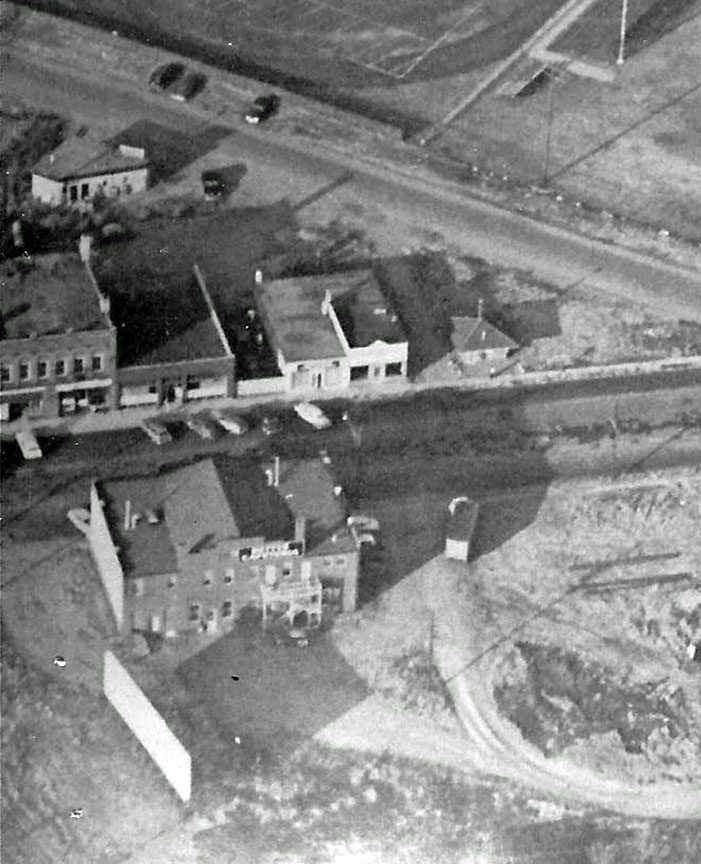 ---
THE BUILDINGS OF OLD DOWNTOWN WALKER STREET
The following are addresses of buildings for which we have some historical information. The dates come from phone directories, city tax records, newspaper articles and ads, and a number of other sources. Asterisks indicate buildings that are no longer standing.  The chronologies are by no means complete, and we invite you to contact us with any corrections, additions, or other comments.
Keep in mind that in some stretches, a Lake Street or Highway 7 address might be right next to a Walker Street address.
| | |
| --- | --- |
| 6300 | |
| | SLP Bank/Post Office/ML Sash and Door/School Maintenance |
| | Myers  – 1954 |
| | Bryant Graphics – 1954 |
| 6503-11 | Hamilton Building – 1892* |
| | Various – 1954 |
| 6509 | Masonic Temple – 1960 |
| | Eclipse Electric – 1895 |
| 6515 | Railroad |
| 6516-24 | Walker Building – 1892 |
| 6530 | Railroad |
| 6534 | |
| | Commercial – 1949 |
| | Commercial – 1950 |
| | Church Supply – 1949* – Vacant/Perspectives |
| | Reynolds Welding – 1949*  Vacant/City of SLP |
| | Industrial – 1949 |
| 7105 | Vacant Land – City of SLP |
| | Louisiana Oaks Apartments – 2001 |
| | Mill City Plywood* |
| 7400 | Louisiana Oaks Park |
| | |
| | |
Save
Save
Save
Save