Men and women from the Park have defended our country through the decades, even before Park was formed as a village in 1886.  Here are links to pages about the various conflicts in which our citizens have participated.
 THE VETERANS OF FOREIGN WARS (VFW)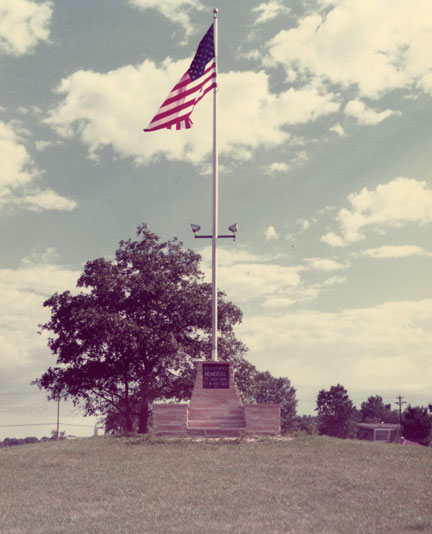 The St Louis Park Veterans of Foreign Wars Post 5632 dedicated this Perpetual Flag Display in Wolfe Park on Memorial Day, 1974.  The display consisted of a flag which flew day and night over a stone monument, funded by contributions of Post members.  The auxiliary planted flowers and maintained planters around the base of the monument.  The ceremony began with music by the St. Louis Park Community Band and an address by Mayor Frank Fleetham.  The flag was officially raised by the Post ritual team.  This photo, taken by Bob Peterson, hung on the walls of the VFW for years.  This memorial was replaced by the Amphitheater below in 2002.
---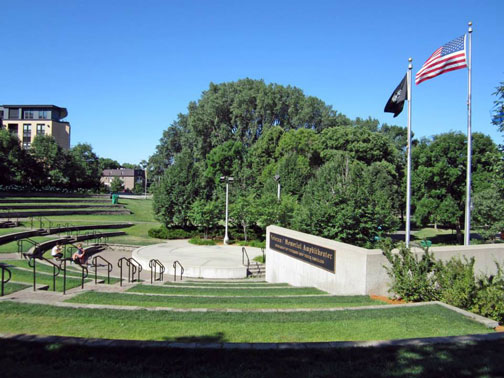 Veterans Memorial Amphitheater, Wolfe Park, 2013.  The stage square footage is 715' and the tiered seating square footage is 12,000'. State representative Jim Rhodes secured a significant grant to partner with City funds to bring this amenity to fruition. Photo by Emory Anderson.
---
Veterans Memorial, with plaques for World War I and World War II Veterans, placed by the American Legion.  (Click on the links for closeup photos of the plaques).  The photo above is of the Memorial in its former location in Carpenter Park.
---
In 2013 the Memorial was moved to a much more visible location in Wolfe Park adjacent to the Veterans' Amphitheater.  Many thanks to the City's Parks Superintendent Rick Beane for making this move happen!  The photos below show the Memorial being moved into its new spot.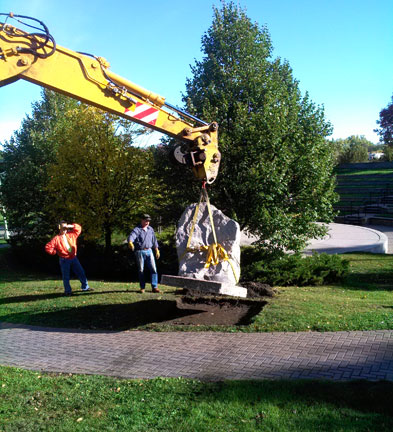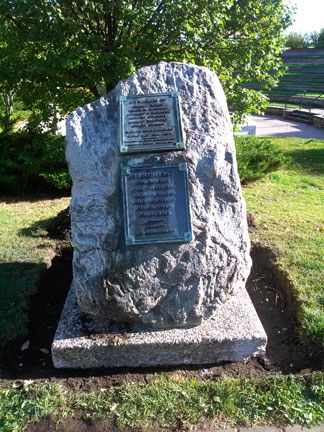 Save