Although Williams is a fairly common name, the Williams family of historical importance in St. Louis Park is the one that came to the Park from Horicon, Wisconsin in the 1890s.
George Evans Williams was born in Wales in April 1839 and came to America in 1860, just in time to enlist in the Civil War on October 28, 1861.  His term was up on January 13, 1864 but he re-enlisted for another two years on March 1, 1864.  He married Sarah Wilkes on February 24, 1865, while on furlough.  During the war he was held prisoner in the notorious Andersonville Prison in Georgia for 14 months and as a result developed lung and kidney trouble.
Back in Wisconsin, George worked in a shop in Horicon called the Van Brunt Works, which made grain drills. The owners, Van Brunt and Davis, had a falling out – 100 years later, Stoge Williams, then in his 90s, disclosed that the reason for the falling out was that the wife of one partner had eyes for the other partner… Whatever the reason, Van Brunt sold his interest in the business to Davis, and Davis came to St. Louis Park to organize the Monitor Drill Company. About twenty families from Horicon came with Davis, including that of George E. Williams. George was a fireman engineer working for Davis and was on hand as the Monitor Works was being built in 1891. By 1892, the Williams family had acquired a home at 6312 Chesley Avenue (later 35th Street). George became chief engineer at the plant, retiring in 1918. He died in 1919.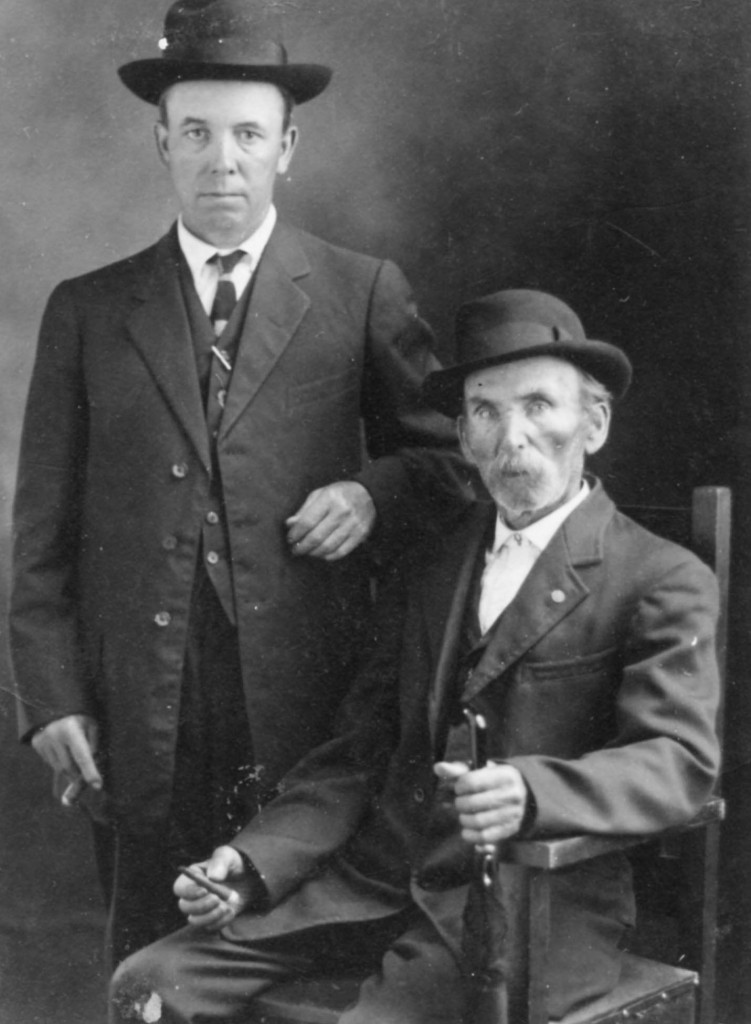 ---
George and Sarah Williams had 10 children:
1. Harriet F. "Hattie" Williams was born on October 29, 1868. She married and divorced Tom Sheen; they had a child Marjorie who died in infancy. She worked for a paper company in Milwaukee and then in New York, where she met Charles F. "Charlie" Hemmenway. They married and lived between Brooklyn and Floral Bluffs, Florida, where he had a fruit orchard. They had no children. They eventually came back to 35th Street in the Park. Hattie died on October 10, 1923 and Charlie died in 1928.
---
2. John E. Williams was born on May 3, 1869 and married Emma Neitzel in Horicon. When John's father George died in 1919, John purchased the Williams homestead at 6312 W. 35th Street. John died on May 23, 1936. John and Emma's children were:
1. Florence (stayed in Horicon)

2. Howard (died in infancy)

3. George "Stoge" Williams was born in 1905 while his parents were living at the Dewey Hotel in St. Louis Park. In 1925, when Stoge graduated from high school, his father, John, was Superintendent of the Monitor Works. His Uncle Joe was in charge of the boiler room and the plant generators. Stoge went to work in the factory. Operations of the Monitor Works moved to Hopkins in 1929, and the Park factory was closed with only storage of grain drills remaining. The building burned under questionable circumstances in 1930. By this time, John Williams and Stoge were working at the Hopkins plant. When the St. Louis Park Bank failed, John lost what savings he had. Both John and Stoge were laid off for several years during the depression. Stoge was recalled to work and later became a tool room supervisor with the Minneapolis Moline. By 1970 when he retired, Stoge was working at the company's Minneapolis plant. In the late 1940s, Stoge sold the original Williams homestead and built a home at 6320 West 35th Street. A few years later, his uncle, retired Fire Chief Joe Williams, and two of his daughters moved into a new home next door at 6316 W. 35th. Stoge and his wife, Myrtle Applequist Williams, lived in the same block for all of their close to 69 years of marriage. Stoge and Myrtle had only one child, Ruth Ann, who was born after they were married for more than twenty years. Ruth graduated from Park High about 1968. She never married. Myrtle died in 1997. Stoge died on July 20, 2004 at the age of 98.
---
3. Mimie Williams was born on May 13, 1870 and died in 1926. Her first husband was August Ohde (born 1876), who was killed in the great cyclone of August 20, 1904 at the age of 28. Mimie and August had two sons, Fred and John. Mimie then married Pete Hastings (born 1860) in 1908. They had a child Marion before he died in 1916.
---
4. Joseph S. Williams was born on July 30, 1871 and married Laura Larson in 1894.  Joe worked as an electrician in the machine shop at the Monitor Drill Co. from 1891 to 1898, and by 1910 he had taken over his father's position as chief engineer. There were two competing telephone companies in town so he had one line for each plus a dedicated line to Monitor Drill.  He held this position until after the company moved to Hopkins in 1929. Joe joined the volunteer bucket brigade at its inception in 1892. He became the village's full-time fire chief in 1930 and served in that position until 1945. The was also the head of the Water Department once the Village started digging wells – a job that provided no additional pay. Their family of seven children lived in their "Monitor" home at 3750 Colorado at Oxford Street.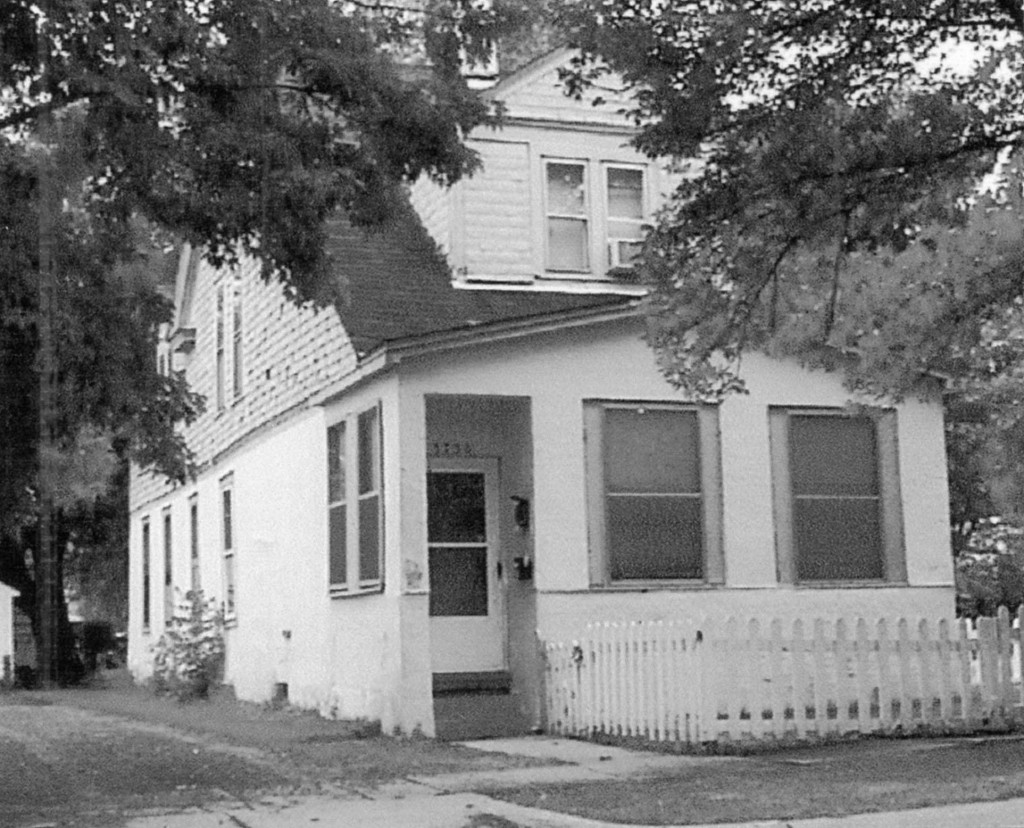 ---
The family was not only involved with the fire department but with the Odd Fellows Lodge and the Union Congregational Church. Joe: "I resigned as Fire Chief in 1946 after serving 54 years in this capacity. I was then appointed inspector of the water department pumps, etc., which position I held for two years and when Clarence Dickenson died I was offered the job as fireman in the Village Halls (sic?). I worked at this for one year and the following year I painted the quansett huts for the Village, and finally retired from active work in 1951." Joe died on May 23, 1957.
---
Children of Joe and Laura Williams:
1. Charles M. "Pete" Williams was born on February 20, 1905, in St. Louis Park. He attended Huron College. He married wife Lois Curtis in 1941, and they lived at 5727 Goodrich. Their daughter Mary married fireman Robert McElmurry, and they had three children. McElmurry was killed in the infamous Pizza House fire of October 8, 1971.  Pete joined the volunteer fire department in March 1933. He served for 6 years as a volunteer, and 27 years as a professional – since 1939. During WWII he was a firefighting instructor in the Navy. He served as Fire Chief from 1947 to 1969. He was a member of the Lions Club, Chamber of Commerce, Red Cross, and Vikings Club. He had resigned the Fire Department on December 12, 1969, moved to Florida, took ill, returned to Minnesota, and died on June 15, 1970.

---

2. Howard Joseph Williams was born on March 6, 1901. He and his wife Dora Hembre (born January 13, 1901) came to St. Louis Park as infants in 1901. Howard joined the fire department in October 1918 and served as a volunteer for 40 years. Howard and Dora lived at 6309 Hamilton. Dora was a sister of St. Louis Park's most enthusiastic pilot of the 1920s and '30s, Huck Hembre. Howard and Dora had no children. Howard started working at the old high school as an engineer in 1936, getting to work at 4 AM to stoke the furnaces by hand.  He studied engineering and heating at Dunwoody Institute.  In 1955 he became chief engineer in charge of heating plants for St. Louis Park schools.  Dora died on October 6, 1976 and Howard married Joan Peterson. They also had no children. Howard died on December 21, 1989.

---

3. Willard G. "Pil" Williams was born on November 30, 1902. He married Edyth Applequist who was sister of Myrtle Applequist Williams, Stoge's wife. They had no children. Willard joined the fire department in January 1922 and served for 36 years as a volunteer. He died on August 18, 1993.

Willard and Edyth Williams

---

4. Geneva S. Williams was known as "Toots." She was born on August 15, 1907. She and her husband, Raymond Sill, had two sons, Douglas and Richard. For many years, "Toots" and Myrtle Williams worked together in the kitchen of the cafeteria at the high school. Geneva died on January 30, 1980.

---

5. Harriet M. "Hattie" Williams was born in St. Louis Park on August 24, 1895. In 1951 she lived at 6319 Excelsior Blvd. She interviewed her dad in the early 1950s and wrote down his recollections of early St. Louis Park. Hattie was married to Albert R. Simonson, known as "Lefty." He was a World War I veteran and was as a slightly built man who had diabetes and was never very well. He and Hattie were both very active in the American Legion. They had no children, and Hattie always did office work. "Lefty" died when he was quite young, and Hattie seemed to live "at home" with her parents much of the time. She died on February 1, 1989.

---

6. George M. "Spike" Williams graduated in the Class of 1932.  The 1932 Echowan describes a very coveted "prize" for Spike in his senior year, when he was voted by his classmates as the male who best represented Park High School in "all general lines of activity." He married Florence Merwed (born October 1922, died July 4, 1985) on May 12, 1945. Spike was an electrician at Federal Reserve Bank. Their children were Nancy, JoAnne (Gustafson), and Thomas.  Spike's second wife was Marion Constant.  Spike died on August 22, 2007 at the age of 95.

---

7. Daughter Gladys died at age 2.
---
THE WILLIAMS BROTHERS INDEPENDENTS BASKETBALL TEAM
In 1924-28, a team made up of Williams family members toured the community and outstate areas.  The team consisted of Pete Williams, Spike Williams, George Gibson (a cousin), Stoge Williams, Ken Williams, and Warren Williams.  They were coached by their uncle, Fred Ohde.  Although they lost their first game to Montrose, they went on to win ten straight games.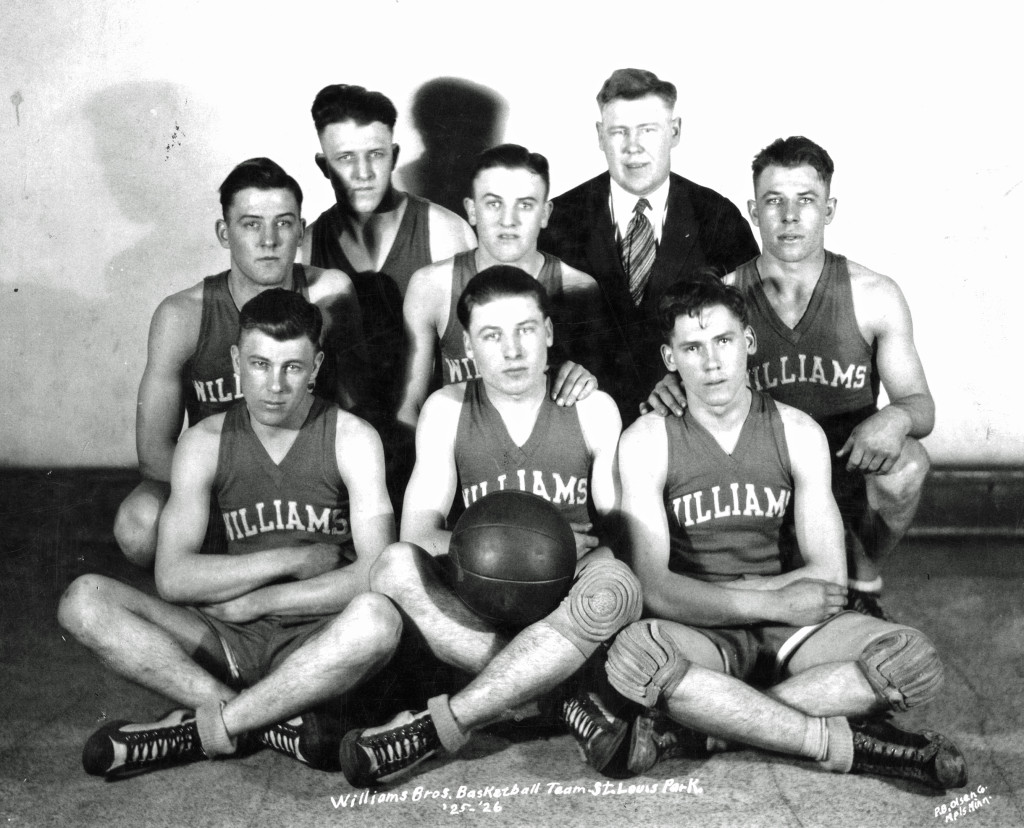 ---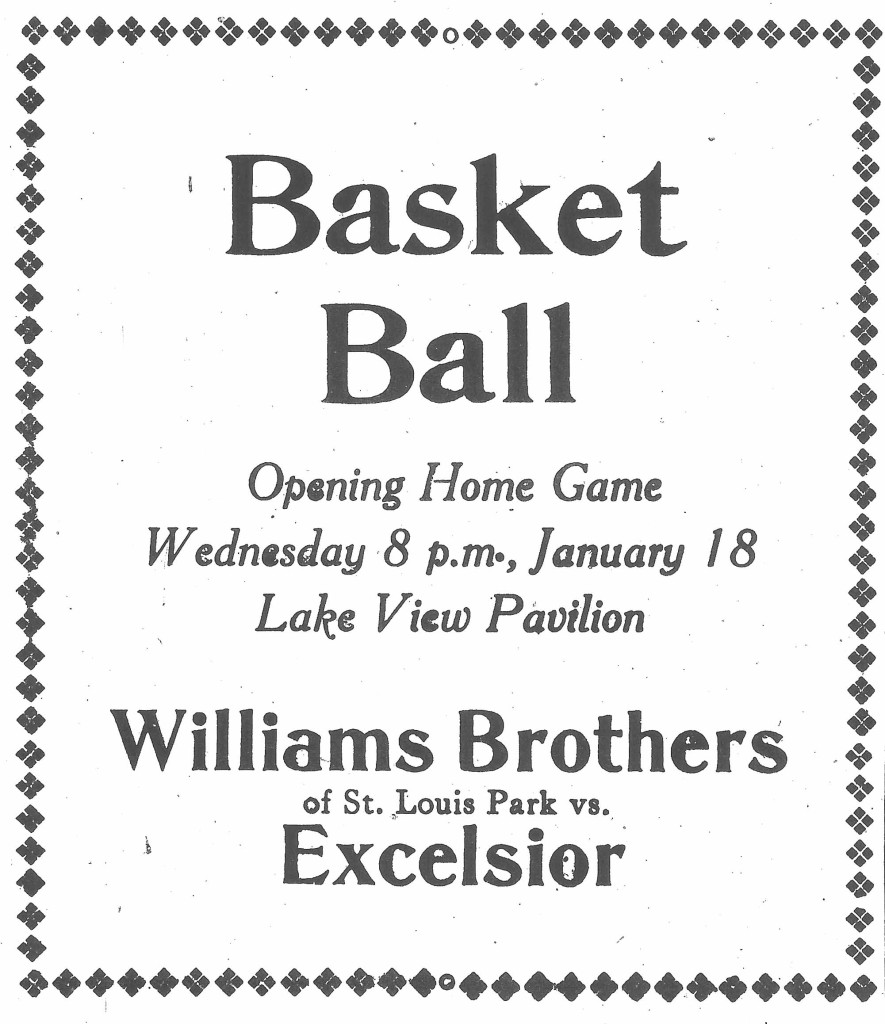 ---
5. William "Bill" Williams was born on March 4, 1876 and died on March 8, 1970. He and his wife, the former Bertha Schroeder, had 16 children. They lived at 3243 Dakota Ave. about half way between Minnetonka Blvd. and Lake St. The house still exists; records say it was built in 1927.  With so many kids, they were always thought to be very poor. At one point it was said that Bill moved a railroad car onto the property to help house some of the children. The kids were: Warren, Mildred, Fred Lillian, Kenneth, Marjorie, Betty, Ruth, Edward, John, June, Florence, William, and Marie. Two children died in infancy between William and Marie.
---
6. Edward Williams was born in 1878 and died in September 1913. Before he married wife Carrie, he worked for future brother-in-law Charles Hemmenway growing oranges, peaches, pears, and grapefruit in Floral Bluffs, Florida. When he married Carrie they moved to Missoula, Montana, where he died at age 35.
---
7. Sadie Williams was born on August 9, 1883 and died on July 14, 1969. She and husband Louis Larson had children Myrtle, Alice, Francis, Marjorie, and Jean.
---
8. Guy Williams was born on September 9, 1889 and married Francia Pelow. He died on September 21, 1975. Their children were Floyd, Charles, Lucille, and Mary.
---
9. Albert "Bert" Williams never married – he left home and lost contact with the family.
---
10. George "Todd" Williams married Jessie Hudson and had a son Harry.
---
THE WILLIAMS FAMILY ON CHESLEY AVENUE
According to Stoge Williams, Joseph Hamilton built several homes on Chesley Avenue (now 35th Street). In addition to the Williams house at 6312, there was another large home next door at 6308. When Stoge was a teenager, the neighboring house burned to the ground. About 1925 or 1926, a small bungalow was built to replace it. The Swenson family bought the bungalow in 1927. Don Swenson was born in 1928 and his world was dominated by the John Williams family in a big house on the west and another house on the east, which was owned by Hattie Williams Hemmenway. When Mrs. Hemmenway died, she left the home to her niece, Hattie Williams Simonson. Hattie and her husband "Lefty" owned the home but didn't live there. This place is significant because it was a rental for many years, almost always being rented to a school official or teacher. Supt. of Schools Erwin Hatch and his family lived there in 1917-20 period. School officials McNeal and Evans both lived there as well as other teachers. By the early 1940s, Toots Williams Sill and her husband purchased the home from her sister, Hattie Simonson. The Sills lived there until the early 1950s when a new home was built three doors west. By that time Joe Williams was a widower and he moved to the new home with his two daughters, Hattie Simonson plus Toots Sill and her family.
For more information about the Williams Family, see Something in the Water.