Wooddale Ave. has had many names over the years.  It is generally believed that it was called Schoolhouse Road when Jonathan T. Grimes first laid it out so that his children (who lived nearby in Edina) could attend Pratt School at what is now the intersection of Excelsior Blvd. and Wooddale.  A map from 1888 shows the (unnamed) road going from 44th Street in Edina, across Excelsior Blvd., ending at Minnetonka Blvd.
An 1891 map calls it Glencoe Road, but this is probably wrong, since Excelsior Blvd. is frequently labeled Glencoe Road as well.  The 1893 map calls it Pleasant Ave. between Excelsior Blvd. and Minnetonka Blvd.
Pleasant Ave. from Excelsior Blvd. to the (presumably southern) Village Limits was renamed Wooddale in 1913.
A map from 1914 indicates that the road is called Pleasant Ave., formerly called Garfield.
Pleasant Ave. north of Excelsior Blvd. was changed to Wooddale in 1933, when the Village changed most of its street names.
When studying the history of Wooddale Avenue, it is important to note that before Highway 100 was built in the late 1930s, Wooddale was a major thoroughfare.  It was a simple at-grade crossing at Excelsior Blvd., over what is now (count 'em) 14 lanes of traffic.
Wooddale was (and still is) an at-grade crossing at the railroad tracks.  Worth quoting in its entirety is an unfortunately undated (but from the 1930s) article about how dangerous this intersection was before automatic crossing gates were installed.
---
40 MISS DEATH BY INCHES IN ST. LOUIS PARK SCHOOL BUS
Underpass Demanded After Near Accident at Grade Crossing
An underpass at a St. Louis Park railroad crossing where four deaths have been tolled in the past five years was demanded today as the result of a near-mishap in which a scant four inches stood between 40 high school students and death.
The near accident involved a school bus in which students were being returned to their homes.  Crossing at Wooddae avenue, where the M. & St. L. has two tracks and the Chicago & Milwaukee three, the bus was halted by a flagman for a freight train.
Train Bears Down
After the train passed, however, according to a report made to St. Louis Park police, the flagman re-entered his hut and the bus driver started over the crossing, to find a passenger train bearing down on him at high speed.  By hunning his motor, he was able to skim across the track with scant inches to spare.
P.M. Ellison, village recorder, said today after Roy Bradley, the bus driver, had made his report, that the village council was seeking an appointment with the state railraod and warehouse commission in order to present a formal demand for construction of an underpass.
Called Good Driver
Requests for mechanical signals have been unavailing, he said and the service of flagmen he described as "unsatisfactory."  School busses, he said, are required to cross at the danger spot "eight or 10 times a day."
He described Bradley as "one of the best and most competent drivers we have."
---
WOODDALE AVENUE BUILDINGS
Piecing together the buildings of Wooddale is difficult because the street used to run on both sides of Highway 100, and odd and even numbered addresses didn't always correspond to the side of the street.
---
FROM LAKE TO HIGHWAY 7
The following are some notable buildings in the northernmost section of Wooddale, traveling north to south:
3401:  Unknown structure (presumably on the corner) demolished after 1958.  Current address of Wooddale Dental.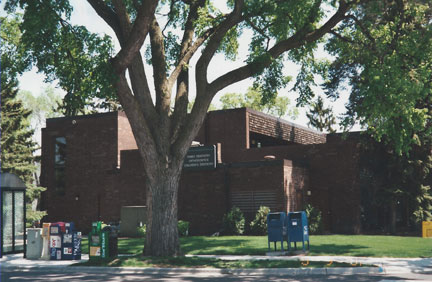 Wooddale Dental, 3401 Wooddale Ave., 2007
---
3417:  White house built in 1939 by C. Ed. Christy, who had a gas station on Lake Street on Wooddale.  In 1947 it housed the Ray H. Christy Insurance Agency.  In 1975, Mabel Christy is listed at this address, although other information shows that it held dental offices.  Wooddale Dental bought the house and sold it.  The new owner moved it to Minnetonka in February 1977 to make way for the new Wooddale Dental building.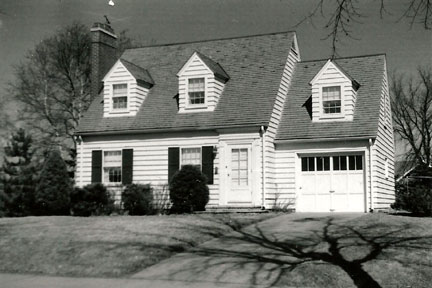 Christy house, 1958   Tax Assessor photo
---
3424:  Built in 1958 for the T. E. Ibberson Co.  Former President Walt Hanson says that they moved in on Halloween, but there was no glass installed yet, so someone had to guard the building all night to ensure against pranks.  In 1979, the company bought the adjacent old post office building at 3425 Dakota from Ed Christy and built a connection between the two.  The company sold the building and moved to Hopkins in 1996.  As of 2012 it is vacant and for sale.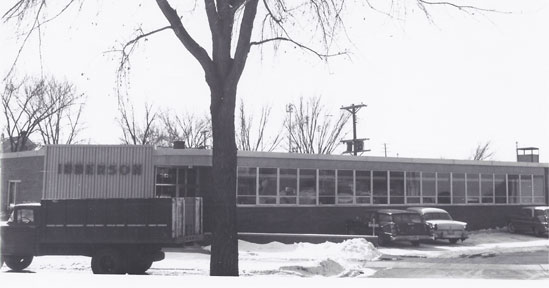 3524 Wooddale, February 1960
3424 Wooddale, May 2012
---
3456:  Large home/rooming house built in 1887.
3460:  Built in 1890.
---
FROM HIGHWAY 7 TO 36TH STREET
3506:  Built in 1955, probably by J.K. Seirup for the Park Bus Co.  Also known as 3550 Alabama and 6015 Highway 7.  Demolished in 2006.
---
3565/3569:   In 1939 this was a railroad watering station.  From 1939 to '42 it was C.J. Browne Plumbing.  A new building was built in 1947 by H. P. Olbrect for a factory, possibly Craftwood Products.  From 1950 to '53 it was J.D. Gustafson Plumbing.  From 1953 to '59 it was the Waco Manufacturing Co.  From 1963 – '66 Edward Thiele owned the Thiele Engineering Co.  From 1966-80 it was owned by Charles J. Hoover.  In 1970 it was occupied by Norco Oil Co.  From 1972 to '87 it was DS Lubricants and had four 10,000 gallon oil tanks.  From July 8, 1999 to 2004 it was the home of The Unpainted Place, owned by Dave Fellman.  In 2004, Hennepin County bought the property for a future transit station.  An interim tenant is Nash Frame Shop.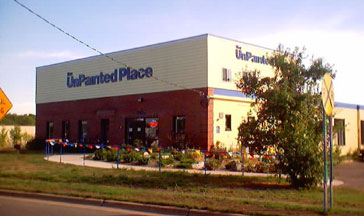 3565 Wooddale    Photo by Emory Anderson
---
3575:  From at least 1944 to at least 1964, this was the location of Northern Water Treating Co., owned by J.W. Copeland.  In 1947 it was also Park Plumbing and Heating Co.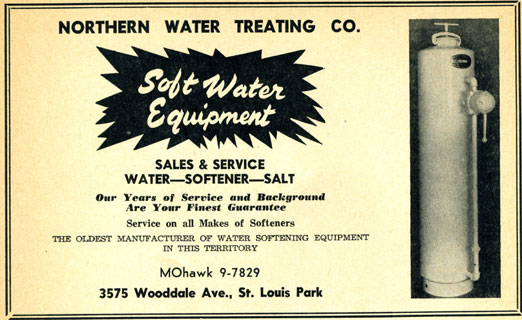 1954
From 1969 to 1974 it was Eide Motorcycle Sales and Service, owned by brothers Carl H. and Harold T. Eide.  They say that members of the local BPM and Hell's Angels motorcycle "clubs" hung out there, but Harley Davidson would not allow Carl a dealership.  The building was demolished in 1975.
---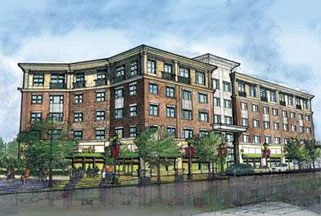 3601:  Although the names Precision Screw Louver Manufacturing Co. are at some point associated with this address, indications are that it was built in 1947-49 by Minnesota Rubber.  One of the last occupants was a Davannis.  The building was demolished in 2004.  Redevelopment plans fell through and the site was vacant for several years.  In 2011-12, TowerLight on Wooddale Avenue (formerly Wooddale Pointe), an assisted living facility, was built at the site. The five story mixed use building includes 113 senior living units, built by Greco Real Estate Development and Engelsma Construction. The site features a Dream Elevator art sculpture, designed by artist Randy Walker.  The piece is intended to connect with Park history by mimicking the shape of the Peavey-Haglin Grain Elevator.  See stories about the Dream Elevator by the StarTribune.
---
3630:  Minnesota Rubber.  Built 1953, demolished 2004.  Now Village in the Park.
---
3631:  Something called the Tool Crib is advertised at this address in the 1961 Echowan.
Below is a photo of what the intersection looked like with the Davannis and Minnesota Rubber buildings in 2002, by Emory Anderson:

---
ALONG HIGHWAY 100
At one time, Wooddale Ave. existed on both sides of Highway 100 between about 36th Street and Excelsior Blvd.  That area is described Here.
---
SOUTH OF EXCELSIOR BLVD.
The following is a list of notable sites along Wooddale south of Excelsior.  Many of the homes are postwar, but these are the early ones.
3946/4017 Utica:  Most Holy Trinity Catholic Church
3954/3960:  The Parsonage/Billman Funeral Home/Wooddale Professional Building
3971:  Nordeen's Studio:  Albert C. and Esther A. Nordeen.  Not sure what kind of studio, but probably photography.  Behind Snyder Drug at Miracle Mile.  Residence built in 1930.
3998:  Wooddale Flats Condos (former Most Holy Trinity Site).   See the story here from the Minneapolis StarTribune dated August 9, 2013.  Sketch below by Collage Architects.
4003:  Wooddale Evangelical Lutheran Church
4051/59:  Plumber Gust Hoglund owned this property as far back as 1924; records indicate that the house was built in 1926.
4105:  Built in 1922.  Nancy Wanha ran Nancy's Beauty Shop from here in 1972.
4111:  Built in 1924.  Early owners were A.C. and Marie Hopper (1935)
4121:  Built in 1922.  From 1939 to 1942, Jacob and Alice Heierich ran the St. Louis Park Studios of Music.  Jacob played with the Minneapolis Symphony and taught violin, and Alice taught piano.
4123:  Built in 1918.  Early resident was O.L. (Oscar?) Johnson (1933).  Perhaps this is the Oscar Johnson who had a grocery store at Excelsior Blvd. and Highway 100.  From 1942-47, Benjamin Hart apparently ran a company called Homes, Inc. from his house.
---
4156, 4169,4174, 4177:  These are not addresses today, but show up in phone directories from 1935 and 1939.  There was a lot of renumbering going on in the '30s, so they might be some of those listed below.
4222:  Built in 1924
4224:  Built in 1924
4228:  Built in 1923
4229:  Built in 1924
4230:  Built in 1925
4241:  Built in 1924
4242:  Built in 1925
4251:  Built in 1927
4330:  Built in 1908
4240:  Built in 1916
4346:  Built in 1932
4350:  Built in 1918
4354:  Built in 1926
4360:  Built in 1927
4370:  Built in 1933
4380:  Built in 1927
4382:  Built in 1918
4386:  Built in 1912