In response to missionary Rev. Dwight Shelhart's survey of the area in 1928, several meetings were held in the summer of 1929 in private homes, and in August a new congregation that would become Wooddale Evangelical Lutheran Church was born. The group met at a rented a three-room house at 4258 Mackey (now Utica) from September 9, 1929 until April 13, 1930, when they moved to the little auditorium in Brookside School (while St. Luke's met in the main auditorium).
The congregation was officially organized on December 1, 1929, and a typographical error at the Hennepin County Registrar of Deeds initially spelled it Woodale. Rev. Dwight Shelhart was elected President of the church council a week later. A newspaper account of the congregation's 1929 Christmas Pageant, held at Brookside School, mentioned the participation of 70 children and 150 parents; Art Hager was one of the members of the decorating committee. Rev. Shelhart was listed as the church's pastor.
The first two lots of an eventual two-acre plot at 40th and Wooddale were purchased in on May 2, 1930. The first full-time pastor, Dorrance Jensen, came to Wooddale right after graduation from Seminary in June 1931, and served until November 1937. In 1933 the Cahill Lutheran congregation was formed as a branch of Wooddale.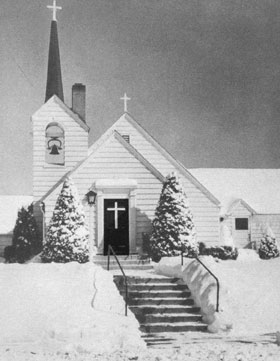 The first church building was erected at 4003 Wooddale Avenue at a cost of $6,000.  It was completed on November 14, 1937 and dedicated in February 1938. Rev. Herbert J. Motz-kus, from Montevideo, was installed that March. Every church should have a basement, so in 1939, the building was lifted up so that the men of the church could dig one. An "overflow" addition was added in 1942. A fifth and final lot was purchased in 1945.  On November 10, 1946, a remodeled Army barracks, used during the War at Camp Savage, was moved to the site and dedicated as the new church school building.  A new wing was added in the spring of 1952 for the burgeoning congregation.
Finally it was decided that a new building was in order, so in the spring of 1955 the original building was sold and in September Doepke Movers moved it to north Minneapolis on Highway 55.
The congregation worshipped at the Park Theater building during construction of the new parish education building, which was completed in August 1956 at a cost of $200,000.  This building was used for services until the main church was completed. In May 1958 the $250,000 parish education-fellowship building was dedicated.  Three previous buildings were razed.  The new facility held a club room, classrooms, library, offices, and a social room.  It was designed by Thorshov and Cerny and built by M.A. Mortenson Co.
Ground was broken for the new sanctuary on April 12, 1964 and it was dedicated on April 25, 1965 (the cornerstone was laid in October 1964.)  It cost $250,00 and seated 400 in the nave, 50 in the balcony, and 75 in the marthex.  The Wayside Prayer chapel was open 24 hours.
The centrum was dedicated in January 1990 and a new pipe organ in November 1991.
It is said that the parsonage at W. 40th Street was moved to 3601 Kipling – it is now listed as a duplex built in 1948.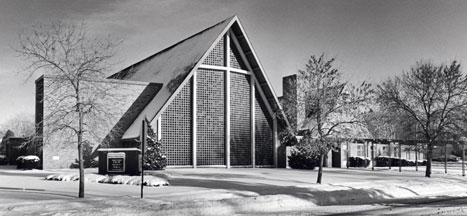 Wooddale Lutheran Church's website is at http://wooddalelutheran.com/home/
Click Here for a story about Wooddale Church in the St. Louis Park Magazine, December 2012.