William Plehal and Lloyd Lindahl built a frame building at 6002 Excelsior Blvd. in about 1938 for their business, Plehal Heating.  William died in 1992.
Tom and Ed Plehal were famous harmonica performers on WCCO Radio.  Tom was killed in a car accident in November 1960.
Ed operated Suburban Home Heating (apparently in competition with Plehal Heating, owned by his brother William)  from at least 1951 to the 1970s.  The Cambridge address was his home.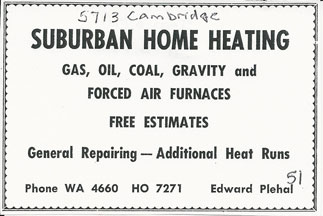 Ed died in December 1992.
The Plehals generally lived in Hopkins.