The following is based on an incomplete set of City directories from the 1950s and '60s.
E.O. "Bud" Rodberg opened the Dairy-Mor Drive-In in about 1950.  It was located at 5060 Excelsior Blvd.  Rodberg and his father built the small building themselves.  In 1953, that site became the S&K Drive-In, and in 1960 it was the Park Drive-In.
In 1953, Rodberg built a second Dairy-Mor at 3877 Wooddale.  This was in a strip of buildings just north of the old Lilac Way shopping Center.  The area is now the Park Nicollet parking lot.  The drive-in was a memorable hangout for teens in St. Louis Park and other surrounding areas, particularly Edina.
The Drive-in on Wooddale shows up in the St. Louis Park directories through 1967.  The building was probably razed in 1988 with the demise of Lilac Way, although it may have been sooner.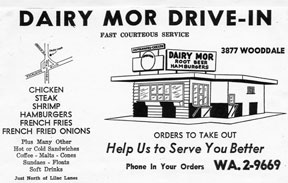 1956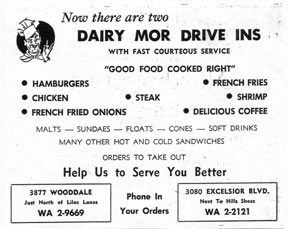 Bud Rodberg requested permission to build a new drive-in restaurant on Highway 7 in December 1957.  He hoped to erect the new establishment at 7012 Highway 7, just west of the Cheese Mart and east of the Twin City Biscuit Co.  That might not have happened – we see a building there built in 1968.  Rodberg did own Wagner's Drive In in the 1950s.
In 1958 Rodberg also had a Dairy-Mor at 3080 Excelsior Blvd.