We don't normally create separate pages for gas stations (they number in the hundreds), but Holiday has moved around a lot, especially on Excelsior Blvd., so here's a rundown.
EXCELSIOR BLVD.
From 1964 to 1971/72, an Erickson/Holiday station was located at 5940 Excelsior Blvd.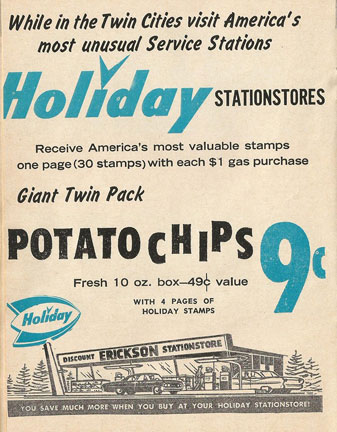 ---
In 1968 a disgruntled customer got mad at the man working the overnight shift at the Holiday Station across from Brookside Drug… and took a few shots at him through the side window.  The intended target hid behind a stack of Holiday pop and wasn't hit. He was an older man and didn't seem at all fazed, and stayed on the job.  Below is a photo of the station and one of the bullet holes in the glass that Emory Anderson took the morning after.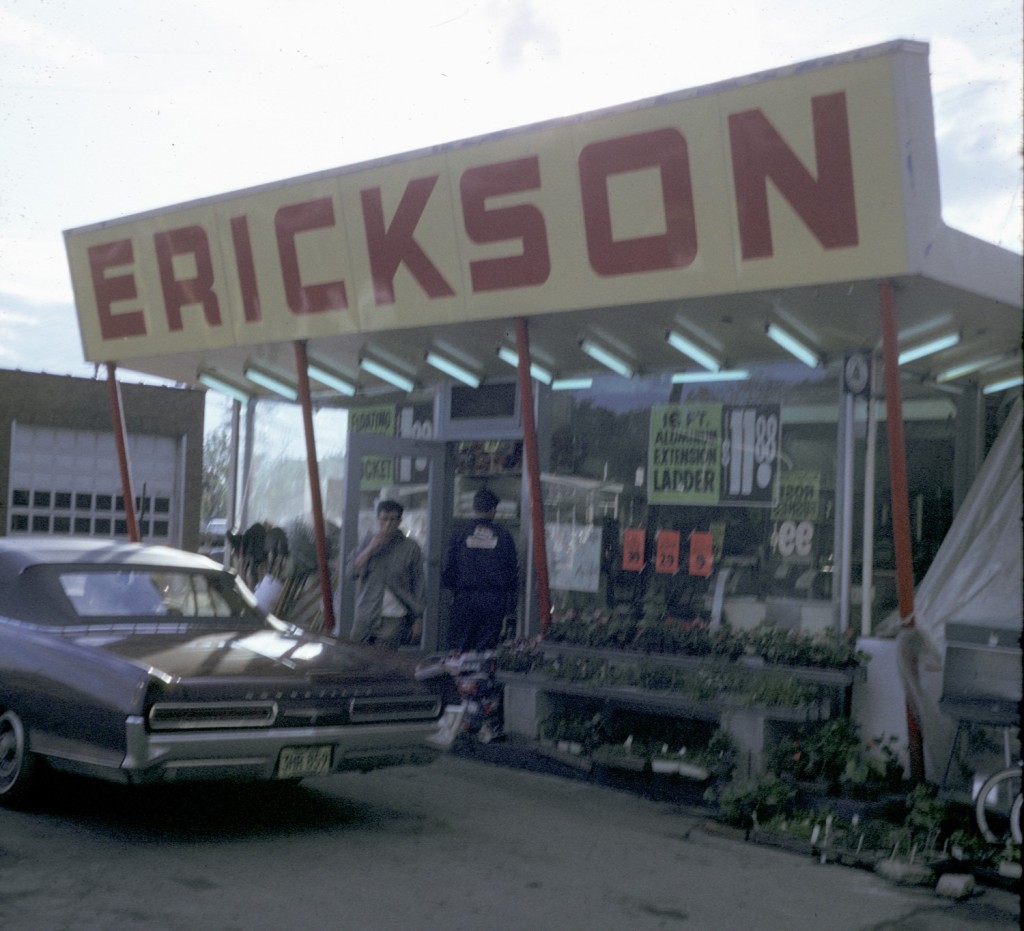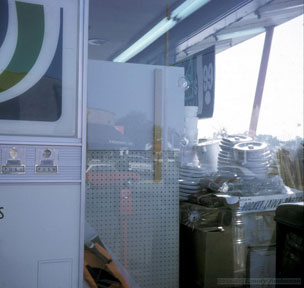 In 1974 this station was purchased by the City, torn down and the land was made into a municipal parking lot.
---
From 1971/72 to 1981, Holiday was located at 6011 Excelsior Blvd.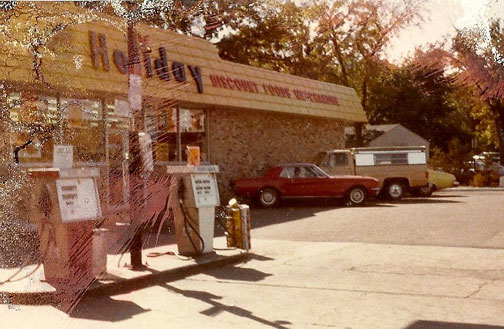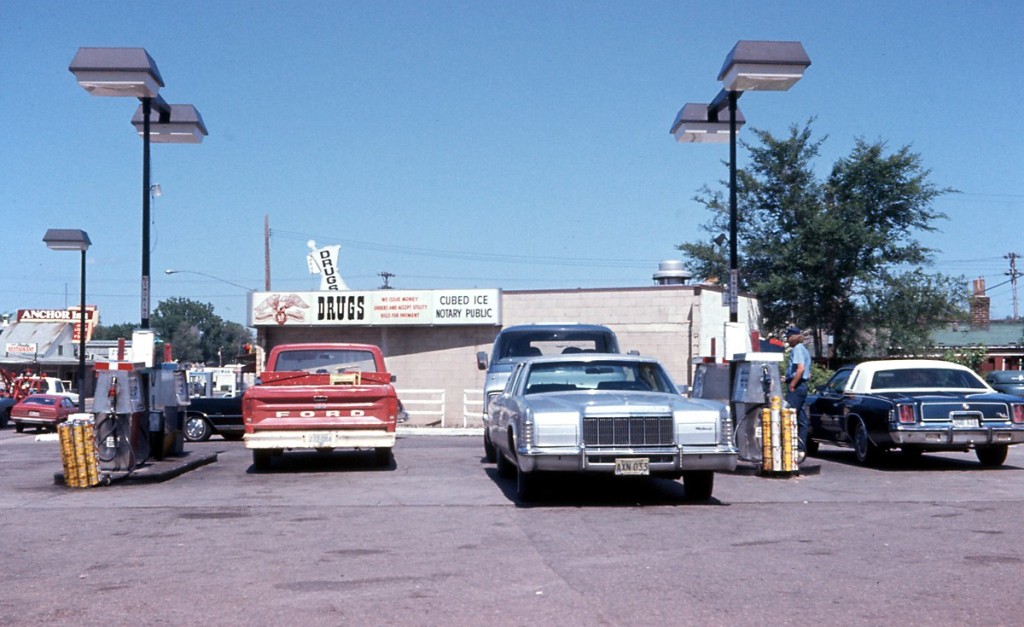 ---
Holiday built a new building at 5720 Excelsior Blvd. in 1981.
---
MINNETONKA BLVD.
A Holiday/Erickson station was located at 7916 Minnetonka Blvd., across Texas from the Texa-Tonka Shopping Center.  It was built in 1962 by Adolph Fine and was there until 1976.  The property stood empty and for rent for many years.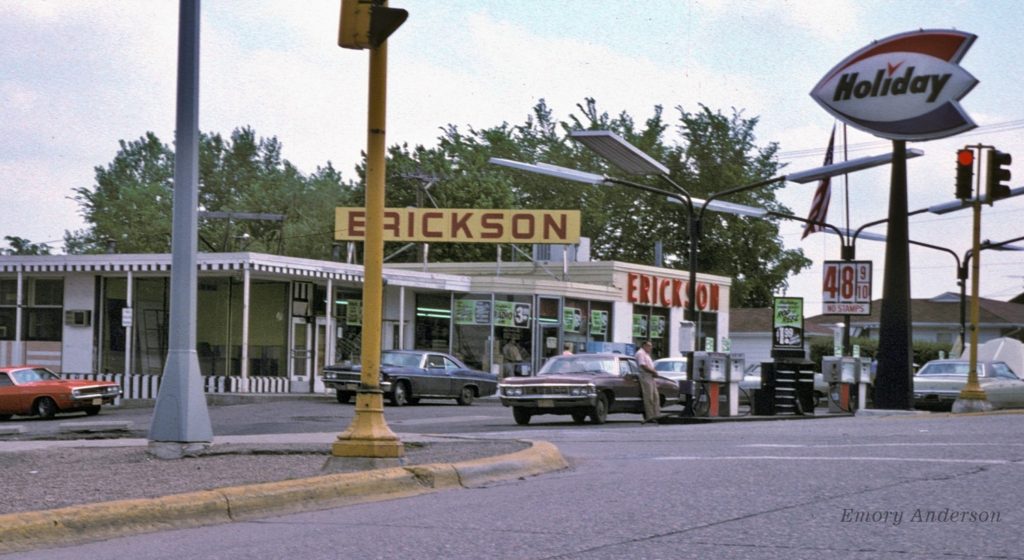 In September 2021, the building was finally demolished to make way for an apartment building.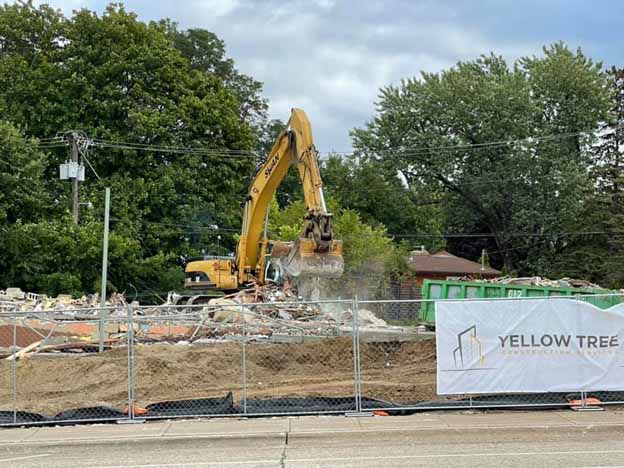 ---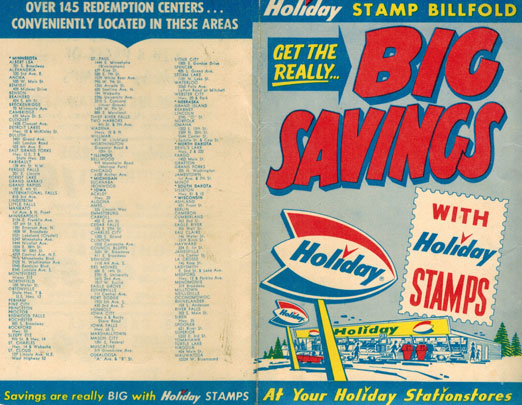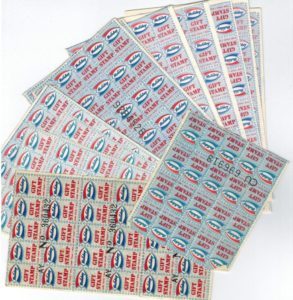 The stamp book above dates from a year that stations were located at 5940 Excelsior and 7916 Minnetonka.
---
LAKE STREET
Holiday built the station at 7000 Lake St. in 1981.
---
HOLIDAY HISTORY
ERICKSON FAMILY
Holiday was founded by the Erickson family.  Otto Erickson emigrated from Halsingland, Sweden, in 1868 and established a potato farm in Isanti County, Minnesota – the home was located at the southwest corner of Highway 65 and County Road 56, south of the present-day city of Isanti.
In 1939, Otto's six grandsons, Herman, Godfrey, Joseph, Alfred, Arthur and Elmer, bought a bankrupt Texas refinery for $75,000 and moved it to St. Paul Park, Minnesota.  Here they launched Minnesota's first gasoline refinery, Northwestern Refinery Company.
SUPER AMERCIA
The gas stations associated with the refinery were dubbed "Super America," a name coined by Elmer Erickson.  The first store was built in Lindstrom, Minnesota, in 1939.  These were some of the first stations to offer merchandise other than gasoline and related products.
In 1970 the family sold the refinery and all 81 Super America stores to Ashland Petroleum. Northern Tier Petroleum currently owns the refinery and all Super Americas in Minnesota.
ERICKSON
The family had established other stations using the "Erickson" name.  Erickson Petroleum was headquartered at 1422 West Lake Street in Minneapolis (building still stands).
FREEDOM
Erickson stores were split – Hermann Erickson called his stations Freedom Value Centers, headquartered in Hudson,Wisconsin.
HOLIDAY
Holiday Stationstores, headquartered in Bloomington, Minnesota, were owned by Arthur and Alfred Erickson.  By that time, the other brothers had exited the business.
Art and Al built the four Holiday (Village) Plus stores in Bloomington, Burnsville, Plymouth, and Fridley (an early Wal-Mart concept). They were later sold to Cub in the late 1990s. As of July 2017 there were 522 corporate and franchise Holiday stationstores in 10 states, including about 27 in Alaska.
The two current St. Louis Park Holiday stores are numbered #205 (Excelsior Blvd.) and  #206 (Highway 7), which could be the sequence in which they were built, but Holiday did sometime reuse numbers.
In July 2017 it was announced that Canadian company Couche-Tard, Inc. was in the process of buying all Holiday Stationstores and the Erickson Petroleum Corp.  Couche-Tard operates 7,888 convenience stores in North America, most of which carry the Circle K name.
SOURCES
Much of the information for this page was provided in a 2013 email from an employee of Holiday who collects Erickson and Holiday memorabilia and information.  He asked that we didn't use his name.
Another source is an article by Jack Puterbaugh published on June 17, 2010, in the Isanti County News entitled "Detailing the success of Isanti County's Erickson Brothers."
Save