Most Holy Trinity Catholic Church began its life on May 24, 1943, when Archbishop John Gregory Murray created the new parish, divided from that of Holy Family. The rectory, located at 4017 Utica, was the first property purchased. Property at 3946 Wooddale Ave. was purchased from Joe Billman in 1944, but wartime restrictions slowed construction of the new church, so founding Pastor Joshua Wilson Brady first celebrated Mass at Lilac Lanes Bowling Alley, with Sunday School conducted in the restaurant (and the nursery located in the powder room). This required Father J. Wilson Brady to rise at 4am on Sundays to clean up after the Saturday night bowlers. Sixty families attended. Services also took place in the American Legion Hall.
The War Production Board finally allowed the church to spend $25,000 and they were able to construct a basement and one-story, flat-roofed building in time for Midnight Mass on Christmas Eve, 1944. The chapel held 1,000 parishioners, and there were four classrooms for Sunday School.  A story in the Daily Times showed Rev. J. Wilson Brady doing double and triple duty as janitor, general handyman and construction helper due to the labor shortage.  A photo shows him stoking a formidable coal furnace.
MHT Basement
A house at 4029 Utica began to be used as a convent for the Sisters of St. Benedict in September 1945.
Property at four more parcels of land on Wooddale were purchased, taking the church's property to the end of the block at Toledo. The superstructure of the basement was begun in 1952, with a tremendous "Freedom from BONDage" fundraising campaign in 1953.
MHT 1953
The church-school complex was completed in time for Christmas Eve Mass, 1954. The new school building was opened in February 1955. In 1961 there were 500 families and more than 2,000 parishioners.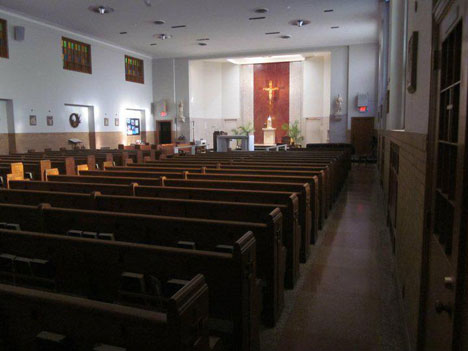 On January 1, 2012, the church was closed by the Archdiocese of St. Paul and Minneapolis and merged with Our Lady of Grace in Edina.  See story here.
See separate entry for Most Holy Trinity School under Private Schools.
Most Holy Trinity Catholic Church building, 2013.  Posted by Jim Ham.
In 2013, the building was demolished and the site was redeveloped into the Wooddale Flats condos.  The Developer was Gatehouse Properties and the architect was Collage Architects.
Demolition of the site began in June 2014, and the building came down on July 17-18, 2014.  Photos below by Doug and Kathy Johnson and Julie Anne Magnusson.