Gone now, this was a drive-in restaurant built at the intersection of Highway 100 and Minnetonka Blvd. (northwest quadrant).
It was built by O.B. Erickson, a builder and former Park mayor, who also built the gas station next door at 5430 Minnetonka.  A photo from October 1951 (below)shows the gas station but not the drive-in, and since the property is gone, it is difficult to know when the drive-in was built.

---
DAIRY-WAY
Marie and Cliff J. Amlaw ran a Dairy-Way, which held a Grand Opening on August 22, 1952. An ad in a September 1952 Echo touts "All Flavors of Sundaes, Malts, Milk Shakes, made the delicious Dairy-Way.  Also pints and quarts, Malts and Sundaes to Take Home.
---
CLIFF'S DRIVE IN
In May 1956 the Dairy-Way became Cliff's Drive In Restaurant, also operated by the Amlaws.  An ad in the Echo from June 1956 calls it "America's newest and most modern."  The restaurant  was enlarged to 31 x 40 sq. ft. and seated 37.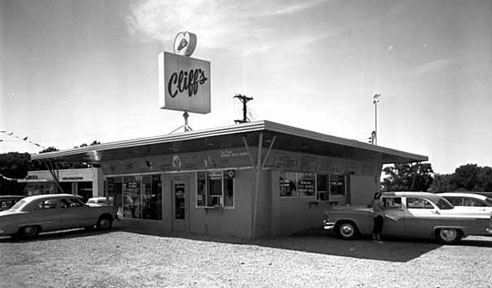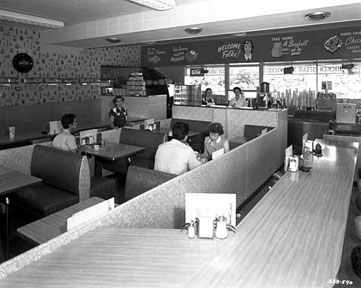 ---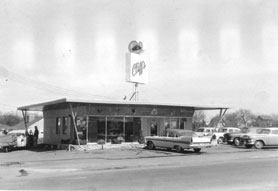 ---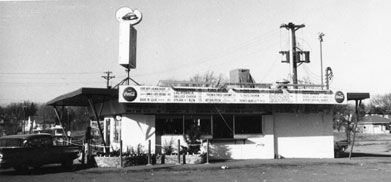 ---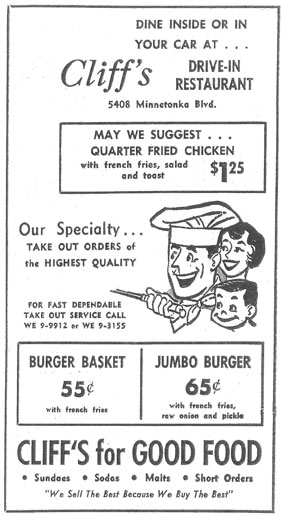 ---
At the time of his death in May 1961, O.B. Erickson still owned the property.  It was then sold to Mrs. C.J. Amlaw and Rella McComb.
In 1962 it was advertised as Cliff's Fine Foods, the "newest and finest – anywhere" featuring complete dinners.  The restaurant had 40 seats.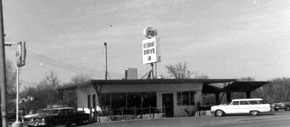 ---
JACK REED'S
Cliff's became Jack Reed's Restaurant in about June 1966.  In 1968-69, Jack experimented with roller skating carhops but there were too many spills.  Al Hartman says "The W-2s and the check stubs all still said Cliff's Drive In on them but Jack said he owned the place. Jack's wife worked there as a cook some of the times. His son, John Reed, worked as a cook by night but was a deputy sheriff by day. Jack's daughter, Margie, kept the books."  One former waitress remembered cranking up the jukebox and dancing as they closed up for the night.
This was also the site of a Dairy Wipt Drive-in, and the Radio Cab Co., owned by Alfred Hay.
The restaurant got crowded out with highway expansion in about 1971.
Save
Save
Save
Save