O.B. Erickson served as Mayor of St. Louis Park from 1944 to 1951.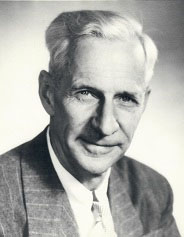 Born on December 10, 1887, Olof Barnes Erickson grew up in Atwater, Minnesota, where he graduated from Atwater High School.
Records from 1917 to 1930 state that he was a real estate salesman living in Minneapolis.  He started his career in real estate by leasing residential and commercial properties in Minneapolis and St. Louis Park.
In about 1939 O.B. moved to St. Louis Park, first living at 2840 Utica Ave. So.  (The 1940 Census showed that he lived at 2840 Vernon Ave., but this is in error.)  Another anomaly in the 1940 Census is that it listed his vocation as a butcher in a meat market.  This may have been a temporary job because of a lull in real estate sales during the Depression.
The family lived at 2840 Utica until 1942 or 1943. On his draft registration card in 1942, he listed his occupation as a builder.
By 1944 they were living at 5115 Minnetonka Blvd., which was an apartment.  They stayed there until 1952 or 1953, when he built his house at 2926 Utica Ave. So.  He also built a drive-in and gas station at the intersection of Minnetonka Blvd. and Highway 100.
O.B. served as president of the Minnesota League of Municipalities in 1950 and was a member of the Minneapolis planning commission for eight years.
During his time as Mayor of St. Louis Park (actually President of the Village Council), he succeeded in obtaining veterans housing for returning servicemen.
O.B. was also chairman of the Hennepin County Nursing service committee from 1951 to 1961.
O.B. and his wife Hildegard had two children, Virginia and Robert.
Erickson died on May 16, 1961.
Save
Save
Save